Tackling the clinical challenges of dentistry head-on
Dr. Stacey Simmons, Breakthrough Clinical's editorial director, shows a photo to readers and asks them to tell her what their first thoughts are. Does it make you think of more questions to ask than you have answers for? Do you want to ask your colleagues for their opinions? Breakthrough Clinical is just the place for you! This month's articles offer insight on increasing case acceptance with immediate temporization, root resorption and orthodontic treatment, oral pathology in a seven-year-old, as well as when, where, and how to place posts post-endodontic treatment. Come learn with us!
Mar 2nd, 2016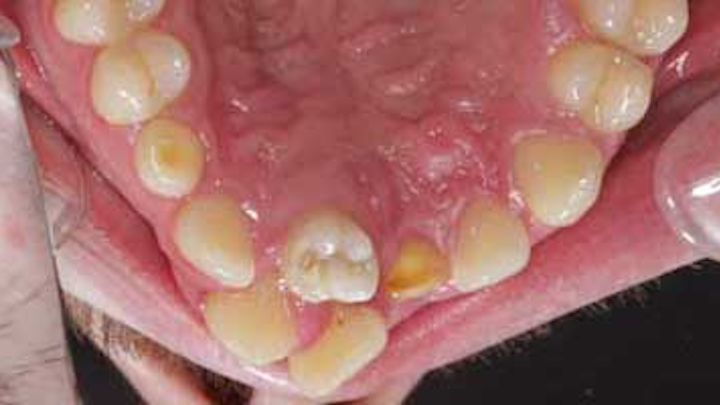 This article first appeared in the newsletter, DE's Breakthrough Clinical with Stacey Simmons, DDS. Subscribe here.Look at this picture and tell me what your first thoughts are. I bet you have a lot more questions than answers. I will furthermore submit that it's difficult to treatment plan a case like this without wanting to solicit the thoughts and skills of your colleagues, which leads me to my next question: What are some of the clinical challenges YOU face in your practice?
If you have a difficult time getting your patients to commit to implant treatment, Dr. Mike Meek offers his insight as to how he increases his case acceptance with immediate temporization. With any treatment planning, the goal is not to make things worse, which is what Dr. Joe Morneau's argument and discussion is about with regard to root resorption and orthodontic treatment. Posts, posts, posts—a review on when, where, and how to ideally place them post- (no pun intended) endodontic treatment is given by Dr. Alan Deutsch. I think you'll like the path case this month too. Even the kiddos have stuff that can go awry! There's a lot of learning to be had in this issue.
E-mail me with your thoughts on the photo; I'll be doing a write-up on it soon and posting it on Breakthrough Clinical's Facebook page, which is a forum for you and your colleagues to discuss anything clinical, from impression materials to digital dentistry to demanding treatment plans. I also welcome your thoughts and suggestions as to what topics you would like to see more of.
Cheers!
Stacey L. Simmons, DDS
Editorial Director, DE's Breakthrough Clinical with Stacey Simmons, DDS
This article first appeared in the newsletter,DE's Breakthrough Clinical with Stacey Simmons, DDS.Subscribe here.

LAST MONTH . . . Dentistry 101: Always place the patient first