Zimmer's new 3.7 mmD Trabecular Metal dental implant
It's the first anterior dental implant to offer a Trabecular Metal material mid-section
Jan 7th, 2014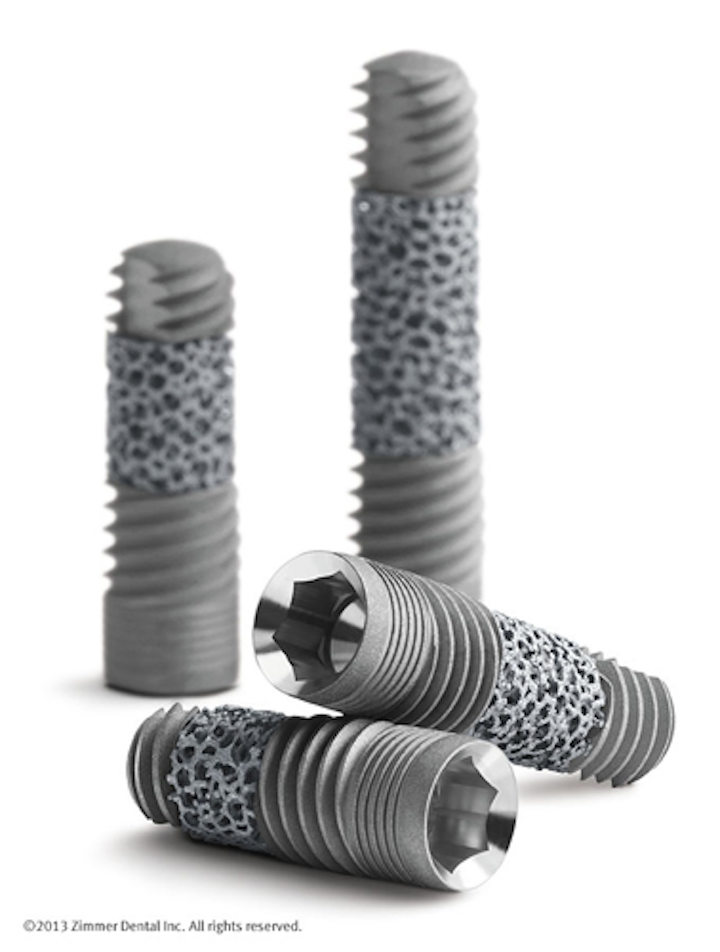 Zimmer Dental announces the 3.7 mmD Zimmer trabecular metal dental implant in select global markets. Combining the features of the tapered screw-vent implant with the unique properties of trabecular metalmaterial (now with more than three years of clinical research in dental indications) the newest member of the trabecular metal dental implant family is The Best Thing Next To Bone™ for the esthetic zone.
RELATED ARTICLES:Zimmer Dental offers space-maintaining resorbable porcine membrane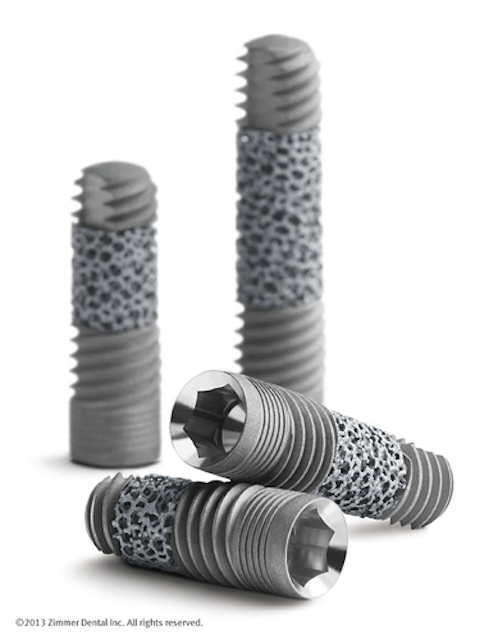 The 3.7 mmD trabecular metal dental implant is the first anterior dental implant to offer a trabecular metal material mid-section, with up to 80% porosity, intended to enable osseoincorporation through bone ongrowth and bone ingrowth in a process new to implant dentistry.
This smaller diameter offering rounds out the trabecular metal dental implant portfolio, allowing clinicians the flexibility to experience the benefits of the technology in all areas of the mouth. With the 3.7 mmD version, clinicians can take advantage of the implant geometry for high primary stability, critical for the immediacy protocols in the esthetic zone. The trabecular metal material is designed for enhanced stability due to interconnected porosity and has demonstrated human bone ingrowth to a depth of 0.5 mm to 1.0 mm as early as three weeks after placement in healthy patients.
Manufactured at Zimmer's TMT facility in Parsippany, NJ and used in Zimmer's cutting-edge orthopaedic devices for more than 15 years, trabecular metal material is a three-dimensional, highly biocompatible material — not an implant surface or coating — with up to 80% porosity for bone ingrowth and a structure comparable to cancellous bone.
Contact a Zimmer dental sales consultant or customer service at (800) 854-7019 or (760) 929-4300 (outside the U.S.), or visit TrabecularMetal.ZimmerDental.com for more information.