BC oral pathology case No. 41: The lesion that never changed
In this oral pathology case, Dr. Stacey Gividen examines a radiopaque s-/oval-shaped lesion on the lower right side of the mandible that didn't change appreciably within six years.
May 17th, 2019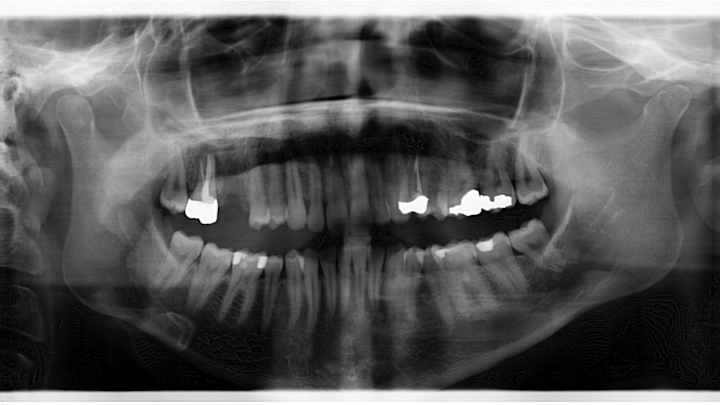 Case history
Six years ago, a healthy 30-year-old female presented for a new-patient exam. She had no concerns or issues. The patient recently had tooth No. 3 removed and was returning for a full assessment.
Radiographic assessment revealed a radiopaque s-/oval-shaped lesion on the right side of the mandible just inferior to the apical roots of tooth No. 31 (figure 1). The patient reported no sensitivities or tenderness in the area and was unaware of any potential pathology. Previous panoramic radiographs were not obtainable. At that time, we explained to the patient that we would reexamine the lesion with a subsequent radiograph in the next year to assess for any changes.
Presentation and clinical exam
Six years later (the patient left the area and then returned), the patient presented to my office for updates with a chief complaint of caries on her wisdom teeth and a desire to have them removed. A new panoramic radiograph was taken. The lesion on the lower right side of the mandible was noted as still present with no significant changes in shape or size (figure 2).
Given the information here, what would your recommendation for this patient be?
Send your responses to DEbreakthrough@pennwell.com. Next month, we will present the final diagnosis and recommended treatment for this oral pathology case.
Read more pathology articles at this link.
---
CALL FOR PATHOLOGY CASES:
Do you have an interesting oral pathology case you would like to share with Breakthrough's readers? If so, submit a clinical radiograph or high-resolution photograph, a patient history, diagnosis, and treatment rendered to DEbreakthrough@pennwell.com.
---
Editor's note: This article originally appeared in Breakthrough Clinical, a clinical specialties newsletter from Dental Economics and DentistryIQ.
---
Stacey L. Gividen, DDS, a graduate of Marquette University School of Dentistry, is in private practice in Hamilton, Montana. She is a guest lecturer at the University of Montana in the Anatomy and Physiology Department. Dr. Gividen is the editorial director of Endeavor Business Media's clinical dental specialties e-newsletter, Breakthrough Clinical, and a contributing author for DentistryIQ, Perio-Implant Advisory, and Dental Economics. She also serves on the Dental Economics editorial advisory board. You may contact her at sgividendds@gmail.com.