Wouldn't you like to be a kid AGAIN?
The foundation for practicing dentistry with children is built on the ability to guide them through their dental experiences.
Feb 1st, 2006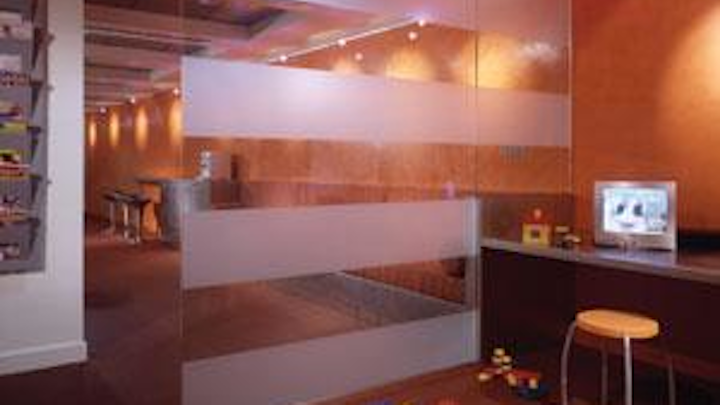 WRITTEN BY Maryam Mohammadi DDS, CAGS
The foundation for practicing dentistry with children is built on the ability to guide them through their dental experiences. A professional goal should be to promote a positive dental experience and attitude. A major difference between the treatment of children and adults is the relationship. Treating adults generally involves a one-to-one relationship, that is, a dentist-patient relationship. Treating a child, however, relies on both the relationship between the dentist and child, as well as that between the dentist and parent or guardian. My goal was to create an environment pleasing for our young patients and their parents or guardians. This unifying approach to dentistry is a great management solution for our practice.
Designing a pediatric dental office has many dimensions. I first considered the reception area. Should children of varying ages wait in the same area? Can an entertaining environment be created for both parents and children of all ages? How do we keep an overactive child from­disturbing the waiting area? How do we create a relaxed environment for parents to wait or talk to the dentist about treatment planning? My architect and interior designer, Andreas Charalambous from FORMA Design, and I turned my vision into reality.
The dynamics of the modern family have changed greatly. Children of the 21st century differ from those of 15 to 20 years ago. They learn about technology at a much earlier age and demand more from their daily interactions. Parenting has also changed - now there are more working mothers. When both parents work, there is even less time during the day to take their children to the dentist. Parental expectations about dental treatments and dental offices have also changed. We're dealing with a more sophisticated parent base with much higher demands.
All of these considerations presented a promising but interesting challenge for the designer and me. To create an interactive environment for parents, children, and doctor, I considered using a tech-savvy approach in the following ways:
Waiting area

Parents can sit and relax on our custom sofa while they watch DVDs on a large, flat-screen plasma television. We also designed a coffee bar for parents to enjoy gourmet coffees and teas.
Internet station
We designed two Internet stations for busy working parents or those who barely have five minutes for themselves throughout the day. There they may check and send e-mail, as well as surf the Internet. The station may also be used by our teenage patients. The teenagers specifically enjoy this area as it gives them separation from the younger children. Most important, parents know all of the computers are equipped with parental control devices to block inappropriate sites.
Playroom
To ensure the comfort of parents and freedom of our young patients who like to make noise while they play, we created a soundproof playroom. The room has a glass wall so kids can play with electronic games and other toys without disturbing others. The glass wall gives children a sense of privacy while their parents observe their activities from the waiting area.
Quiet/main operatory
In the past, parents did not expect to enter the operatory. Now, more parents insist to accompany their children. Our room accommodates a comfortable bench for parents. Also, the operatory is soundproof and equipped with a 17-inch, LCD television mounted on the ceiling for children to watch DVDs. Memory foam embedded within the treatment chair adapts to each patient's posture. The room is fully ergonomic and 100 percent handicap accessible. By creating more comfortable seating for children, awkwardness and anxiety diminish.
Technology network

All of the charting, treatment planning, and data management are computerized and ­HIPPA compliant. We file insurance claims electronically via DSL. We incorporate every possible technology to reach our goal of a 100 percent paper-free, ­office-management system.
We have learned a lot in the three years since we opened. Dental techniques and technologies and patient demands are advancing. To stay competitive, we embrace those advancements. We faced many challenges, but the final design has surpassed our expectations. Through our office design, we offer patients something they might have been missing during their previous dental experiences. We often hear our youngsters and their parents comment about telling their friends about their experiences at Beverly Pediatric Dentistry. By ensuring an atmosphere that provides each patient with a fun, relaxing, and memorable experience, we have gained the most important returns - word-of-mouth referrals and patients who look forward to their dental visits. ■
Meet the staff
null
null
null