Leading trends and tips in cosmetic dentistry
Cosmetic dentist Dr. Sherri Worth debunks myths, examines trends in the profession, and offers tips for whiter teeth.
Jul 19th, 2012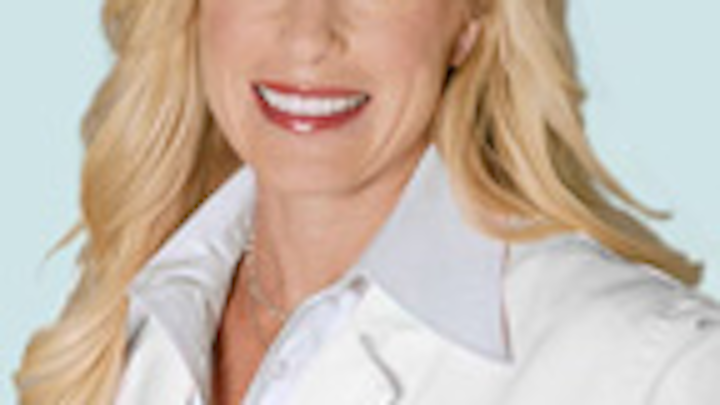 As we know, keeping teeth and gums healthy is essential for a beautiful smile. However, I have come to realize that there is a lot that my patients do not know — or, even worse, think that they know but are mistaken — when it comes to their mouth. I find that a lot of my procedures at the Center for Reconstructive Dentistry in Newport Beach, Calif., are reconstructive, and could have been prevented with the proper dental health education.
Common myths

For example, one major dental myth that I would like to debunk is the widespread notion that if one gets his or her teeth cleaned every six months to a year, that this is enough to maintain teeth and gum health. This is very untrue! All of our research states that a healthy mouth needs hygiene visits every three to possibly four months. This myth has caused many people to develop periodontal problems due to their infrequency of dental visits. These problems can be costly to take care of and could have been prevented if they had only increased the frequency of their visits.
I have also found that eating habits play a large role when it comes to the health of teeth and gums. While foods that are best for your teeth and gums are healthy foods from all of the food groups, there are certain foods that should be avoided — or at least eaten in moderation. When you eat a large amount of crackers and other foods that can lodge into the grooves on top of your teeth, these sugars will cause decay. Many people excessively eat lemons and other fruits with high levels of acidity that can cause the enamel to wear away. Chewing very hard foods, such as frozen chocolates or hard candies, can also cause a significant amount of tooth breakage.
Tips for keeping teeth white
When my patients ask me for tricks they can use to keep their teeth sparkling white, I am eager to share with them several commonsense tips that most of them had not considered before. I have found, with my own experience and the experience of my patients, that the best tricks for keeping teeth white are doing little things over time that will keep the stains off. When patients come into my office for an in-office Zoom bleach, they leave with some do's and don'ts to help their teeth stay white.
For example, one of these tips is to drink coffee with a straw to avoid coffee stains on the teeth. Afterwards, it is very helpful to rinse the mouth (or brush if possible) so that the coffee does not sit on the teeth and lead to staining. The same goes for teas or dark liquids. After red wine, make sure to brush. The teeth will stay whiter longer if the stains are removed. Another unique tip that is very easy to do in the comfort of one's own bathroom is to combine a whitening mix of exfoliating baking soda and lightening hydrogen peroxide on the toothbrush. Brush with this paste for one minute, every two weeks.
Trends in dentistry
I have found that men have really started to whiten their teeth in recent years, and they are getting smile makeovers almost as much as women. These "makeovers" include whitening, veneers, fixes for discolored fillings, etc. In general, women tend to opt for veneers more often than men. Men would rather just bleach their teeth instead of getting veneers, or at least would like to bleach before making the commitment for veneers.
I believe my team and I are changing lives and doing something to better the profession of dentistry. When you give someone a new smile, in many cases it truly changes the way they feel every day.


Dr. Sherri Worth is an accomplished leader and innovator in cosmetic and reconstructive dentistry. Specializing in porcelain veneers, crowns and bridges, implants, and reconstructive dentistry, Dr. Worth's perfectionism is demonstrated not only in her patients' flawless teeth, but in her state-of-the-art dental facility. Located in Newport Beach, Calif., her facility fuses the latest technology and equipment, including digital imaging and X-rays, with a team of enthusiastic and knowledgeable staff. Dr. Worth completed both her undergraduate Bachelor of Science and her graduate Doctor of Dental Surgery degrees at the University of California, Los Angeles. She received her cosmetic training at The Center for Esthetic Dentistry at UCLA and Advanced Education in General Dentistry at UCLA, after which she started her cosmetic dental practice.