Career management with an exit strategy
Managing a dental hygiene career has many facets. It seems that most dental hygienists are so happy to get a job they keep their head down and try not to make waves much to their detriment. What rarely happens is that dental hygienists focus on their own career with as much intensity as they do for getting through the day.
Jun 9th, 2014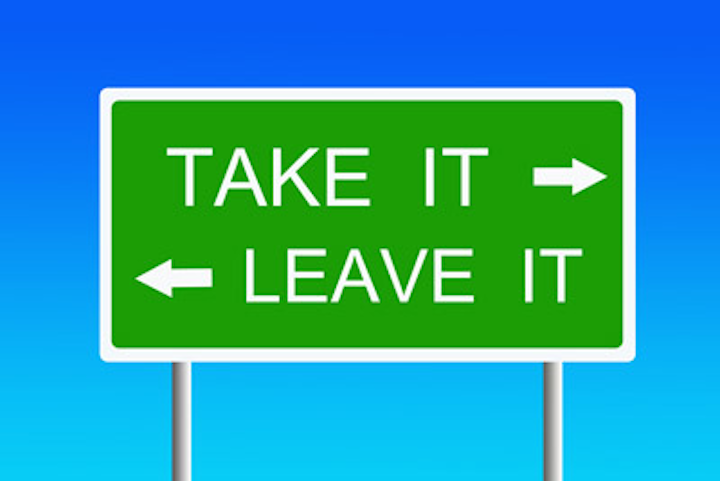 Several career alternatives expand on dental hygiene training
By Shirley Gutkowski, RDH, BSDH
Managing a dental hygiene career has many facets. It seems that most dental hygienists are so happy to get a job they keep their head down and try not to make waves much to their detriment. What rarely happens is that dental hygienists focus on their own career with as much intensity as they do for getting through the day. By managing the career, I mean thinking through every step beginning with school. For instance, if it's not too late, taking classes at a four-year institution while on the waiting list at the two-year institution.
It's hard to go back to school and find that the two-year credits don't transfer. Taking those pre-requisites and electives from the four-year university or college will give an enormous head start to the candidate. Once the time on the waiting list is complete, the candidate transfers the classes into the dental hygiene program. At graduation time, the candidate finishes both schools at the same time, finishing with an associate's degree in science and a baccalaureate degree. This pre-planning step makes the new hygienist much more employable — if not in a dental office, nearly everywhere else. No one will tell them about it so it's up to you!
See my video about this on YouTube. Many people have seen that video and have been thankful, grateful, or sorry they were not able to follow the advice I gave because it was too late for them.
If you're already practicing, the next bit of information is as important as anything you're going to read in your dental hygiene career.
I have been following the dental hygiene Internet boards since 1999. Trends continually become apparent. In 2010, I co-authored a book based on those trends, explaining how to look good on a resume and help make a hygienist indispensable at work. The book's chapters are presented in five-year increments that address some of the earlier trends. But something has been showing up at the 15-year mark that wasn't fully appreciated until recently.
It seems that during the 15th year of practice a career-altering event occurs. For instance, an injury creates limits to full-time work, or the dentist/owner retires or dies and the practice changes hands much to the detriment of the dental hygiene team. Knowing this trend should make it easier to motivate yourself to creating what's called in the business world an exit plan.
Here is my first recommendation: Get training in orofacial myofunctional therapy (OMT).
At the ten-year mark, dental hygienists should be established in the field and, with planning, the week off that you need in order to be trained in this field may be more possible than at the very beginning of the career. When returning from the training, the OMT can be very instrumental in supporting the health of the practice patients at an entirely new level. They will be highly employable in many other settings. For instance an OMT will be welcomed in a:
Ortho practice
Pediatrician's office
Sleep clinic
Endocrinology clinic
With diabetes educators
With a nutritionist
Prosthodontist's practice
School nurses
Lactation consultants
Physical therapists
Or, you may open your own practice and all those disciplines will be your referral sources. What do orofacial myofunctional therapists do?
Break oral habits (thumb sucking)
Eliminate tinnitus
Help with TMD (cure or relieve pain)
Close open bites, anterior and posterior
C-PAP fitting
Tongue tie or thrusts
Work with people who have suffered strokes and facial burns
The following links should help navigate your career advancement:
Anyone practicing in the field right now feels the pinch of the traditional dental hygiene practice. The model of the traditional dental office where dental hygiene is practiced chairside is very limiting to the profession. The media repeats the standard line developed in the 1980s that the demand is high and wages are great for a two-year degree. Only those who have gone through it know it's really four grueling years, and the large numbers of job candidates are too high to keep wages high. Wages in some areas of the country are down, some areas have stagnated, and some areas have kept up with inflation but the dentist/owner is extremely progressive and has a great business plan.
If you are a new graduate, it would be well worth your time and energy to take one more class and become certified in OMT. You'll be very valuable to your patients and the practice. Even if you focus on dental hygiene, you'll know how to refer your patients with perio and tongue tie, and know how to recognize things like sleep-obstructed breathing and a host of other issues that can be treated by OMT. Take a look at this video to see what kind of impact you could make on even your pediatric patients.
So what do you do to get ready to become an orofacial myofunctional therapist after a decade or more in chairside dental hygiene practice? Training is offered to dental hygienists, dentists, occupational therapists, physicians, speech pathologists, or other medical/dental team members. While you're gathering funds, start reading a few business books. At CAREERfusion last year, the book "To Sell is Human" by Daniel Pink was a hit. Other options are "Everyone's in Sales" by Todd Cohan, or anything by Malcolm Gladwell or Dan Ariely. Those books will give you the background you'll need to build your business.
Another tip is to join your city's Chamber of Commerce; you'll need business partners such as attorneys, accountants, and other support to grow your business.
Once you decide on your OMT program and location, get signed up. Many courses are given across the country. There's an internship option for those who want it and you'll be soon on your way in demand by patients, clients, and practitioners who think outside their medical silos.
For more in-depth information, listen in to my online radio program or download the podcasts with interviews with Sandra Coulson, Beth Thompson, Joy Moeller, and Marc Moeller at www.blogtalkradio.com/crosslinkradio.
My second recommendation is: become certified in integrative health.
Most dental hygienists have seen what I call suicide teeth: a single tooth in a single mouth that seems driven to extraction. After many fillings, a crown, recurrent decay, a root canal, recurrent decay, another crown and another episode of recurrent decay, the tooth sadly is removed and replaced. The caries infection had never been dealt with so the manifestation of the caries infection continued.
Secondary to the topical caries infection in this example — and arguably more important than the topical infection — is the person's diet. Today's diet of processed food has detriments that reach further than one can imagine. The Weston Price diet, developed by a dentist, focuses on whole "clean" foods, a designation to foods that are not contaminated by pesticides or our food ingesting contaminated foods. Someone in the office who can act as a nutritionist guiding patients through foods that promote good health, and good dental health from the inside out is an up-and-coming-yet-to-be-discovered way that dental hygienists can add value to the practice and increase job security.
There are probably other options for career expansion as well. There's no need to change totally; there are ways to institute a new type of dental hygiene practice to continue to be a valued member of the dental profession, including options such as developing a position as a risk factor manager, or pushing the envelope and practicing in the medical field too. There's also sales or presenting and training for companies. Whatever trips your trigger should get you to pull the trigger. Do it now. If you're unsure, if you're afraid, start by joining the positivity factory at CAREERfusion. Whatever you decide, decide now before you're forced to. Put up with your current smart phone for another year, pinch some other pennies to make your career a priority for you and your family's wellbeing.
Shirley Gutkowski is the technology coach at CAREERfusion. She's the author or co-author of a number publications for dental hygienists promoting career growth, and caries management. Gutkowski is also a practiced dental hygienist, international speaker, podcast host, and industry consultant.