New Product Highlight
Performance Series™ loupes
Feb 1st, 2006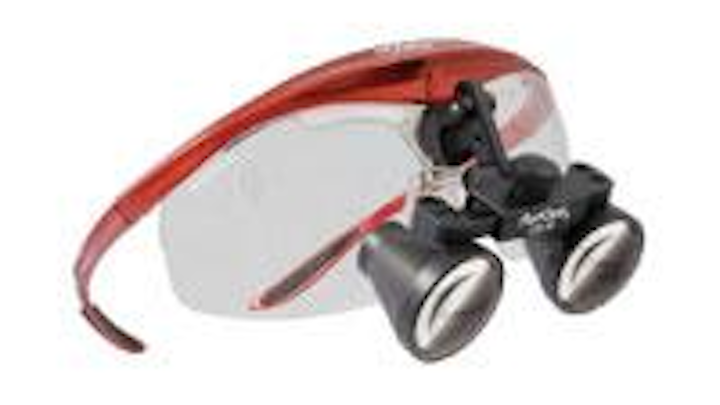 Performance Series™ loupes
null
Performance Series™ loupes
The new Performance Series loupes from Perioptix feature patent pending "Set and Forget™" intrapupillary and convergence adjustments that quickly and easily lock in your customized settings for a perfect and stable alignment. Available in 2.5, 3.0, and 3.5x magnification and four working distances, all Performance Series loupes incorporate high-resolution, coated optics with a wide field of view and large depth of focus. Performance Series loupes can be ordered on titanium frames or the Hogies™ advanced optical platform. Hogies frames are a modular system that allows easy removal and adjustment of optics, shields, and nose pads. All have wrap-around side frames and shields that eliminate the need for side shields and head straps. Hogies are available in 10 colors, and in prescription or nonprescription frames.
For more information and to order online, visit www.perioptix.com or call (888) 360-0033.
NOMAD™ hand-held dental X-ray by Aribex, Inc.
Aribex Inc. announces its NOMAD portable X-ray to the U.S. dental market. NOMAD is a unique, hand-held intraoral X-ray system that is cordless, battery-powered, true DC, lightweight, and simple to use. An external back-scatter shield and unique internal radiation shielding ensure operator safety that exceeds regulatory requirements. NOMAD's true portability doesn't compromise the diagnostic quality of the X-ray images, but provides additional diagnostic information when and where it is needed with great speed and convenience. NOMAD provides economic incentive to use, because it can replace the need for multiple conventional wall-mounted X-ray heads in a clinical setting. It is perfect for dental field work and humanitarian missions. Anytime, anyplace X-ray is needed, NOMAD is there.
For more information, call (714) 901-5850 or visit www.aribex.com.
G-Force diamond cuts faster with better margin
Garrison Dental Solutions has added a new shape to the G-Force rotary instrument line. The GRT060 (U.S. reference #789.7, European reference #856-024) is a large-diameter, round-end taper designed specifically for rapid buccal and lingual axial gross reduction. The large diameter maximizes the rotational speed of the abrasive head as it contacts tooth structure. In addition, the larger diameter reduces the "J" shaped margin that is common with smaller-diameter round-end tapers. The GRT060 incorporates Garrison's unique diamond spacing and braising technology that allows more of the diamond crystals to contact tooth structure and share in the cutting burden. These features, combined with uniformly sized manufactured crystals, result in a bur that cuts faster and lasts longer.
The GRT060, along with the 22 other shapes in the G-Force line, is available in a five pack and comes with a money-back guarantee. Call (888) 437-0032 or visit www.garrisondental.com for more details.
New restorative and diagnostic promo!
Hu-Friedy announces the High Definition promotion, which runs from Jan. 1 through March 31. Hu-Friedy offers an extensive range of restorative and diagnostic products that allow you to efficiently complete procedures with exceptional results every time. Hu-Friedy instruments are made with the finest stainless steel for superior performance and unsurpassed durability. Hu-Friedy Colorvue® Probes provide strength, flexibility, and visibility for comfortable yet thorough assessments. Hu-Friedy explorers are hand-crafted from Duraspond™ steel, a specially blended alloy which makes them flexible and responsive for even the most precise diagnostic procedures.
Outstanding products featured in this promotion include: Satin Steel XTS Composite Instruments, Colorvue Probes, Duraspond Explorers, and UNC Color-Coded Probes, to name a few. This offer is available through all authorized Hu-Friedy dealers.
Buy any 12 Colorvue Replacement Tips, get two Colorvue Handles free. Buy any six Restorative Instruments, get two free. Buy any eight Diagnostic Instruments, get two free.
For complete details, call (800) HU-FRIEDY.
Paperless Technologies introduces PT Dental
PT Dental was designed to work in conjunction with practice-management programs to create a truly paperless dental practice. PT Dental allows patients to fill out all of their consent forms and health-related questionnaires online or in a dental practice using a 2100s tablet PC. Once these forms have been completed and signed, PT Dental uses its patented USI (User Simulated Input) technology to automatically place a patient's demographic, insurance, employer, and other information into the practice-management program without the use of human hands. The completed documents can be accessed from any computer in the office or remotely. PT Dental also is equipped with an automated fingerprint-scanning check-in for patients that recognizes them, alerts office staff, and places them into a time-tracking patient queue. PT Dental allows any paper form to become an electronic customized clinical form. These forms are designed to replace all the paper forms used in the clinical areas and can be written on just like pen and paper.
For more information, visit www.gopaperlessnow.com or call (888) 255-4255.
Sirona integrates Satelec Mini LED™ into C8+
Dentists looking for strength and versatility in an L.E.D. curing light will embrace the new Satelec Mini L.E.D. that can be integrated directly into the Sirona C8+ dental unit. Introduced in 2004, the Mini is the strongest curing light available, with the ability to polymerize 2 mm of any composite in only 6 to 12 seconds.
In addition to unmatched power, the Satelec Mini L.E.D. combines the highest quality materials - anodized aluminum handpieces, latest-generation SMD electronics, etc. - into an ergonomic design for better practitioner performance. With three modes - fast, pulse, and ramping - for optimal curing on all types of composites, the Mini L.E.D. will adapt to any curing need, in any environment.
For more information, call (800) 659-5977 or visit www.sirona.com.
DBI America introduces the Maxisonic III
The Maxisonic III is a self-contained work station with a piezo ultrasonic scaler, electric motor, and water syringe. The work station can be used wherever electricity is available. The unit includes a 500 ml reservoir that can be filled with either water or medicament. This is a work station for clinics requiring extra mobility, an additional unit, or a unit for field work. The Maxisonic III features tips with linear movement to minimize noise, reduce patient discomfort, and speed calculus removal. DBI America offers a wide tip selection, including endodontic, apical surgery, and periodontal treatment. The unit includes a two-year warranty.
For more details, call (800) 884-3507 or e-mail dbisales@verizon.net.
Silver Recovery X-ray Fixer Machine
The Silver Recovery X-Ray Fixer Machine replaces expensive, ongoing hazardous waste removal, which increases regularly and incurs a cost to you forever. This system can save small and large practices up to 75 percent annually. Fixer cannot be poured down the drain directly under any circumstances. Before this system, fixer had to be removed by a licensed hauler. This system uses no disposable filters, which need regular replacement. The Silver Recovery Machine saves money, eliminates liability, and improves the environment - offering an unequivocal number of advantages over hazardous waste carriers.
For more details, call Medical Innovations, Inc. at (866) 223-5858, PIN 3010, or call (508) 358-8099.
DentalEZ® launches new Prophy Star® II and Prophy Hygiene Pack
DentalEZ Group's StarDental® brand recently launched its new Prophy Star® II Hygiene Handpiece and its new Prophy Hygiene Pack. Ergonomically designed and weighing only 65 g, the Prophy Star II dramatically reduces hand and wrist fatigue while providing superior maneuverability and a natural grip for unparalleled comfort. Additionally, the handpiece virtually eliminates the time and hidden cost of repeated lubrication. Plus, there is no sticky residue to cause the handpiece to stall or malfunction.
The easy-to-handle handpiece is the cornerstone of the StarDental Prophy Hygiene Pack. This versatile and functional package also includes the Titan® Plus Sonic Scaler with tips and two StarDental hand instruments of choice.
For more information, call (866) DTE-INFO and press "2" for DentalEZ Customer Service, or visit www.dentalez.com.
"Easy Dental announces new digital sensor
Easy Dental Systems releases Easy Ray®, a new, all-digital X-ray sensor that provides instant, diagnostic-quality images without using expensive films or exposing patients to excessive radiation. Using its patented "Active Column" CMOS sensor technology, Easy Ray's high-quality images support the rapid detection of caries. Easy Ray is compact and energy-efficient, and integrates seamlessly with all Easy Dental software products.
Easy Ray is compact and portable, and requires less power than most CCD-based sensors. It eliminates the need for bulky docking stations and power cords, as the system is powered directly through the USB connector cable. Easy Ray virtually eliminates the wait for film to develop - images taken with Easy Ray appear on screen in seconds. The Easy Ray is available in #1 and #2 sensors.
For more details, call (800) 768-6464, or visit www.easydental.com.
Circle 109
Snap-On Smiles™
Snap-On Smile is the biggest breakthrough in dentistry in 20 years! It's the cosmetic alternative to permanent dental work. Well-suited for instant gratification, dental phobic, financially-challenged, medically compromised patients, as well as apprehensive patients who want to preview permanent work, it gives clients the look without the expense of cosmetic dentistry. It has achieved amazing results in more than 300 successful cases dealing with cosmetic enhancements, missing tooth replacements, restoring patients' vertical dimension, or simply used as a diagnostic tool. Its specialized resin allows a thinness of .5 mm without compromising its strength. Its simple design permits patients to eat without any impingement into the gingiva. It comes in 17 shades and 18 smile designs, giving patients an array of choices for their cosmetic-enhanced, custom-fitted appliances.
No cementation or bonding is ever needed. A slight tightness or pressure on the teeth as well as a period of tongue adaptation may occur for up to one to two days upon insertion. The only contraindication is in cases of severe, highly mobile, and/or periodontal disease.
Snap-On Smile is a registered trademark by Dr. Marc Liechtung and is exclusively available from Trident Dental Laboratories through the dental professional. For more details, call (800) 221-4831 or visit www.tridentlab.com.
GetFlossin dental education and marketing program
Dentists have worked hard to ease the fears of patients while offering superior service. At the same time, dentists are stepping outside of their offices to impact their communities. The GetFlossin Program is teaching kids to keep those smiles bright. GetFlossin was designed by an Oregon dentist, Dr. Gregory Soriano. The idea emerged as a dental education and new-patient marketing combination.
The creativity of the Web-based GetFlossin Program is that it is designed to allow teachers and dentists to be paired together through the program's matching network. Together, teachers and dentists can make a difference by educating the next generation on dental health.
Visit the Get Flossin Web site at www.GetFlossin.com for more details on the program.
New Artiste™ nano-hybrid flowable composite
Pentron Clinical Technologies, LLC introduces new Artiste Nano-Hybrid Flowable Composite, a truly versatile esthetic flowable that combines the beauty and polishability of a microfill with the strength of a conventional hybrid flowable. It offers ideal handling properties with ideal viscosity for controlled and reliable placement.
The nano-hybrid formulation also produces exceptional shine, polishability, and polish retention for long-term lustrous beauty. Available in 14 radiant shades (A0, A1, A2, A3, A3.5, A4, B1, B2, C1, C2, C3, D2, Incisal, and Universal Opaque), it features excellent stain resistance, so that restorations not only start out beautiful, but they stay that way, too.
For more information, call (800) 551-0283 or visit www.pentron.com.