Prevention and Protection
Recent new product announcements of interest to dental hygienists.
Jun 26th, 2009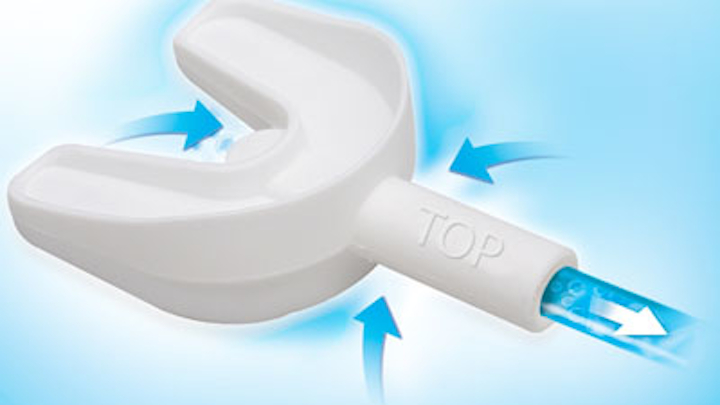 Premier® E-VENT™ disposable dual-arch fluoride trays with saliva ejector port
Premier Dental Products Company is proud to introduce the revolutionary E-VENT Disposable Dual-arch Fluoride Trays with Saliva Ejector Port. E-VENT evacuates saliva and excess fluoride material through its unique saliva ejector port, virtually eliminating gagging. This reduces the anxiety associated with fluoride treatments, increasing patient comfort and compliance. E-VENT Fluoride Trays are flexible and contour to the mouth. Sized for preteens to young adults, E-VENT is ideal when using foam, gel and paste. Contains no latex, phthalates or bis-phenols; available in a box of 40 medium sized trays. Complete the fluoride treatment using the new Enamel Pro® Non-acidulated Fluoride Gel with ACP technology. www.premusa.com
Defend® Plus wipes provide broad-spectrum disinfection
Mydent International is offering Defend Plus disinfecting/deodorizing/cleaning wipes, which provide fast-acting, broad-spectrum disinfection. Through December 31, 2009, customers who buy 12 canisters will receive a $10 Target gift card. Be smart. Be safe. For more information on Mydent International and its products, call 800-275-0020, or go to www.defend.com.
Finally, a varnish that smoothes out your stickiest problem
Tired of lumps and clumps slowing down your varnish application? Try Vella, a 5% sodium fluoride varnish with Xylitol. Vella is ideal for hypersensitivity, and because it goes on easier, it's ideal for younger children who don't like the fluoride tray technique. With twice as many bristles, Vella's 2.0 ultra brush applies more product faster. And Vella's container is so sturdy, you can hold it closer to the mouth and wipe the brush tip more easily. That means fewer trips to the well, ensuring a faster, less-messy, thin-layer application. And Vella's fluoride uptake is unsurpassed. In fact, an independent study shows Vella delivers superior uptake in treated enamel when compared to the leading brand. For more information or a free sample, call 800-474-8681, or ask your dealer for Vella. www.preventech.com
New Rinn XCP-ORA™ one ring and arm positioning system for radiographs
Dentsply Rinn announces the availability of a new universal ring and arm positioning system: Rinn XCP-ORA. Designed as a three-in-one positioner suitable for correctly aligning Rinn XCP Film and Sensor bite blocks, the Rinn XCP-ORA design allows dentists to achieve anterior, posterior and bitewing X-ray positioning with only one ring and arm. This reduces the number of positioning pieces in the dental office, minimizes autoclave loading due to a reduced number of positioning devices and simplifies the radiographic alignment procedure. www.rinncorp.com
Kerr TotalCare announces new PerfectPearl™ contra disposable prophy angle
Through September 30, 2009, Kerr TotalCare is offering an outstanding introductory offer. Buy two boxes of PerfectPearl disposable prophy angles, get a free pair of pearl earrings. These prophy angles offer comfort and control with their unique beveled gears and contra design. Effective for both cleaning and polishing, the angle's latex free cup offers less splatter and excellent flare for good subgingival cleaning. When the hygienist speaks, we listen. All the benefits and technology in PerfectPearl comes from listening to the "Voice of the Hygienist." To find out more about PerfectPearl disposable prophy angles call (800) 841-1428 or visit www.kerrtotalcare.com.
Premier® Enamel Pro® 1.23% non-acidulated topical fluoride gel
Premier Dental Products Company is proud to introduce Enamel Pro non-acidulated topical fluoride gel with ACP (amorphous calcium phosphate) to our enamel therapy family of products. Enamel Pro Gel with ACP technology is non-acidulated, yet provides the same fluoride uptake as acidulated phosphate fluoride gels. The ACP acts as an enhanced fluoride delivery system to promote fluoride delivery to the teeth. Enamel Pro Gel also provides the same advantage as neutral pH gels, making it safe for patients with porcelain, composite restorations and sealants. There is no dulling or etching of teeth which could occur in APF gel use. Complete the fluoride treatment using new E-VENT™ disposable dual-arch fluoride trays with saliva ejector port. www.premusa.com
Paradise Dental Technologies introduces the PDT-3Saver™
The PDT-3Saver is a total debridement kit containing three instruments, allowing the practitioner to be more efficient with fewer instruments. Practitioners will also save 15% over purchasing each instrument separately. PDT Inc, is the second largest manufacturer of Hygiene/Perio instruments in North America and is responsible for bringing such products to market as the Montana Jack™ Scaler and the Platypus™ Ortho Flosser. For more information regarding the PDT-3Saver, visit www.pdtdental.com or call (800) 240-9895.
VIOlight's Clinically-Proven Toothbrush Sanitizer & Storage System
VIOlight Inc., the leader in ultraviolet light toothbrush sanitizers, recently introduced a Dental Professional Distribution Program that enables authorized dental offices to provide their patients with the company's clinically proven line of products that kill infectious bacteria commonly found on toothbrushes. For a limited time, qualified dental professionals will receive a free VIO 200 travel toothbrush sanitizer just for inquiring about the distribution program. For more information call (877) 339-1361 or visit www.violightprofessional.com.