Periodontal disease case study: How trust overcame a dental phobia and transformed a life
A patient came to RDH Jamie Collin's chair with cracked bridge spanning from Nos. 6–11 and a history of drug addiction—and little dental care due to life circumstances and phobias. She only wanted the bridge patched, but ended up embracing the most complete and healthy treatment plan, all because practice and patient developed a bond of trust.

Sep 14th, 2017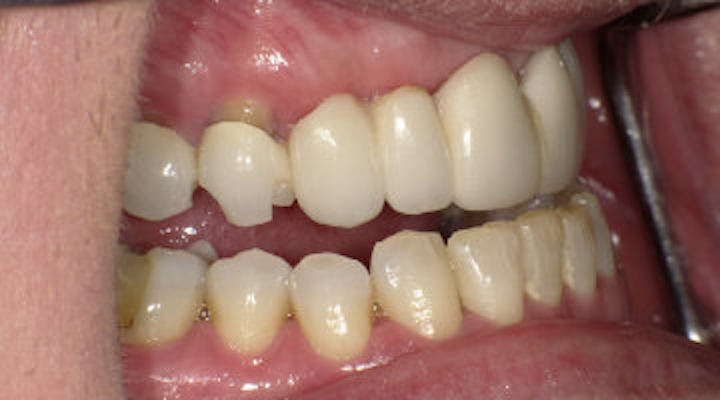 LET ME INTRODUCE YOU TO KAREN. Karen presented in our practice as a new patient with extensive dental history—and "life history." At the age of 43, she has live a rough life by many standards. Notably, she battled the demon of drug addiction, including addiction to heroin and methamphetamine, for a period of many years.
Throughout Karen's life she has had sporadic dental care, mostly as a result of pain. She has been clean and sober for the past eight years; she is now married to a supportive spouse, and they have a seven-year-old daughter together. She's living productively in society, and life is looking up for her.
Karen's dental life has been a work in progress. After getting sober 8 years ago, her oral health was a mess. She had seen a dentist and had teeth Nos. 6–11 extracted, and had a bridge spanning from No. 3 to No. 14. As with any single bridge with such an expansive pontic span, there is decreased longevity and increased likelihood of failure as compared to a three- or four-unit bridge.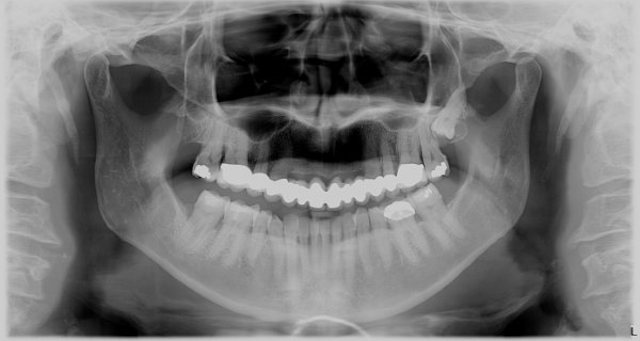 Pre-operative panoramic radiograph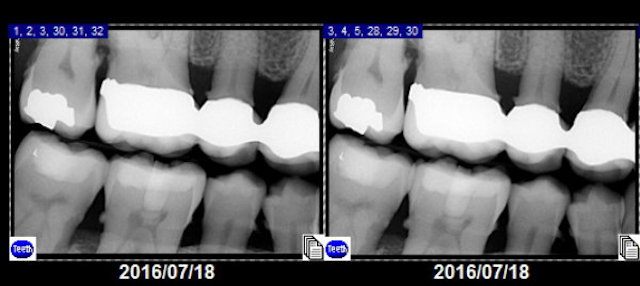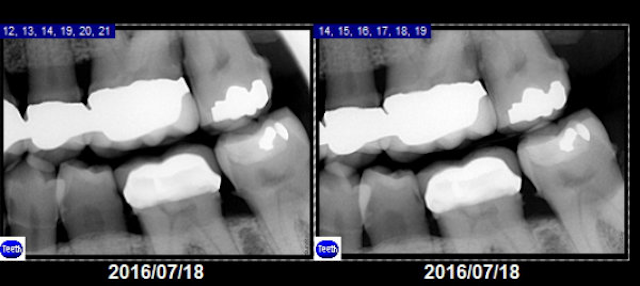 Pretreatment bitewings
When she presented in our dental office, her last dental care had been approximately five years ago. She complained of a fractured bridge and lack of esthetics, in addition to bleeding gum tissue. Karen has significant anxiety about pain associated with any dental treatment, and the fear is what has kept her from the dentist for years. Karen's medical history consists of hypothyroidism and depression, in addition to the former addiction. Medications are Zoloft (sertraline) and Synthroid (levothyroxine), which she has been on both for a few years.
Karen was a new patient in our office, and she landed in my chair first. Her chief desire was only to get options to replace the fractured bridge on Nos. 3 to 14; she did not want any other treatment. After the necessary radiographs and periodontal charting, I sat her up eye-to-eye and discussed the periodontal condition of her mouth. With calculus rings around each tooth, it was impossible to obtain accurate probing depths; however, it was very clear she was in need of periodontal therapy.
After addressing her concerns about pain control and anxiety, which took the majority of an hour, we established a plan of action to get on the track to health. I explained to Karen that the foundation needs to be healthy and strong to support a new restoration. Her biggest concern was the risk of needing pain medication, which could bring forth her addictive tendencies—she wanted to be comfortable, but didn't want to risk a relapse. After I assured her of the options we offered, including nitrous oxide for anxiety, she established that she would like to try local anesthesia only first, and if the anxiety became too strong during treatment, she would try a little nitrous oxide.
Next came the comprehensive evaluation by the dentist, which was just as extensive. Her existing bridge from Nos. 3 to 14 had fractured porcelain, recurrent decay on No. 4 mesial, No. 5 distal, No. 12 distal, No. 13 mesial and distal, and No. 14 mesial. Additionally, decay was noted on No. 18 buccal and No. 20 distocclusal.
Mandibular arch prior to restorative treatment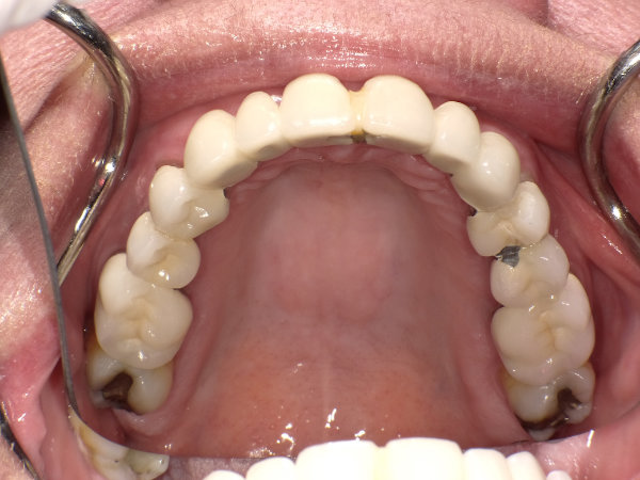 Maxillary arch prior to restorative treatment
Then came the big question: What is the best plan to replace the failing bridge? The following options were presented:
Replace the bridge as is, Nos. 3 through 14, with a pontic span of Nos. 6 to 11. This was not the ideal option due to the large pontic span and risk of early failure or damage to teeth from forces.
Implant placed on No. 6 and No. 11, with an implant-supported bridge, and individual crowns to replace Nos. 3, 4, 5, 12, 13, 14. This would preserve the natural teeth as best as possible and provide implant support for shorter-span bridge.
Implants placed on Nos. 6, 8, 9, and 11, with bridges placed from No. 6 to No. 8, and No. 9 to No. 11. Individual crowns will be placed on Nos. 3, 4, 5, 12, 13 and 14. This was, of course, the costliest plan but would be the best option.
The options were a surprise for a patient, who thought we could just patch the fractured porcelain. In addition, she was told she need full-mouth periodontal therapy, and a few other fillings. She was unaware of the decay present on the bridge; cosmetics drove her to see the dentist in the first place.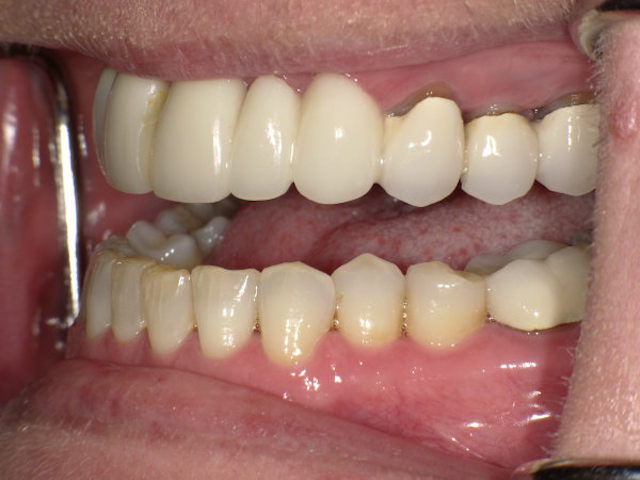 Left side prior to restorative treatment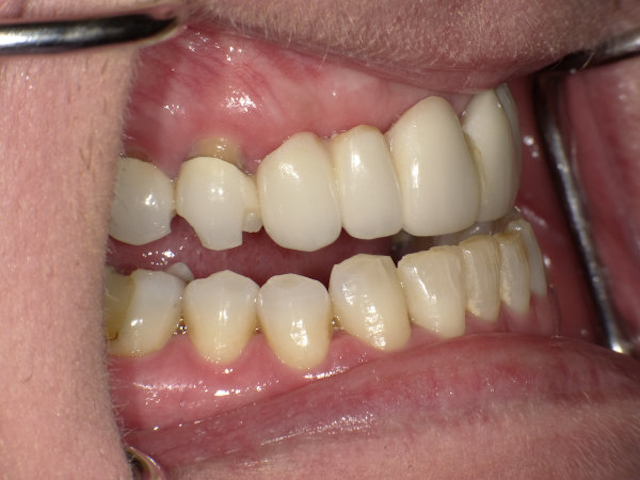 Right side prior to restorative treatment; note the fractured bridge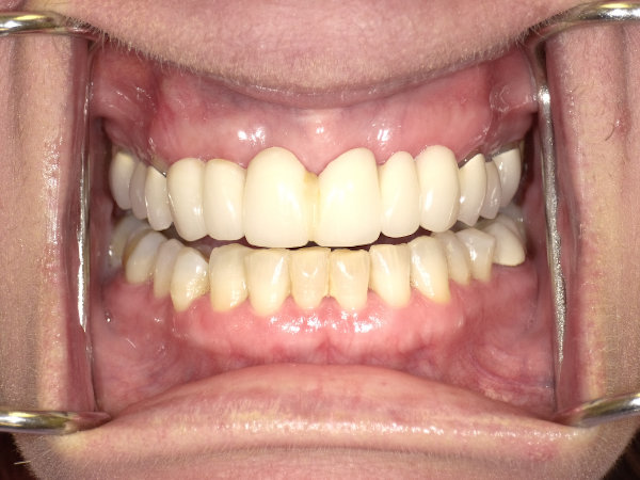 Pretreatment anterior view; maxillary bridge Nos. 3–14 with a pontic span Nos. 6–11
We started with building a strong foundation, with a two-hour visit for scaling and root planing using local anesthetic injections IA, PSA, MSA. She was nervous and did very well. With deep probing depths ranging up to 9mm, access was difficult. Karen did not want or was not willing to accept a referral to a periodontist for flap surgery. Earning her trust enough to provide any treatment was a victory. I completed periodontal therapy in two separate visits, one for each side of the mouth. It was satisfying to see the rings of calculus around each tooth break away in large chunks with use of the ultrasonic scaler, followed by hand instrumentation. After three months, Karen showed fantastic sings of healing and a 2–3 mm reduction in pocket depths with very little bleeding upon probing.
A significant factor for the results was education and her willingness to make changes to home care. Education of the patient and providing a value of treatment can establish not only changes to home care, it also can help to develop confidence and trust in the provider. Karen then proceeded to schedule her fillings No. 20 distocclusal and No. 18 buccal. She presented faithfully for her three-month periomaintenance visits for the first 6 months, and was enthusiastic about her healing process and how much better her mouth felt, though she was not ready emotionally (and I assumed financially) to undergo the task of replacing the bridge on the maxillary arch. She had gone from breathing deeply and fighting tears when seated in the chair to eagerly coming back to the chair and catching up on what has happened in life over the past months. Well, looks can be deceiving.
After her second periomaintenance procedure with me, she looked and me and said, "Jamie, lets schedule to get this bridge done." Karen usually showed up in an older vehicle and didn't have fancy clothes or manicured nails. She just wasn't a showy person, and I assumed she would go with the least expensive option, which was to replace the bridge as is. Boy, was I wrong! After establishing a relationship and listening to her questions over the past six months, she valued our opinions on what the best option would be and scheduled for implant placement on Nos. 6, 8, 9, 11.
Karen returned, and under conscious sedation the dentist removed the existing bridge and placed implants as planned. An interim temporary bridge was constructed to get her through the healing process and until abutments would be placed. In the meantime, individual crowns were completed on Nos. 3, 4, and 5. Shortly thereafter, crowns were completed on the left side on teeth Nos. 12, 13, and 14. She is currently awaiting the final implant supported bridge on Nos. 6–8 and 9-11.
It goes to show: as professionals, what may often be routine for us is a life event for many patients. Getting past her anxiety and establishing value and trust was imperative for her to feel comfortable enough to complete a very expensive and time-extensive treatment plan. Karen doesn't come across as anything but your average middle-class citizen, but she saw the value to and had the desire to replace a failing restoration and improve her smile and self-confidence. It goes to show you can't judge a book by its cover.
---
Editor's note: This article first appeared in RDH eVillage. Click here to subscribe.
---
Jamie Collins, RDH, CDA, resides in Idaho with her husband, Cory, and their four children. She currently works as a full-time hygienist as well as an educator at the College of Western Idaho. In addition, she acts as a content expert and contributor in multiple upcoming textbooks. She can be contacted at jamiecollins.rdh@gmail.com.
---
For the most current dental headlines, click here.

---