New Products
DEXIS® ShareStation™; No Artex, no profit. Know Artex, know profit ; Biofoil® Oral Bandage; MORE...
Sep 1st, 2003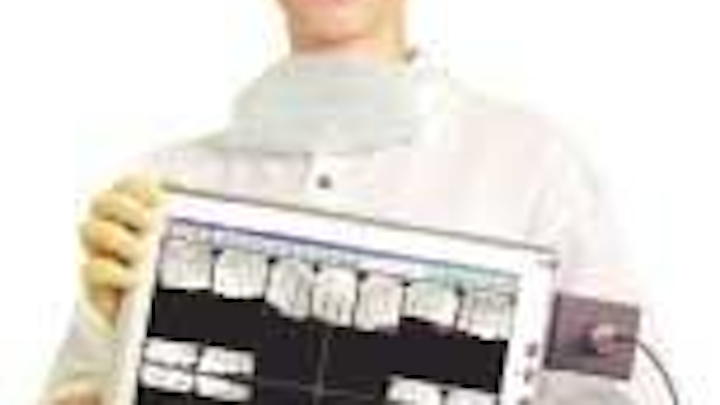 DEXIS® ShareStation™
The DEXIS ShareStation is a wireless, self-contained and portable touch-screen digital X-ray system. It uses the latest in Tablet PC technology and can be moved about with total freedom. The ShareStation is a full-featured DEXIS digital X-ray system.
For more information, call (888) 883-3947 or visit www.dexray.com.
DEXIS® goes unplugged with ShareStation™
DEXIS®, an industry leader in digital radiography, has announced the release of the DEXIS ShareStation™, the first self-contained ultra-portable, touch-screen digital X-ray system. The ShareStation is the only digital X-ray system making use of the latest Tablet PC technology in combination with the DEXIS digital X-ray sensor.
The ShareStation can be moved readily from operatory to operatory with total freedom, bringing a new standard of portability and flexibility while significantly enhancing patient education and treatment acceptance. However, its extraordinarily small size and portability do not come at the expense of functionality. The ShareStation is a full-featured DEXIS digital X-ray system in every way, except that it is unplugged! It runs Windows XP, and it incorporates the complete catalog of unique DEXIS features.
Ideal for practices just starting computerization as well as for those already computerized, it comes with a docking module for seamless integration into existing networks, including WiFi wireless networks.
For more information, call (888) 883-3947 or visit www.dexray.com.
No Artex, no profit. Know Artex, know profit
Facebows and precision articulators can significantly improve functional analysis of dental casts and improve case-requirement communication with your laboratory for maximum accuracy.
Jensen's calibrated Artex articulator and Rotofix facebow, for use by dentist or assistant, easily provide patient-related occlusal refer- ences. Artex reduces equipment loss and shipping costs because only a plaster-set bitefork is sent to the lab for mounting in Artex. An acc-urate yet simple mounting system, Artex can be an important communication tool for dentists to evaluate cases prior to insertion.
For more information, call (800) 243-2000, ext. 233, visit www.jensenindustries.com, or e-mail Ann Pellegrini at ap@jensenindustries.com.
Biofoil® Oral Bandage
The Biofoil® Oral Bandage is now packaged in a pouch for easier handling and less storage space. By eliminating the box, Biofoil can be more easily utilized and stores in a smaller area. Biofoil is a sterile, self-adhesive, and waterproof surgical wound closure system. It is designed to be used over extraction, periodontal, crown and bridge, and implant sites and to protect the gingiva when relining temporaries or immediate dentures. Patented Biofoil is cost-effective, saving time while preventing germs, food, and oral debris from entering the protected sites. It can be used over sutures or as an alternative to suturing. Biofoil fosters quicker healing with less discomfort.
For more information or to order Biofoil, call (800) 432-4487.
Healthy teeth and fresh breath — all in one!
Featured on ABC's "20/20," the EverFresh toothbrush/tongue cleaner combines a fluoride-releasing toothbrush and tongue cleaner in one convenient and easy-to-use product. Cleaning can be done quickly, gently, and easily.
The revolutionary new toothbrush filaments feature slow-release sodium fluoride (NaF). The fluoride releases during brushing, aiding in the remineralization of teeth. Good for 45 uses. Patients love this convenient and practical new product!
For more information, call EverFresh at (978) 840-9797.
Bite plate features chairside fit in minutes
Dental Concepts introduces a breakthrough in in-office bruxism treatment — the BruxGuard. The BruxGuard is a bite plate that can be fitted easily and accurately at chairside in minutes, resulting in a safe, comfortable, and efficacious solution for bruxers. The secret is in its unique, patented combination of plastics creating a bite plate that is soft against the teeth but hard at the base to eliminate bite-through.
According to the ADA, 95 percent of Americans experience bruxism at some point in their lives. The BruxGuard is a proven, solution-oriented product designed to meet the immediate and long-term needs of all bruxers.
BruxGuard is exclusively distributed in the United States by Schein. For more information, visit www.bruxguard.com. To order a starter kit, contact your Schein representative or call Dental Concepts at (877) BRUX123 (278-9123).
Hu-Friedy announces SWIVEL™ DIRECT FLOW™
Hu-Friedy introduces the next generation of SWIVEL™ ultrasonic inserts — SWIVEL DIRECT FLOW. Its "through-tip" water delivery focuses the water flow directly to the tip — reducing excess spray for increased visibility.
Simply roll the SWIVEL insert in your fingers for smooth scaling from start to finish. It is now available in a longer, 30kHz grip for improved access and adaptability in posterior areas. The inserts are offered in five tip patterns — #10 Universal, #100 Thin, After Five® straight, and After Five® right and left perio designs.
The new insert is featured in the "ErgoDynamic" promotion which runs from September 1 to December 31.
For more information, call (800) HU-FRIEDY (483-7433) or contact your representative.
Quality digital X-ray imaging makes sense
Instrumentarium Imaging, Inc., manufactures the easy-to-use OP100 D. It features proven technology centered around the small 0.35 x 0.5 mm focal spot which ensures excellent high-resolution images. Advanced CCD technology, a fiberoptic link, and sophisticated image preprocessing algorithms guarantee high-quality image-capture and transmission. The OP100 D features direct digital panoramic imaging with real-time image display. It automatically corrects imaging values with automatic exposure control and spinal compensation.
Advanced digital technology eliminates the need for film, processor, darkroom, and chemicals. Images are stored electronically for fast and easy retrieval. A conversion kit is available to upgrade your existing film-based OP100 to the digital platform.
For more information, call (800) 558-6120 or visit usa.instrumentarium.com.
Sirona to introduce new handpiece line
Sirona Dental Systems announces the launch of its complete line of electric and air-driven handpieces to the U.S. market. The launch began in June with air-driven handpieces. Electric instruments will be released this fall.
Sirona first introduced the electric micromotor more than 45 years ago, and is one of the world's leading suppliers of high-speed and electric handpieces. The launch will include a broad selection of high-quality instruments, including the T2 and T3 high-speed handpieces, the innovative T1 CLASSIC, T1 LINE, and the T2 REVO, with patented SmartClip® technology. The T1 CLASSIC is Sirona's top-of-the-line all-titanium instrument designed to ensure comfort and minimize fatigue — even with extended use. With its removable SmartClip, the T2 REVO gives the dentist the ability to repair clogged water lines and damaged fiber optics — chairside — in less than a minute.
The Sirona handpiece line will carry the industry's best warranty, starting at two years. An extended warranty of three or five years is available. For more information, call (800) 659-5977 or visit www.sirona.com.
New one-handed safety dental syringe
Med-Design Corporation announces the 1Shot Safety Dental Syringe — a one-handed, single-use, disposable safety syringe injector used for the delivery of dental anesthetics. The new syringe employs a unique retracting design without changing user technique, and accepts all standard anesthetic cartridges and needles. It promotes needle safety in accordance with the Needlestick Safety and Prevention Act and OSHA guidelines.
Sultan Chemists, a leader in the field of infection control and oral therapeutics, will be the exclusive worldwide distributor of the 1Shot Safety Dental Syringe. Sultan will market the product to dentists, dental groups, and government institutions through established dental retailers.
For more information and to view Med-Design's retracting needle safety technology, please visit www.med-design.com.
New! ViperSoft wireless footswitch
Integra Medical Systems' new wireless footswitch technology offers an increased level of freedom in the operatory. Patterned after the current Viper footswitch, the new wireless footswitch provides the same time-saving capabilities, instant image capture with intraoral cameras and digital X-ray sensors, and lasting durability.
The new programmable wireless footswitch is easy to move out of sight after capturing an image, eliminating clutter in the operatory. It works on a unique MHz frequency that is easily programmable. Each footswitch pedal has a separate frequency code receiver, allowing multiple wireless footswitches to run at the same time. An internal battery offers hours of use without the need for an electrical cord.
The Viper wireless footswitch is a component of the ViperSoft technology system, integrating with the award-winning ViperCam intraoral camera and ViperRay digital X-ray sensor. It is sold through local independent resellers.
Visit www.vipersoft.com or call (877) VIPER GO (867-3746) for more information.