FUN in Phoenix
I JUST HAD to have it out. I mean I couldn't stand staring at it all day long - obsessing about it, wiggling it - but it just wouldn't budge.
Feb 1st, 2006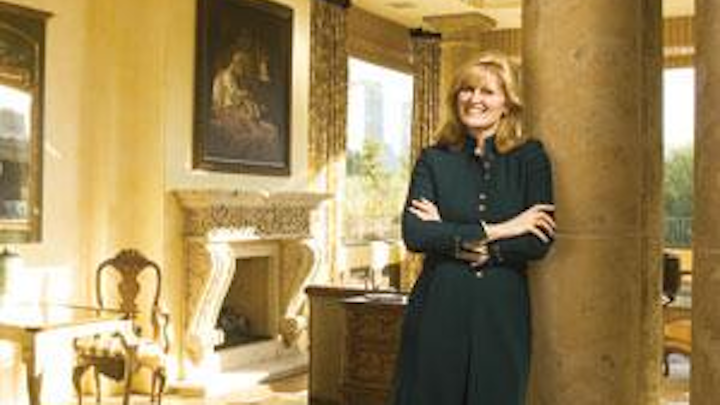 WRITTEN BY Karen Teeters, DDS

I JUST HAD to have it out. I mean I couldn't stand staring at it all day long - obsessing about it, wiggling it - but it just wouldn't budge. I had to have it out, and I wasn't going to stop until it was done. Was it loose? Of course not, but that didn't stop me. I stopped at nothing to get it out - I asked my mother to help; I asked my father to help; and I was so desperate that I even asked both of my brothers to help. But it was no use. It wasn't coming out.
This was my little 5-year-old mind at work to get my lower incisor out.
Later we visited Uncle Cecil, who lives on a farm/ranch in La Junta, Colo. Back then he was sort of rough and tough in nature. Well, not sort of; he definitely was, at least at the time.
I still remember his words, "You want it out? Come here, kid. I'll take it out for you."
And with a dirty pair of old farm pliers, he pulled it out. No anesthesia, no sedation, and no pain medication. Things were much simpler back then.
That began my first obsession with the primary dentition. Little did I know that my obsession with looking at baby teeth for hours in the mirror would lead me to become a pediatric dentist. The obsession became a passion that developed into a deep love - not only for the primary dentition, but for children and their families.
I guess I always had a love for children. I had been around them at church and when my mother used to baby-sit, so it was natural to want a career that involved them. In high school, I thought I would become a teacher. I was involved in music and drama, so at first I wanted to be a music teacher. That changed to elementary education. I received my Bachelor of Arts degree in 1987 from Arizona State University.
Teaching jobs were hard to come by back then, and I had already worked as a dental assistant since I was 18. When I couldn't get a ­teaching job, I went back to assisting for a pediatric dentist, Dr. Alan Longfellow, in Tempe, Ariz. He and his wife, Joyce Anne, encouraged me throughout my dental education.
I soon realized I should go back to school and pursue what the Lord called me to do. When I approached my parents, they were reluctant. I remember my mom saying, "I thought you wanted to be a teacher?" After spending a whole day convincing them that I was a responsible kid who needed them behind me, I looked to my dad.
He said, "Karen, I believe in you."
That was all I needed.
Back to school
I graduated from Northwestern University in December 1992 and went back to Arizona to work as a dental assistant until I passed my dental boards. Dr. Patrick Martin, a Litchfield, Ariz., general dentist, helped me through dental school and to select candidates for my board exams. He contributed by supporting me during graduate and postgraduate school.
In June 1993, I got accepted to the University of Southern California's pediatric graduate program. The real work began, and I finally got to serve children and their families. Dr. Hugh Kopel was my pediatric residency mentor. He still inspires me by sharing wisdom from the years he has served clinically and academically. After I finished my residency in June 1995, I moved back to Phoenix. I grew up in Kansas and lived in the Midwest most of my young adult life, but I knew Arizona was my home.
I look back and know that the Lord brought gifts to me during my greatest need. After I graduated, I planned to join a practice as an associate, but I had an unsettled spirit about it. That's when Dr. James Michaud came into my life. His kindness and generous spirit helped me purchase the dental practice I own today. If it weren't for his help (carrying the loan for me because banks wouldn't lend to someone fresh out of school with a lot of debt - and I had a lot), I couldn't have done it. I will always be grateful and appreciative of my supporters' kindness and selfless giving.
I've been practicing pediatric dentistry for 10 years now. The most important things I've learned are to listen to patients' parents and observe the big picture. Listening requires patience and self-control. I like to get things done in the least amount of time and in the most efficient, cost-effective way. Some things, however, require more time to fully develop.
Big dreams
For a long time, I've thought about incorporating a learning center within my practice. I see so many broken families that are hurting and confused about what to do next. My heart goes out to them. Many parents have neglected their children because they were neglected themselves. It's a cycle that could be stopped.
I'd like to provide a safe place where people can learn to become better parents, how to provide better nutrition and oral health care for their families, and how to cope with the loss of a spouse through separation, divorce, and death. Some of my patients' parents are involved in child custody battles. Others are single mothers raising children alone because the fathers abandoned them or never claimed responsibility in the first place. Some of my patients have an imprisoned single parent, so a grandparent ultimately is raising the child.
I won't give up on my dream. With the support of a loving staff, each day I get closer to achieving it. We're achieving part of our goal by extending our love and care to the children we serve and their families. ■
Dr. Teeters may be e-mailed at kteeters1@cox.net.
"If I could share only one thing, it would be God's truth on the matter of love in 1 Corinthians 13: 4-8."
"Love is patient. Love is kind. It does not envy. It does not boast. It is not proud. It is not rude. It is not self-seeking. It is not easily angered, and it keeps no record of wrongs. Love does not delight in evil but rejoices with the truth. It always protects, always trusts, always hopes, and always perseveres. Love never fails."