UOR profiles, part 7: Hygienists share what they like about career, personal time, and conference
Three dental hygienists who participated in the RDH Under One Roof conference share their thoughts about their careers and attending the UOR conference
Nov 17th, 2016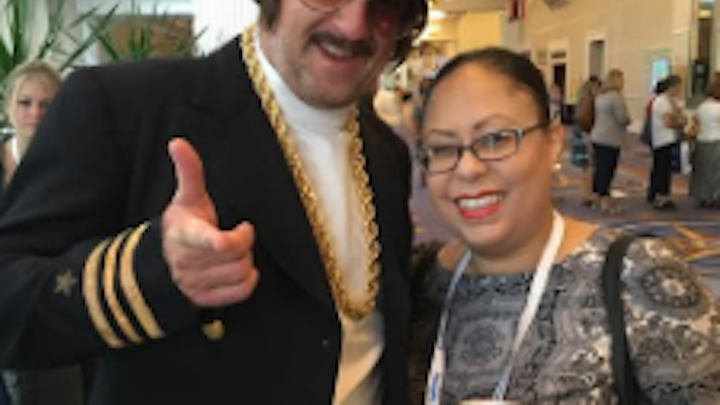 Enid Randall, RDH
School: She graduated from Coastal Carolina Community College with her dental hygiene degree. She also has a bachelor's degree in health care management from Southern Illinois University.
Practices where: She practices at Fort Belvoir Community Hospital, a military hospital in Virginia. "I work in the oral maxillofacial surgery clinic, and I am the only dental hygienist in the hospital. My husband is an active duty Marine Officer, and we move every few years. I have worked in many offices across the country. I consider myself an expert board taker at this point!"
Career highlights: "I love that dental hygiene enables me to develop a relationship of trust with my patients. When I recommend things, they trust that I have their best interests at heart. I love when I see patients make a complete turnaround in their oral health!"
Favorite patient: "Since I work in a military hospital, I have so many interesting patients. There are many times when I see patients who are just entering the military and did not grow up with proper dental care. When I see them, it may be the first time in many years that they have had a cleaning. I love being able to get them periodontally healthy and get them started on a good path of dental care early in their careers. I also see many wounded warriors and it has been an honor to provide treatment to these patients."
Outside of work: She enjoys being the administrator for a Facebook page for dental hygineists called Dental Hygiene Professionals. Shealso participates in events with other military spouses in the Marine Officers' Spouses' Club of Washington, D.C. "My hobby outside of work is taking care of my family!"
Reached decision about RDH Under One Roof how: "I was very excited to see that this year's RDH Under One Roof conference was held so close to my home. I had to attend. Prior to this duty station, we were living overseas in Okinawa, Japan, and I missed having these type of opportunities. I am so glad I went and recommend that you make the investment to go as well. I left feeling motivated and reinvigorated about being dental hygienist! I went back to work with lots to share with my patients and coworkers. It was also nice to meet many of the hygienists that I interact with on Facebook in person."
Best UOR takeaway: "I was really impacted by session speaker Dr. Uche Odiatu. He was so engaging and motivating. He discussed health, nutrition, and the effects of inflammation. I learned some jewels that I was able to share with my patients. I had lost my motivation to exercise, and I left there more motivated than ever to get my health back on track!"
-----------------------
To read previously published RDH Under One Roof profiles, click on any of the links below.
-----------------------
Joanne Jorge, RDH, CSP, BSc
School: Oxford College of Arts, Business and Technology, class of 2007.
Practices where: She practices in White Rock, British Columbia, for eight years. "Last year, I started a full-time position as a professional oral care territory manager for a pharmaceutical company."
Career highlights: "Dental hygiene is an exciting career. Whether I'm working in the operatory or out, I've always said the two things I enjoy the most are the true connections and friendships I make and education—both as an educator and constant life-long learner."
Favorite patient: "Wow, I don't think I can pick just one! The psychology of dental hygiene has always intrigued me. I love building connections and friendships, I believe this strength as a relationship builder and educator has allowed me to build trust and rapport with my apprehensive, anxious, or afraid patients over the years, who have avoided the dentist or dislike coming. It's always rewarding for me to see how showing empathy, kindness, and care can empower my patients to take control or their oral and systemic health."
Outside of work: "Outside of work I love to spend time with my wonderful family, travel, and work out!"
Reached decision about RDH Under One Roof how: "I found out about RDH Under One Roof through my own research and first attended in 2009. Back then, not many people in Canada had heard about UOR, but I decided to go and invest in myself. I was hooked after attending the first time—the energy, education, relationships, and atmosphere was amazing! I even convinced one of my friends from Canada to attend with me this year. Some can't understand why I would travel to another country to go to a conference, but RDH Under One Roof is worth it! In my opinion, it is the best dental conference out there and you will see me coming back every year."
Best UOR takeaway: "This year, it really hit me how large RDH Under One Roof is getting and the reach it's making to dental hygienists not just in the United States, but also from other countries. Despite its growth and size, there has been no compromise on quality. Thank you to PennWell for delivering and accomplishing a fun educational experience that promotes connectedness and empowers dental hygienists to be the best they can be to their clients, patients, employers, and themselves."
Lori Saporito, RDH, EdM
School: Fairleigh Dickinson University in Hackensack, N.J., class of 1976.
Practices where: She practices in Hopewell, N.J., with her husband, Dr. Daniel Saporito. "We are very fortunate to have the gift of treating families for almost 30 years. Before opening our office, I practiced in north Jersey and a pediatric office in Princeton.
Career highlights: "I absolutely love working with people! I love the challenge of turning people around from being frightened to being comfortable in my operatory."
Favorite patient: "One of my favorite stories involves a young girl who came to our office when she was five. She sat in the chair, looked at me, and screamed. I calmly sat with her and, after a minute or so, I told her that what we were going to do was to reschedule her appointment until after Christmas when she would be older and more ready. She screamed through the entire conversation. Her mom was mortified. I was calm and soft-spoken. Her mom called us back right after the new year started and said that Lauren looked at her on December 26th and told her that it was time to reschedule her dental appointment since she was older now. It's been smooth sailing since then, about 15 years of care."
Outside of work: She enjoys cooking, quilting, and walking "everywhere I can." "I am currently the president of our local Friends of the Hopewell Public Library since I am also an avid reader."
Reached decision about RDH Under One Roof how: "Two years ago, I spoke at UOR about alternative healing modalities. I also am a student of nutrition and holistic health and quite frankly, have spent more of my education dollars in that arena since 2006. However, I was so impressed by the quality of the conference in 2014 that I made it a point to attend in 2016. Everything at UOR is top notch. I say this with the experience of also attending professional conferences on nutrition and functional medicine."
Best UOR takeaway: "Once again, I was reminded as to the quality of my peers in dental hygiene. So many caring, intelligent, passionate people fill our field. I loved sharing stories with my colleagues during the social moments. As far as the speakers, Uche Odiatu was fantastic. Every day, I think of his reminder that what we really need to be concerned about as we age is sarcopenia, not osteopenia."
---
For more information about RDH Under One Roof, click here.

---