Award of Distinction: 15 years of exceptional hygienists and their exceptional profession
Jackie Sanders, RDH, comments on a survey about dental hygienists who have received the annual Sunstar/RDH Award of Distinction.
Dec 5th, 2016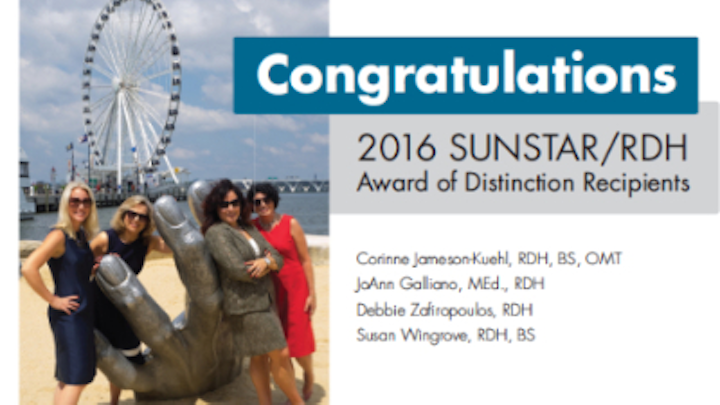 The 2016 recipients of the Sunstar/RDH Award of Distinction pose for a photo at the National Harbor in Maryland. To read Sanders' profile of the award recipients, click here.
by Jackie L. Sanders, RDH, MBA
While I was not involved when Sunstar and RDH decided to present the Award of Distinction to several highly deserving registered dental hygienists in 2002, I doubt that anyone could have foreseen the long-term impact this award would have. I wonder if any of my Sunstar colleagues would have imagined that the program would be going stronger than ever 15 years later, or that a total of 113 hygiene professionals would have been honored during that span.
Propelling Careers
Since we are celebrating the 15th anniversary of the Award of Distinction, I thought it would be interesting to conduct a survey of our past honorees to see how the award affected their careers and lives. As an indication of just how much the award means to these people, a whopping 68% of them responded to our survey. This is nothing short of amazing when you consider that most surveys of hygienists get a response rate of only about 10%.
Here's a summary of the dental hygiene-related activities in which our honorees have been involved since receiving their Award of Distinction:
72% are engaged in public speaking
61% have published articles
55% have attended at least half of the RDH Under One Roof meetings
47% are serving as key opinion leaders
39% have created CE programs
34% are involved in philanthropic activities
24% received career-changing opportunities as result of their award
22% have participated in mission trips
20% have started own business
8% have written a book
Building Special Relationships
An impressive 97% of our honorees said they stay in touch with other Award of Distinction winners. Perhaps even more impressively, 51% say they are "frequently" in touch, and over half say these relationships are social as well as professional. According to award recipient Millie Thaw, RDH, "Our bond is incredible. I know I can reach out and touch any of them in times of healing, joy, and need."
In the words of Audrey Jabarek, RDH, MAED, "This award has net-webbed me into one of the most amazing 'national sisterhoods' that any woman could ever hope to be a family member of. It has encouraged me and given me the confidence to grow, advance, and achieve within our profession in a way that I had only dreamed about before."
------------------------
To view a pictorial of all past recipients of the award, click here.
------------------------
Paying It Forward
What to me is most gratifying about these survey results is that so many Award of Distinction recipients are using their newfound notoriety to help educate others. Through their speaking, articles, and CE programs, they are sharing their insights with their fellow hygienists on how to provide better hygiene care or how to otherwise be more successful and more fulfilled in their careers and lives.
For example, award recipient Angie Stone, RDH, BS, not only wrote a book, "Saving the Lives of Our Elders by Providing Oral Care" (a certified Amazon Best Seller), but also started a company that trains hygienists to provide the kind of care described in her book. While award winner Shirley Cross, RDH, BS, has retired from clinical practice, she makes regular treks to remote areas of El Salvador as part of a team that not only educates mothers and children about dental health, but also digs and repairs wells.
One award recipient, Donna Grzegorek, RDH, even had a Dental Hygiene Endowed Scholarship created at her alma mater, Harper College.
To nominate a dental hygienists for the 2017 award, click here.
Promoting the Profession
Equally gratifying is the role the Award of Distinction has had in calling well-deserved attention to the crucial importance of the dental hygiene profession. According to Sandra Boucher-Bessent, RDH, BS, a member of our inaugural class of award recipients, "The recognition of dental hygienists by Sunstar and RDH has sparked a powerful respect for the many ways dental hygienists are able to contribute to the oral health profession. Many industry organizations and corporate entities have taken note and begun to recognize the value and creativity dental hygienists bring to their marketplace, not only as users of their products in practice, but also as promoters of their products beyond the clinic, such as research and development, sales, marketing and corporate education."
Pam Delahanty, RDH, CPHDH, says her Award of Distinction "helped me realize that dental hygienists and the profession of dental hygiene are our own best kept secret. Sunstar's investment in recognizing the efforts, commitment, and achievements of dental hygienists is unparalleled."
Onward and Upward
While Sunstar and RDH are certainly proud of the impact our Award of Distinction program has had on our honorees and the dental hygiene profession, we are constantly seeking advice from our award winners about how we can do even better. After all, can you think of a more talented, dedicated or passionate group of advisers?
Jackie L. Sanders, RDH, MBA, is the manager of professional relations at Sunstar Americas, Inc.
---
For the most current dental headlines, click here.

---