RDHs 'Align' together to raise awareness about proper tooth alignment
Align Technology Hygiene Faculty Team raises awareness about tooth alignment among dental hygiene professionals.
Jul 17th, 2016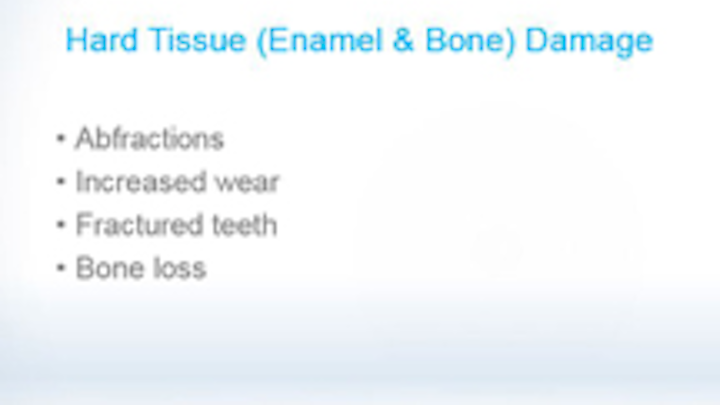 By Lauren Gueits, RDH, BS
The newly formed Align Technology Hygiene Faculty team consists of practicing dental hygienists and educators. They provide hygiene-specific CE programs all across North America, relaying the value of providing orthodontic solutions to prevent hard and soft damage caused by malocclusion/traumatic occlusion (see Figures 1, 2).
Figures 1, 2
This team is passionate about raising the awareness of the benefits of proper tooth alignment using clear aligner therapy as an oral health solution for helping the majority of patients that dental hygienists see every day.
Figure 3: Before and after case, 15 months of Invisalign clear aligner therapy.
"When you're surrounded by people who share a collective passion around a common purpose, anything is possible" — Howard Schultz, founder of Starbucks
This dynamic group of dental hygienists are also speakers/trainers for Contemporary Product Solutions (CPS). They were recruited by me in my role as hygiene education manager for Align Technology. They spread the gospel of preventing dental disease by "taking teeth out of trauma" and placing teeth in proper alignment utilizing clear aligner therapy. This group was selected for their passion and skill sets to connect and engage with their patients, as well as for challenging the "status quo" to include orthodontics as an integral part of their patient education.
Simply stated, they share the message that resonates with patients: "Teeth that fit together properly last longer." After all, aren't hygienists "bred" to prevent disease rather than treat symptoms? This is the message they have been delivering, providing presentations across North America since the end of 2015. Their story is a reflection of the spirit of the dental hygiene profession—always trying ways to help patients achieve optimal health. Many times, moving out of our comfort zones and implementing new technologies is a necessary part of the equation.
The 2016 Align Hygiene Faculty Team: Lauren Gueits, Ljil Hinton, Rachel Smith, Irene Iancu, Natalie Carrier Denis, Catherine Przykucki, Tammy Staiger, Paula Quinn, Shannon Carroll, Lina Dawli and Sharde Woods. Let's get a chance to get to know some of the Align Hygiene Faculty Team Members "up close and personal."
Click on any image of a faculty member below to view more details.
As you can see, this group of hygienists is passionate and unified on their quest to help hygienists focus on "prevention plans" vs. "treatment plans." Hygienists have not had extensive training on occlusal health as part of their academic training. Once hygienists are made aware of the Problem, Consequence Solution (PCS Model), Problems and Consequences malocclusion imposes, they are excited and relieved that there is a viable Solution with proper tooth alignment. This is what has made the message of the hygienists' role in evaluating occlusion and providing proper tooth alignment as a solution resonate with over 3.000 dental professionals this past year. Below are testimonials from the courses:
"I want to thank you so much for coming and sharing this information with us! I think this is absolutely amazing and thoroughly enjoyed your presentation. I cannot wait to bring these ideas into our practice! And best of all, my doctor is all in! You have opened my eyes to a whole new world in my day-to-day interaction with patients." – Morgan, RDH
"I liked the educating of RDHs on the importance of their role to increase value by educating the patient as to why proper alignment is so important!!! Preventive dentistry is best"- DDS
For additional testimonials from participants, click here.
Call to Action
Why not come and see for yourself what the buzz is all about!
Join Gueits and the Align Hygiene Faculty team in National Harbor, Maryland, for the RDH Under One Roof conference and attend the general session presented by Lauren Gueits, RDH, BS, and Ben Miraglia, DDS, who will be reviewing his "must see" cases demonstrating the dramatic benefits of providing proper tooth alignment for his patients with clear aligner therapy.
The Align Hygiene Faculty will be at the Align Totally Tubular 80's Kick-Off party Wednesday, July 27, from 6:30 p.m. to 8:30 pm and also on the exhibit floor on Friday, July 29, during the Align lunch. They would love to meet you. Come say "hi" and share your passion, for it is both inspiring and contagious!
Consider Joining our Team
If you are passionate about comprehensive care and oral disease prevention and have clinical experience with Invisalign patients as well as a deep understanding of occlusal health, please consider joining our team! Speaking experience is a bonus but we are willing to provide training for a passionate dental hygienist looking to grow in his/her career. Please email a cover letter along with your CV to Lauren Gueits: lgueits@aligntech.com
Want to Learn More?
Article: Oral Health Solutions with Clear Aligner Therapy
Online webinars: Two-part hygiene series on the health benefits of proper tooth alignment- 2 CE AGD credit hours
Disclaimer: While the author is an employee of Align Technology, Inc., the views presented herein represent her opinion in her personal capacity as a health-care professional and do not necessarily reflect the opinions, thoughts, or views of Align Technology, Inc.
---
For the most current dental headlines, click here.

---