Plan ahead: Finding a dental hygiene roommate for RDH Under One Roof
Millie Thaw, RDH, offers tips for finding a roommate for RDH Under One Roof, a dental hygiene conference.
Mar 6th, 2017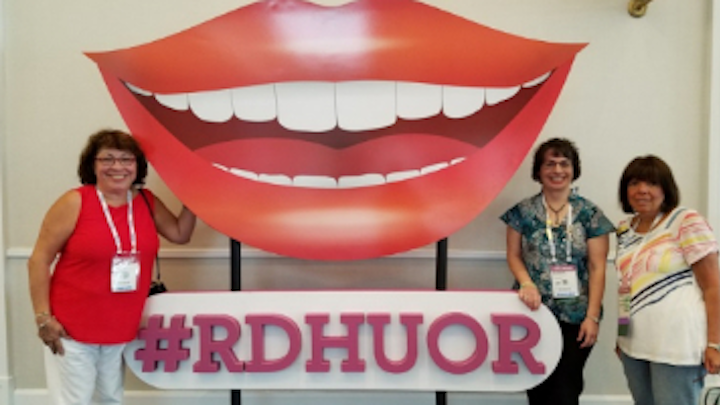 The author (left) at the 2016 RDH Under One Roof conference.
By Millie Thaw, RDH
Once the New Year rolls in, I begin searching for airfares and hotels online, while also seeking out potential roommates to split a hotel room with for upcoming RDH Under One Roof conferences.
Why so early?
For starters, I'm on a budget, and this conference is a priority. I have pre-registered for the conference. You see, RDH Under One Roof (RDH UOR) changed my life in positive ways. Like many who attend RDH UOR, we are passionate about our profession, constantly seeking the latest dental innovations so we can educate ourselves and others. Basically, this is an event I do not want to miss because of financial constraints, so registering in advance motivates me to budget accordingly.
Once I secure a flight from New York that helps my budget the best and permits the best timing, as well as reserve my hotel room, my roommate search commences. I've been pretty fortunate. Over the years, I've had incredible roommates. I still consider each one a close friend. All are aware that I need caffeine first thing in the morning (ha-ha!).
Here are some important questions to ask your future roommate:
Are you attending the entire conference?
Are you planning on charging anything to the room?
What are your travel arrangement? Arrival and departure time from the hotel?
Do you snore?
Do you shower in the morning or evening?
Do you sleep with the television or light on?
What do you consider a late night?
As uncomfortable these questions may seem, it's best to know up front what you are getting yourself into. Is your roommate attending the entire conference and willing to split the hotel bill by half, including tips? If they are charging meals and items to the room, make it clear that this is their responsibility once the bill arrives at check-out time.
In 2017, RDH Under One Roof will be hosted at the Hyatt Regency in downtown Chicago. Click here for more information about RDH UOR.
Knowing your roommates' arrival time is important—you don't want to lock your roommate out of the room by placing the bolt lock on the door if they're arriving at 11 p.m., and you're already asleep. Consider going the extra mile by ordering your roomie a sandwich or beverage so it's ready for them after a long flight.
As for a bedtime routine, if you're a light to moderate snorer, it doesn't bother me personally, but you may be a light sleeper and prefer peace and quiet. Do you sleep with music or the TV on? Perhaps your roommate doesn't—these are things to talk about in advance.
Some people need to sleep in total darkness and any noise will interrupt their sleep; so if you need to sleep with a lamp on, perhaps that should be discussed in advance as well, and hopefully a fair compromise can be made. Remember, for some, a late night might mean 9:00 p.m. to one person, and 11: 00 p.m. to someone else. Be considerate of each other's space, time, and property when sharing a hotel room.
With one bathroom in a hotel room and two people trying to shower at the same; it can get complicated. I ask my roommate their preference of shower time in advance so we can work out a timely schedule.
If you're coming to RDH UOR solo and don't know anyone, feel free to contact me directly. I'm happy to play "matchmaker" for others seeking a roommate.
When attending seminars and classes, introduce your roommate to other attendees. Something as simple as, "Oh, do you know Rachel? She's based in New Jersey and is my roommate here," is a fine greeting when introducing your roommate to a new friend.
When I attended my first RDH UOR event, I was impressed—and put at ease—by how approachable everyone from the event staff was. I was friendly and really made the effort to get to know everyone. By the end of UOR, I left with several friends and mentors. May I suggest that you say hello to a total stranger? That one-time stranger may become a close pal.
So, besides registering for UOR, selecting courses, booking the hotel room, finalizing travel arrangements, packing your clothes, business cards, and toiletries, always remember: This conference is for hygienists to support each other, learn something new about the industry, and to have fun. This is an investment in yourself. Go! You deserve it.
Mille Thaw, RDH, is a veteran dental hygienist based in New York. She has attended many RDH Under One Roof conferences. Currently, she is a technology advisor for Patterson Dental.
---
For the most current dental headlines, click here.

---