A.A.W.D. President's Letter
A few months ago, the University of Mississippi's School of Dentistry hosted a two-day symposium, "The Dental Monologues: Evolution of Women in Dentistry," in Jackson, Miss.
Jun 1st, 2006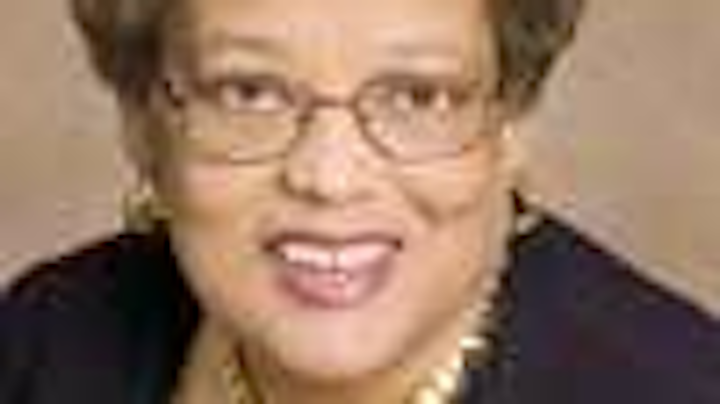 A few months ago, the University of Mississippi's School of Dentistry hosted a two-day symposium, "The Dental Monologues: Evolution of Women in Dentistry," in Jackson, Miss. Because the number of female dentists is growing, the number of meetings focusing on women dentists is also increasing. Some are all-day meetings, and some are luncheons with speakers.
For years, the American Dental Education Association at its annual session has hosted a breakfast for the Women Liaison Officers from U.S. and Canadian dental schools.There is also an evening event, Dessert and Discourse, that features a female speaker and is predominantly attended by female, dental school faculty members.
Several years ago, the American Association of Orthodontists initiated the Women in Orthodontics Luncheon. Women orthodontists and orthodontic residents gather during the annual session for lunch led by a speaker. The most recent luncheon was May 8 in Las Vegas.
The longest-running annual event for women is hosted by the AAWD. This year's meeting, "Wealth and Wellness," is July 13 through 16 in Chicago. Our keynote speaker is Gail Evans, best-selling author of "Play Like a Man, Win Like a Woman." The Pankey Institute will present an all-day presentation, "Creating the Practice of Your Dreams." Dr. Judith Porter will present "Recharge and Refresh: Healing the Healer." Alvenia Albright will preside over our session for students and new dentists.
In addition to our many speakers, the AAWD will announce the recipients of the 2006 Lucy Hobbs Taylor Award and the Proctor and Gamble Scholarship. We will elect our 2007 officers and Board of Directors during our luncheon. Plus, a Welcome Reception during the first night will feature a presentation by jewelers Tiffany & Company. Our annual Wine and Cheese Reception is the following evening. This year, the AAWD invites spouses and children 10 and older to a buffet lunch and bowling July 14 at Southport Lanes & Billiards near Wrigley Field.
Another organization, the National Dental Association, will host its Women Dentist's Award Luncheon on Saturday, July 22 during its annual session in Nashville, Tenn. The featured speaker will be Dr. Renita Weems.
On Aug. 3, the Academy of General Dentistry will host "Women in Leadership: Lessons Learned Along the Way." This will be during the AGD's annual session in Denver, Colo. Speakers will be Drs. Virginia Hughson-Otte, Risé L. Lyman, and Mary E. Martin.
The Women's Conference at the American Dental Association annual session will be Oct. 18 in Las Vegas. This is an all-day event that has been held in the past. This year's theme is "Reinventing Ourselves Personally & Professionally." Speakers include Drs. Risé Lyman and Judith Porter, plus Suzie Humphreys, Terry Savage, and Loretta La Roche.
If you haven't attended any of these meetings in the past, I invite you to begin. You will find them fulfilling and rewarding.
Sandra Harris, DDS
---
Students, faculty, and staff at the UNLV School of Dental Medicine volunteered Saturday, March 18 with its AAWD chapter and dental companies for the inaugural Smiles for Success program. The all-day event provided free, full dental treatment for six women at Shade Tree Shelter in Las Vegas.
AAWD members began the program in 1995. The foundation assists women who cannot afford dental care go from welfare to work.
Treatment ranged from general cleanings and restorative work to extractions and simple endodontics. Next year's plans include increasing the number of women served.
Thank you UNLV School of Dental Medicine; Courtnie Steik, AAWD UNLV president; Corinne Devin, AAWD UNLV vice president; Kristina Kuprienko, AAWD UNLV secretary; UNLV dental students Catie Miller, Lisa Bienstock, Ashley Hoban, Aaron Swapp, Deanna Fedail, James Ward, Rita Peck, Brandi Dupont, Cam Tu Vo, Sherri-Ann Burgonio, Florida Steinberger; UNLV faculty Drs. Baughan, Karns, and Sandoval; UNLV staff Jen Sparks, Pam Queen, Regina Cardona, Lupita Avila, Araceli Lone, Cecil Cordova, Mira Esfella, and Hishe "Mimi" Weynshet; dental companies Henry-Schein and Burkedental; and product donor UNLV School of Dental Medicine.