Wow! Technology can be Fun!
Sure, technology means change and requires a supportive staff, but with the right combination, it can be fun for everyone.
Mar 1st, 2004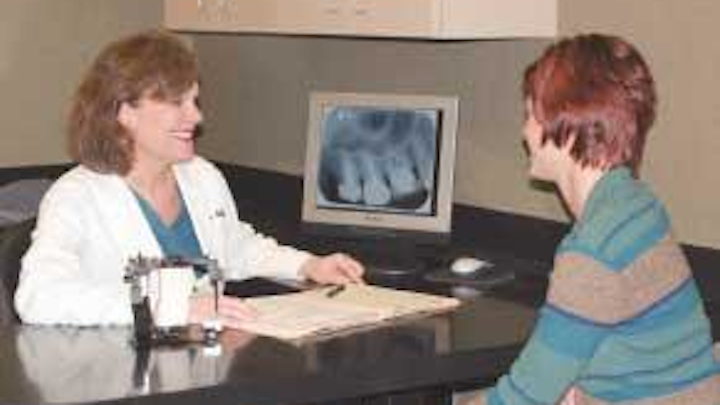 Sure, technology means change and requires a supportive staff, but with the right combination, it can be fun for everyone. My practice has been working with technology for more than 10 years. We were an early adopter of the intraoral camera and digital radiography. We had the early version of sensors before the phosphor plate technology was readily available. In this article, I will share my experiences with digital integration and the joy it has brought.
A key lesson I have learned is to listen to my staff. I have a very involved team, and I value their input. Despite challenges with digital radiography sensors, my colleagues convinced me of the benefits. My team remained unconvinced, so we continued to explore options and decided upon the phosphor plate technology (Air Techniques — A/T ScanX™). It was a perfect compromise for my office: I have the benefit of digital images for diagnosis and treatment planning, while my team has the ease of positioning and processing similar to their training. We have gone "cold turkey"! We do not have a processor in our new offices — no darkroom and no chemicals. The system saves both money and space, and is truly less hassle! Therefore, little change in procedure was required.
We have discovered, with our local dental representative, the power of integrated imaging software, which enables our digital imaging and intraoral camera to be managed through one software package (ADSTRA Imaging™). What does that mean? For me, it means that all the diagnostic and treatment tools I use are the same regardless of where the image is derived. I can use different product brands, and it all functions the same. For my team, it means learning only one clinical software system. And for my office manager, the software bridges neatly to our practice-management system (SoftDent®), so all the records are linked.
The benefits extend to my patients. I am confident that the education I provide when presenting a treatment plan is the best it can be. I am able to consult using the images in the software along with study models to fully explain the current condition and recommended treatment. I can easily present through the software other treatments that I have completed, all while maintaining patient privacy. My overall treatment plan acceptance is virtually 100 percent. Once patients understand their condition and proposed plan, they put more trust in me as their practitioner. I am thrilled to accomplish this in my practice! I believe that I am truly providing the best dental care for my patients.
We are considering a digital camera for our next purchase. It will integrate directly into our ADSTRA Imaging™ software as well, so we will not be stressed about learning new software. The manipulation and storage of images will be the same as our current handling of intraoral and digital images. This particular software product allows for future options with various manufacturers, so I do not feel boxed in on choices. We had previously worked with separate packages, which required several steps. Now, we can view all the images together and show them with two clicks instead of 15!
My team learned the software quickly with minimal adjustment in technique. Some computer experience is helpful, but the products are all very user-friendly. My philosophy is that if the staff cannot use it, it simply will not work. My team was very involved in the evaluation and selection of the equipment; therefore, our learning curve was relatively small. We use the intraoral camera and digital imaging on almost every patient in the hygiene room. We are then able to apply the many diagnostic tools with the software quickly and demonstrate our findings to the patients.
The ability to contrast, colorize, texture, adjust density, and rotate images is powerful. We love to enlarge images to help patients see what I know is there. Our patients are excited about our technology and want to know more about it. Most of our new patients say they have never experienced this level of technology at a dental office, and are clearly impressed. When I have an emergency, we can process the images quickly and proceed to a rapid diagnosis.
With 18 years in practice and a young family, I am always looking for ways to ensure my patients receive quality dental care without sacrificing my personal time. In my practice, the combination of digital radiography, an intraoral camera, and integrated imaging software is the perfect solution. My team makes everything function seamlessly, and I am grateful for their support. WOW! Technology is great!
Mary Beth Smith Wilson, DDS
Dr. Wilson is a graduate of the University of Tennessee Dental School, class of 1986. She practices general dentistry in Brentwood, Tenn. She manages a busy solo practice along with an active family. You may contact Dr. Wilson at (615) 371-9500.