New Product Highlight
The Institute of Medical Emergency Preparedness (IMEP), headed by Chris Rothman, DDS, and John Roberson, DMD, has launched a practical new emergency response system to remedy the lack of training and medical-emergency preparedness that currently exists in America's dental offices and most workplaces.
May 1st, 2006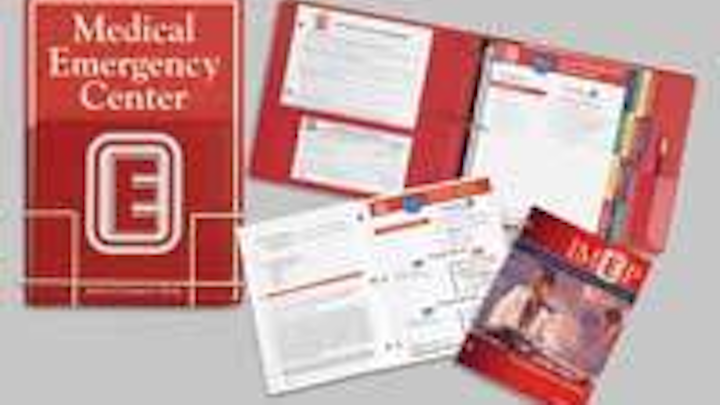 The Red E System saves lives
The Institute of Medical Emergency Preparedness (IMEP), headed by Chris Rothman, DDS, and John Roberson, DMD, has launched a practical new emergency response system to remedy the lack of training and medical-emergency preparedness that currently exists in America's dental offices and most workplaces. The distinctive "Red E" brand is the universal icon of the IMEP's system and products.
Red E was created to train dentists, their staff members, and ordinary citizens, enabling them to respond calmly, quickly, and confidently to emergency and crisis situations. It is an ideal solution for dental offices, schools, hospitals, public facilities, and all workplaces.
The Red E system is practical, easy-to-understand, and highly functional because it can quickly be taken directly to the site of the emergency and to the affected person(s). It also can be used in situations where power outages render Internet medical information systems inoperable. The Red E Emergency Action Guide can help stabilize and treat a victim during that very critical period when you or a loved one may be just 10 minutes from life or death.
For more information, call (866) 430-7333 or visit www.orcastl.com/imep/index.html.
Sonicare Elite® e9000 - the best gets better!
Introducing the new Sonicare Elite e9000 series with the Custom Care System, designed to meet your patients' unique brushing needs. The Elite e9000 series uses Sonicare's patented technology to create dynamic fluid cleaning action and includes two brush head sizes - Standard (for a complete cleaning) and Compact (for improved performance in hard-to-reach areas). The new Elite also is equipped with two cleaning modes - Max (for a thorough, everyday cleaning) and Gentle (for sensitive areas of the mouth).
For more information, call (800) 676-SONIC (7664) or contact your local Philips Sonicare sales representative.
Biotène® SENSITIVE toothpaste
Biotène, the world's No. 1 dry mouth brand, introduces a breakthrough addition to the dry mouth family. Because dry mouth can be a major cause of tooth sensitivity, Biotène SENSITIVE toothpaste has combined the most effective active ingredient for protection against tooth sensitivity - potassium nitrate - with Biotène's patented enzyme LP3 Complex™ to inhibit harmful bacteria growth found in oral infections and gingivitis. The result is a one-of-a kind toothpaste which builds increasing protection against sensitivity, while the natural immune-boosting enzymes promote healing of bleeding gums and irritation caused by a dry mouth. It is sodium lauryl sulfate (SLS)-free, and is sweetened with Xylitol for a fresh, delicious flavor.
For more information or free samples, call (800) 922-5856 or visit www.biotene.com.
Sultan Healthcare launches INSTAFRESH™
Sultan Healthcare introduces INSTAFRESH instant hand sanitizer and the TOUCH-LESS™ sanitizer dispenser. Available directly through Sultan's global network of distribution partners, INSTAFRESH was designed to decontaminate and refresh hands quickly without the use of water in a hygienic, no-touch dispenser. INSTAFRESH is a 70% ethanol formulation that complies with CDC hand hygiene recommendations. It provides 99.9% effectiveness in 30 seconds against pathogens such as Staphylococcus aureus, Salmonella choleraesuis, Pseudomonas aeruginosa, Methicillin Resistant Staphylococcus aureus (MRSA), Herpes Simplex Type 1, Influenza A2, and HIV-1 (AIDS Virus).
INSTAFRESH contains special moisturizers to keep hands soft and clean, reducing dryness and cracking. No sticky residue or overpowering fragrance will remain on hands. Its low-viscosity formulation makes it easy to spread on hands.
For more information, call (800) 637-8582 or visit www.sultanhealthcare.com.
Patterson Dental introduces CAESY Online 3.0
Patterson Dental Supply, Inc. announces CAESY Online 3.0, the newest version of CAESY Education Systems' customizable Web-based tools, which enable dentists to create and deliver patient-education materials from their own Web sites. CAESY Online provides comprehensive, high-quality patient-education content and easy-to-use online communication tools for dentists with Web sites. For a monthly subscription fee, the hundreds of pages of dental health content are appended to the doctor's Web site and branded with the practice contact information. CAESY Online also includes a monthly newsletter, an e-mail manager, informative online health guides, and more. The latest version features the ability to track statistics on individual Web site traffic, search engine optimization, an updated library of images, and the ability to register a domain name.
For more information, visit www.caesy.com or call (800) 444-6035.
Garrison adds to its popular wedge line
Garrison Dental Solutions has created a new interproximal wedge. Based on the award-winning design of its Wedge Wands product, the new G-Wedge features a slightly up-turned, ski-like tip to prevent penetration of the rubber dam or papilla. The underside of the wedge has been rounded and smoothed to prevent trauma and features an indentation to provide room for the papilla. These features reduce bleeding that can be caused by traditional wedges and some plastic wedges. The sides of the wedge are contoured to accurately mimic interproximal anatomy and are textured to prevent back-out. The body is flexible, yet firm enough to secure matrix bands and aid in tooth separation.
G-Wedge was designed to enhance the results of sectional matrix systems such as Garrison's Composi-Tight® line. It is available in four sizes and can be purchased in assorted kits of 400 wedges (100 each size) or refill packs containing 300 of an individual size. G-Wedge is available exclusively though Garrison Dental Solutions at (888) 437-0032 or www.garrisondental.com.
H2Oral Irrigator
The H2Oral Irrigator is designed to meet patients' at-home irrigation needs. Using the H2Oral Irrigator in the shower eliminates many of the unpleasant issues often associated with oral irrigators, such as wasted sink space, messy sinks and mirrors, and set-up and clean-up time. The irrigator directs water flow into hard-to-reach areas of the mouth, disrupting and flushing away plaque and food particles that can accumulate in pockets, around braces and dental work, and other problem areas where conventional cleaning methods may be awkward and less effective. The irrigator allows for uninterrupted water flow to the showerhead while the unit is in use. The On/Off flow control valve is located on the handle for easy access, and provides precise control of the water flow from a single drop to full pressure. The H2Oral Irrigator comes preassembled with a wall hanger and four personal picks in assorted colors.
For more information, call Health and Hygiene Inc. at (866) 565-9919 or visit www.healthandhygieneinc.com.
New Swift piezo ultrasonic scaler
DBI America introduces the Swift - a portable, self-contained piezo ultrasonic scaler that only needs to be connected to electricity to use. The unit includes a 500 ml reservoir that may be filled with either water or medicament. The Swift features tips with linear movement to minimize noise, reduce patient discomfort, and speed calculus removal. The fine mist produced during procedures enhances visualization. Swift's autoclavable sleeve and tip eliminates the need to autoclave the handpiece, thereby increasing handpiece life. DBI America offers a wide tip selection including endodontic, apical surgery, and perio models. The Swift includes a two-year warranty.
For more information, call (800) 884-3507 or e-mail dbisales@verizon.net.
Premier® Enamel Pro™ prophy paste
Premier introduces Enamel Pro, the only prophy paste with ACP (Amorphous Calcium Phosphate). Enamel Pro creates ACP when it contacts the patient's teeth and saliva. As ACP forms, it is incorporated within the enamel surface where it remains after rinsing. The available ACP helps prevent future damage by stimulating re-mineralization of the tooth enamel. ACP fills in surface enamel crevices for an intense polish and shine. Scientific data supports that Enamel Pro actually gives greater luster for whiter, brighter teeth. Patients and dental professionals will appreciate the unique presentation, the pleasant aroma, flavors, and taste of Enamel Pro, as it removes stains and polishes quickly without splatter. Enamel Pro rinses off easily.
Available in multiple grits and four pleasing flavors - mint, grape, strawberry and cinnamon - each box contains 200 single-dose cups, packaged in a resealable foil bag and two Comfy-Grip™ prophy grips to conveniently hold the individual prophy cups.
For more details, call (888) 670-6100 or visit www.premusa.com.
3i creates new provisional components
"3i," a Biomet Company, has introduced its new line of provisional components - PreFormance™ Posts and Temporary Cylinders. These components are made of a strong, biocompatible polymer material called PEEK™ (polyetheretherketone) that is easily customized to a patient's tissue contours and anatomic profile. PreFormance provisional components offer some of the longest temporary in-vivo use of polymers on the market - 180 days versus 30 days. The PreFormance Post cement-retained provisional option features the Certain® QuickSeat® Connection, which tells the clinician the abutment is properly seated with an audible and tactile click. It is available in straight or 15° preangled configurations for ideal angle correction, collar heights in 4 or 6 mm to follow gingival contours without trapping cement, and an Emergence Profile (EP®) for more natural esthetics. The PreFormance Post also has a smooth surface for easy provisional restoration reline and a flat side for anti-rotation. The PreFormance Temporary Cylinder screw-retained option has a knurled surface for mechanical retention of resin material and is available in hexed or non-hexed. The hexed version also offers the Certain QuickSeat Connection.
For more information, call (800) 443-8166 or visit www.3i-online.com.
New technology in mercury collection
Sultan Healthcare Inc. announces the PUREVAC® Hg Mercury Collection System. The patented system consists of a cost-effective amalgam separator and a unique line cleaner that is formulated to improve the capture efficiency of the separator. Combined, they are a highly efficient, environmentally conscious solution to address concerns of dental mercury in the wastewater.
The PUREVAC Hg Evacuation System Cleaner is the only cleaner proven to bind smaller particles of mercury into larger ones, making it possible for amalgam separators to capture them. Its nonfoaming formulation and pH of 9 make it safe for use in any suction system and amalgam separator. The PUREVAC Hg Amalgam Separator is ISO certified for 99 percent capture efficiency. Its innovative design requires no electricity, moving parts, or costly refills. Simply recycle the entire unit once a year. Use with the Purevac Hg Evacuation System Cleaner for mercury capture of more than 99 percent!
For more information, call (800) 637-8582, or visit www.sultanhealthcare.com.
XCPT - Expert Treatment Planning
XCPT is a breakthrough, reality-based method of case analysis and treatment planning that uses patients' X-rays to create a dynamic personalized visual aid and educational tool. Graphic images of crowns, implants, cosmetic work, notes, and more are easily placed right on the X-ray or digital photo. With XCPT, your practice can become digital without the expense. XCPT applies digitization technology to the existing image, converting it to a file the software can use without compromising quality. The treatment plan is right in front of the patient, so doctor and patient co-discover the best solution to dental challenges. This method allows for unprecedented clarity in communication, an immediate connection with the patient, trust in the doctor's recommendations and, ultimately, case acceptance. It's the difference between simply telling and precisely showing.
To learn more and for a no-risk, 90-day free trial, go to www.xcpt.com.