i-CAT event benefits Trips for Kids
i-CAT, manufacturer of cone-beam 3-D imaging, gifts bikes built during a clinicians' workshop to the Charlotte chapter of Trips for Kids.

Sep 4th, 2014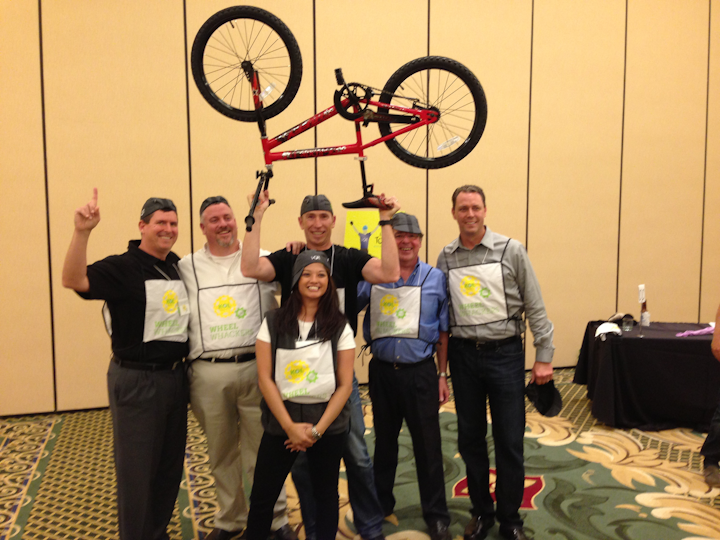 i-CAT, manufacturer of cone-beam 3-D imaging, gifts bikes built during a clinicians' workshop to the Charlotte chapter of Trips for Kids.
i-CAT, a brand of the KaVo Kerr Group, brought together thought leaders across a range of dental specialties for insights on continuous improvement and ways to promote the company's core values of bringing high-quality 3-D cone-beam imaging to the dental community. This "Voice of the Clinician" event aspired to another goal, as well — to bring bikes to children in low-income areas of Charlotte, North Carolina.
The main objective of this think tank was to gain insight on 3-D cone-beam imaging, in general, from dentists who use it every day for general dentistry, oral surgery, implants, orthodontics, and endodontics. Clinicians engaged in open dialogue on workflow improvements, dose control, and product innovation for key features of cone-beam 3-D imaging. Understanding that these clinicians are highly skilled with bending wires and using tools to promote dental health for their patients, Candy Ross, Director of Industry and Professional Relations, Dental Technologies, NA, KaVo Kerr Group, and the i-CAT team devised a surprise activity to put those skills to a different use and help children in need. They arranged with Paula Fricke, Executive Director of Trips for Kids Charlotte, to bring unassembled bikes from a shop called the Re-Cyclery. The doctors were organized into five teams, each of which was assigned a bike to build.
The practitioners tackled the task with all the determination and diligence that they bring to their dynamic practices. The dentists built the bikes, and afterwards, some of the more energetic of the bunch raced their newly assembled used bikes around the area. Fricke noted that sales of the bikes from the event will result in nearly $500, enabling an additional 15 children to earn bikes.
In the Trips for Kids program, children from low-income backgrounds learn basic bike repair, maintenance, and safety, and at the successful completion of their learning opportunity, they receive a bike of their own to keep. They can bring their bikes to weekend rides with local volunteers from the organization. This builds healthy bodies and gives these young people a safe and wholesome activity to keep their minds busy and productive. Fricke explained, "Earning a bike is a huge deal for our kids. Their families cannot afford bikes, so many of the kids have never had their own bike or the ability to enjoy all that riding a bike provides. They are always excited and proud." Fricke adds, "The mother of one boy who recently earned his bike told me his bike was the only thing in his life that was truly his! He loved his bike so much that he kept it in his small bedroom, which he shared with brothers, so nothing could happen to it."
Since the team bike-building visit was unique for Trips for Kids, which usually focuses on working with children directly, Fricke expressed her appreciation toi-CAT for creating an event that would have a continuing positive impact and create another type of outlet for the organization to gain more support.
Candy Ross noted, "At this workshop, our team collected incredibly useful insights on what doctors look to i-CAT to provide so that they can deliver even better dental care to their patients. The bike-building added something that i-CAT always strives for — the spirit of giving to improve the lives of others, as individuals and as a company. Whether we accomplish that through offering dentists the tools for effective dental care or cheering them on during a humanitarian event, everyone comes out feeling like a winner."