Solvay Dental 360 introduces Ultaire AKP, a high-performance polymer for removable partial denture frames, at ADA Meeting
Learn about the new Ultaire AKP, a high-performance polymer for removable partial denture (RPD) frames, from Solvay Dental 360. The product debuted in the US dental market last week. Ultaire AKP was specifically designed to replace metal and overly flexible materials in RPDs.
Oct 26th, 2017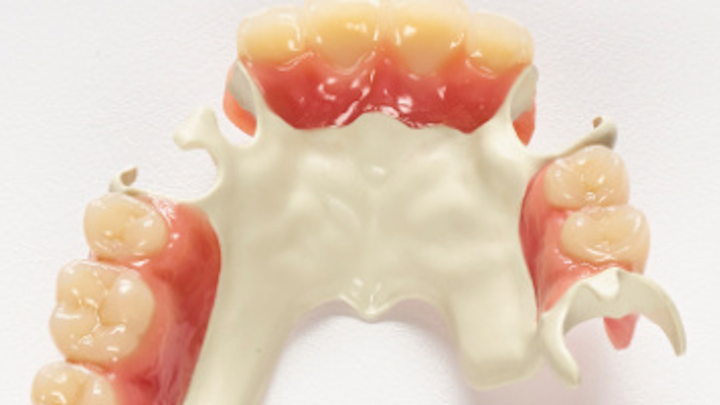 AT LAST WEEK'S ADA ANNUAL MEETING,Solvay Dental 360 debuted Ultaire AKP, a high-performance polymer for removable partial denture (RPD) frames, to the US market. Ultaire AKP was specifically designed to fill the gap between metal RPDs, which can be rigid and stiff, and other polymer frame materials that are more flexible. At the show, Solvay Dental 360 offered a series of presentations and demonstrations for dentists on Ultaire AKP.
Above: Ultaire AKP, a high-performance polymer for removable partial denture (RPD) frames
Solvay Dental 360 is a new dental-business and medical-device line of Belgian multispecialty chemical group Solvay, a producer of high-performance polymers used in the health-care industry for medical devices, equipment, instrumentation, and implantable materials. Solvay is headquartered in Brussels and has 27,000 employees distributed across 58 countries. Net sales were €10.9 billion in 2016.
"Dentists and patients alike are demanding better materials for RPDs, and Ultaire AKP delivers in a way that metal and other polymer options simply cannot," said Shawn Shorrock, global director at Solvay Dental 360. "We saw an unmet need to replace metal in dental materials, similar to other markets we serve such as orthopedic and cardiovascular, and we worked closely with dentists to ensure Ultaire AKP best serves their needs and those of their patients."
---
RELATED:
IDS 2017: Solvay launches Ultaire AKP, a high-performance polymer engineered to replace metal as material of choice for removable partial denture frames (VIDEO)
---
Metal RPDs have potential drawbacks, including allergies, toxicity, and taste. Ultaire AKP is an innovative aryl ketone polymer that provides a biocompatible, lightweight, metal-free, nonirritating, and a more aesthetically pleasing alternative to traditional metal RPD frames.
"We see a lot of patients with different kinds of allergies," said Vladamir Pastouk, DDS, of the Cleveland Center of Integrative Dentistry. "We test patients for metal toxicity, and quite a few patients are coming to us knowing that we work with this kind of problem. I am turning towards Ultaire AKP. It's lighter, strong enough, and more cosmetically pleasing to patients. And they are accepting that much easier than any other metal restorations."
Ultaire AKP is is a rigid material suitable as a metal replacement and different than other nonmetal materials currently on the market. It is both strong enough and tough enough to be tooth-supported and help reduce bone loss, yet it is flexible enough to engage undercuts more deeply.
"The other metal-free options that I've used are flimsy," said Lee Gause, DDS, owner of Smile Design Manhattan. "Because Ultaire is so rigid, and because it needs such little adjusting, it's actually allowing me to provide a better product in a more efficient way, which is huge for a dentist."
Once an RPD made out of Ultaire AKP is designed and fitted, adjustments should not be necessary, saving the dentist and patient time.
"Ultaire AKP is a paradigm-shifting polymer—it really hits the sweet spot between metal and the flexible systems on the market today," says Ryan Murphy, PhD, technology manager and polymer scientist at Solvay Dental 360. "It is a unique proprietary chemistry developed specifically for RPDs. There is no direct one-to-one comparison to any of the metal or polymer systems that are currently on the market for RPDs."
Dentists can find a list of labs here who have successfully completed the Solvay University qualification program.
The Dentivera milling disc made from Ultaire AKP is available in North America, the United Kingdom, and Germany, and has 510k clearance as well as CMDCAS and EU regulatory approvals. It is made in the United States under FDA and International Organization for Standardization (ISO) guidelines.
Editor's note: This article is an edited news release provided by Solvay 360.
---
This article first appeared in the Apex360 e-newsletter. Apex360 is a DentistryIQ partner publication for dental practitioners and members of the dental industry. Its goal is to provide timely dental information and present it in meaningful context, empowering those in the dental space to make better business decisions.
Subscribe to the Apex360 e-newsletter here.
Dental news and press releases may be sent to Apex360 editors at dentalpress@pennwell.com">dentalpress@pennwell.com.

---
For the most current dental headlines, click here.

---