Disability Insurance For Female Dentists
Whatever happened to unisex rates for disability insurance? Well, the rates are still out there.
Jul 1st, 2005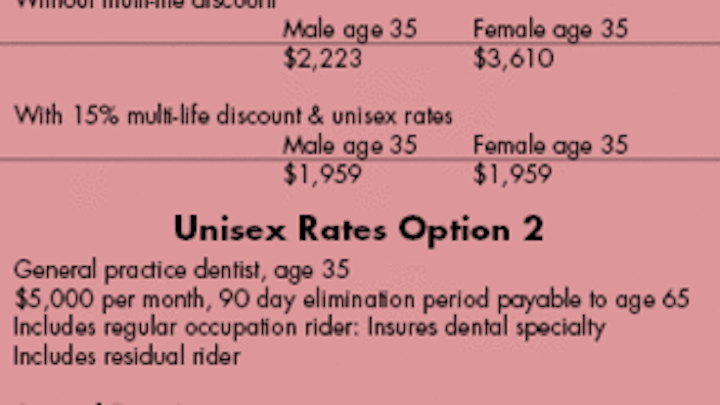 Whatever happened to unisex rates for disability insurance? Well, the rates are still out there. We can help you find them.
Most female dentists who have investigated purchasing individual non-cancelable disability will encounter the same problem: Your rates are higher than your male counterparts. Even though you and your associate are the same age, have the same dental specialty, and purchase the identical policy and benefits. That's just the way it is.
Or, is it?
More and more females are entering the dental profession each day. Female dentists are a force to be reckoned with, and should be recognized. Insurance companies have long been accused of sex discrimination when it comes to disability insurance; in the 1970s and 1980s, the argument was heard, and the rate structure of many major carriers was, in fact, changed. This change to unisex rates, however, did not last long. The carriers claimed that "females had 1500 more physiological ways of becoming disabled," thus justifying the differences in male-female rates.
The irony is, when it comes to life insurance premiums, female rates are lower than male rates. Once again, the insurance company's logic is that women live longer than men. So the difference is morbidity (disability insurance) tables vs. mortality (life insurance) tables. Or, simply put, claims experience.
So what should a female dentist know about today's marketplace?
Unisex rates are still available, but you need to know how to get at them. Some of the major quality disability carriers offer what is known as a "multi-life discount" or "unisex rates."
Multi-life discounts usually require a minimum of three lives with a common denominator. The denominator can be a common billing, such as three dentists in a practice or clinic, or even an association.
For argument sake, we will use a female dentist whose specialty is general practice dentistry. Within this practice there are three other general practitioners, all male. Each doctor already has their own personal disability policies, and is not interested in changing. Not to worry. If you have a hygienist and a secretary in the office, you will soon see that by purchasing a minimal amount of coverage for each you can save a lot of money each year.
What does a multi-life discount do?
By using the scenario above, the discount will not only reduce the cost of the policy for three individuals by 15 percent each year, but it will also afford the female dentist the unisex rates. See the chart for the differences in rate.
The difference in annual premiums warrants your investigating these options. You should also keep in mind that perhaps one or more of the other male dentists in the practice may already have a disability policy with one of the companies that offer the multi-life discount or unisex rates. If that is the case, you might consider coverage with the same carrier, thus affording not only yourself the discount, but your male counterpart the discount as well. Wouldn't you look good?
One point should be made here. I suggest that you consider the coverage before the discount. Make certain you have all the facts before you purchase the policy. Do your homework and compare the contracts.
Remember, not all of the carriers that offer individual non-cancelable coverage to dentists will offer this discount.
What else should you be aware of?
Your premium rates (without any discounts) will depend upon your dental specialty, your age, the state you are in, the monthly benefits, the riders you add to the policy, benefit periods and the insurance company itself. One thing is certain: No two dentists are alike. The same can be said of insurance companies. The costs are not the same, nor are the policies.
Options that are a must
What riders should I consider? (Additional benefits to be added by rider).
Residual rider - This rider will allow for you to return to your practice and pay benefits for "loss of income." It will typically pay a minimum of 50 percent for the first six months or the percentage of "actual loss" if greater. This percentage is based on the total benefit of the policy.
There will usually be a provision within the rider that states, "If the percentage of loss is greater than 75 percent (some say 80 percent), the total disability benefit will be paid."
This rider is a must buy and is even better than most dentists realize.
The income "loss" they are talking about is after business expenses. In other words, when and if you return to work, the monies that you generate will first be used to pay your business expenses. Once your business expenses have been paid for the month, the excess is used in the above definition.
Simply put, a 50 percent disabled dentist would lose 100 percent of their personal income. The reason for this is simple. Typically, your business expenses run about 50 percent of what your income is.
Note: Your pension contribution is considered your income as well.
Future purchase option rider - If you are just starting out in practice, or you can see the need for increasing your monthly benefits in the future, this is just what the doctor ordered. Let's assume you initially purchased a disability policy for $5,000 per month. At the time of purchase you added the FPO rider to that policy for $5,000.
Now that your income has increased and you would like to buy an additional amount of coverage, all you have to do is qualify financially, not medically. If your income justifies the "limits" of the carrier, no problem. The rider allows for increases to be exercised at certain intervals and up to certain ages. Some carriers might even let you purchase the entire FPO benefit at one time.
After you have gathered all of your information, done all of your shopping, received your discounts, and know the best policy for you, you can go back to doing what you know best ... taking care of your patients.
Good Luck. ■
Ron Cohen, RHU, RR
Mr. Cohen has been specializing in individual disability insurance for dentists since 1969. He was the founder of the Houston Association of Health Underwriters in 1977 and served as president for two years. He has authored numerous articles on disability insurance for nationally published magazines and journals, as well as serving as guest speaker for various insurance companies, societies, and groups. He has received the National Association of Health Underwriters President's Council Lifetime Achievement Diamond Award. He can be contacted at ron@roncohenrhu.com.