Surf's up! At your dental visit? Check out this beach-themed office
The owners of this dental practice love all things ocean and beach. Why not share that in their new dental office design, even if it is located in Nashville. Check out the Smith Dental makeover.

Mar 11th, 2016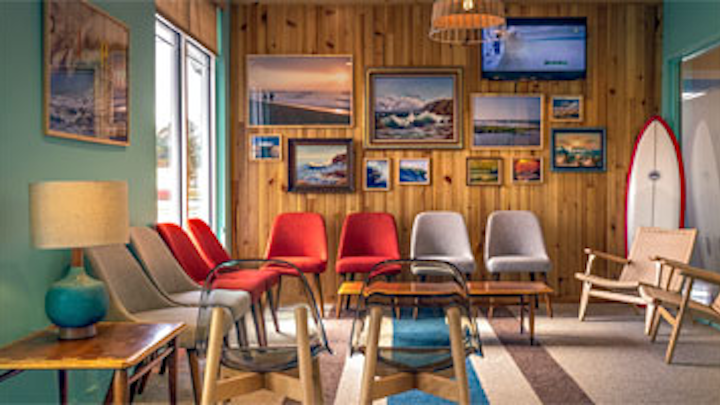 Most people don't think of beaches and surfing when they visit their dentist. But that's exactly what this dental practice in Nashville is going for with their new office design and theme. Read on to see how they're engaging patients in a fun new atmosphere.
Smith Dental in Nashville recognized their chance to change the negativity often associated with "going to the dentist" and grabbed it. Working with Seattle design firm MG2, they have infused their new office with a vibrant beachside esthetic. The practice recently celebrated their grand opening, and the new theme is a hit!
Smith Dental founders Rob Smith, DDS, and Steve Cram love the ocean and have a passion for water sports, which they wanted to reflect in the new office theme. Colorful treatment rooms named after world famous surf spots, one-of-a-kind art pieces, and refinished furniture accents reflecting the surfing and skateboarding culture all present an unexpected twist of fun when patients walk in, and hopefully this will help reduce patient stress.
"We wanted to add original touches throughout the office to create a modern atmosphere," said Peter Stocker, MG2 Senior Associate. "Steve and Rob are thrill-seekers in real life, and this probably had a lot to do with why they were comfortable taking a risk and breaking away from the industry norms when they designed the office."
Before cofounding Smith Dental, Cram owned and operated Tennessee Orthodontic Care. He partnered with Dr. Smith in July 2015 to form Smith Dental. Their first office is located in the greater Nashville area in Smyma, Tennessee. The company's business model, which aims to improve upon the traditional fragmented structure of many dental practices, offers patients comprehensive services including dentistry, orthodontics, and oral surgery in one 4,500 sq. ft. facility.
"We're excited to be offering both orthodontics and dentistry in the same location as it allows our team to build lifelong relationships with patients," explained Cram. "The idea is that by establishing a level of trust with patients, it increases the likelihood they'll adopt a more proactive approach to their dental care, maintain good oral health habits, and be less likely to require more dental work in the future."
The new office design will no doubt appeal to the playfulness of kids and teenagers, but it is Smith Dental's dedication to accommodating people's busy schedules that will attract patients of all ages. Smith Dental routinely sees patients until 8:00 pm during the week, in addition to offering Saturday appointments.
RELATED ARTICLES:Dental office design, reborn in Portland
Historic building restored for the dental offices of Dental Associates in Milwaukee
What does your waiting room have to do with dental practice marketing?