Building back after Katrina
In a previous issue of WDJ, readers met Dr. Martha Carr in the feature article "Life After Katrina.
Jun 1st, 2006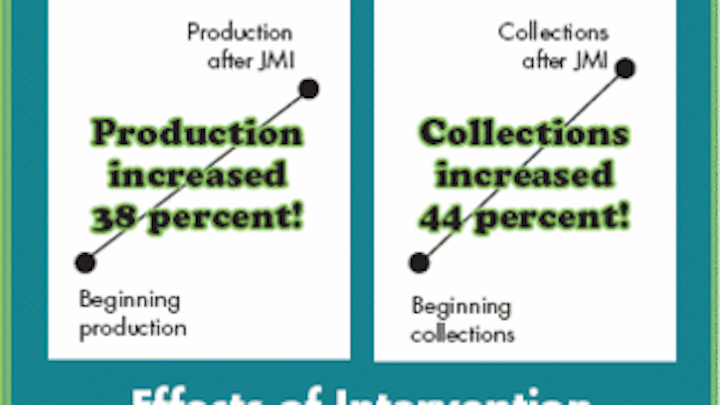 by Cathy Jameson
In a previous issue of WDJ, readers met Dr. Martha Carr in the feature article "Life After Katrina." The article detailed the devastation the Mandeville, La., dentist experienced as a result of Hurricane Katrina.
The WDJ editorial board asked Jameson Management, Inc., a practice-management firm, to advise Dr. Carr during her reconstruction. JMI CEO Cathy Jameson offered Dr. Carr a complimentary, comprehensive office evaluation and full consultation.
Dr. Carr's life had been strained for several years before Katrina's wrath. She had moved, started a practice from scratch in 1996 while working at a pediatric office, divorced in 1999 while her mother struggled with cancer, remarried, given birth, and worked in two offices until July 2005 when she started her own practice. All of these events were major life stresses, although not all were negative stresses.
Then Katrina struck August 29, 2005. Dr. Carr and her team evacuated and were unable to contact one another for several weeks. When they finally reconnected, one hygienist announced she would not return to work. Dr. Carr, still nursing a 14-month-old baby and helping raise her children and stepchild, was overwhelmed to the point of being immobilized. When asked what she needed the most, Dr. Carr said, "I have so many decisions to make that I can't seem to make any decision at all. I feel like my brain is Katrina stew."
And so, a partnership began, and the story must be told. Look for insights that might be relevant to you: proven methods of practice development that are valuable to any practice; how to handle challenges, no matter how many and how great; and how to be prepared for disaster.
Dr. Carr says her coaches have made it possible for her to make decisions, move, organize amid chaos, and believe that healing is possible.
"I didn't know where to start," she said. "Decisions had to be made every day, but there was no order. Everything was a priority of disaster."
Shortly after Hurricane Katrina slammed the gulf coast, I agreed to a request made by the editorial board of WDJ. I contacted Dr. Martha Carr of Mandeville, La., to see how Jameson Management, Inc., could help. JMI had donated money to the American Red Cross, but pitching in one-on-one was a welcomed opportunity.
In this series, you will find a synopsis of the project, what is being done, how it is being done, and the results. Dr. Carr has agreed to share everything, including her financial data, with WDJ readers. She and the JMI team foresee a total recovery.
After our initial correspondence, I opened my mail to find a card with the following inscription:
Dearest Cathy,
I can't even begin to find the words to thank you for the most incredible blessing of this gift of your time and talents. The numeric value of your generosity is staggering as is the amount of time, effort and people power behind it all. I'm truly humbled, blessed, and so lucky. Thank you from the bottom of my heart, my staff's hearts, and my family's hearts!
It took me a long while on that Friday after we talked to settle down, stop shaking, and stop crying. As I told you, I'm not among the worst off down here, and I feel unworthy of such an incredible gift. Thank you for listening to me. Thank you for giving me your phone numbers and the openness to allow me to call you whenever I need to. Just this so far has already made such a difference. I guess I feel like someone stretched a safety net below my crazy tightrope walk! Now, I'm standing a little taller and more confident knowing if I fall, I'll be caught.
Thanks! God bless you! With love,
Martha
The comprehensive office evaluation
In November 2005, the month following the hurricane, JMI consultant Julie Hanson of Dallas flew to Mandeville (just across Lake Pontchartrain from New Orleans) to provide a comprehensive office evaluation for Dr. Carr. Hanson evaluated the 25 major management systems that make up a dental practice. She evaluated the practice's strengths and areas that could improve. It was imperative to evaluate the devastation, as well, in the physical plant, technology, team, and systems.
Once Hanson completed the evaluation, JMI developed a plan for recuperation, restructure, and rebuilding. The plan prioritized actions. Things needed to move as quickly as possible for the practice to remain solvent.
Hanson presented her findings to Dr. Carr, her team, and her husband, Jeff. We wanted Jeff to be informed of the plan and to give his input. The dental team agreed to implement the plan with help from Hanson, hygiene consultant Leslie Neveu, and me.
As is often the case, Dr. Carr's office production increased after the evaluation. When teams identify strengths that can bear solidifying and areas that can be improved, they often focus to increase results.
The following are highlights of the first consultations and reports, plus the support in between:
Emotional support
I speak regularly with Dr. Carr about health and well-being issues and offer her emotional support. Emotions and mindsets of a recovering doctor and team must be positive, constructive, and focused on possibility. Without hope and clear direction, moving forward is nearly impossible.
When a person is overwhelmed with circumstances that seem impossible to resolve, he or she becomes emotionally flooded. In other words, the emotions are so strong and tangled in a web of uncertainty that decisions are difficult, if not impossible, to make. The emotionally flooded person feels stuck and stressed. When stress rages out of control it can lead to psychological and physiological challenges. Thus, being able to confide in, organize thoughts with, and sort out emotions alongside a trusted person is beneficial.
Hanson, the project manager, also speaks with Dr. Carr during monthly conference calls. She checks on progress, answers questions, holds the team accountable for action, and addresses any issues, concerns, and questions. It is important that Dr. Carr never feels alone. She needs and wants caring coaches to guide her progress and help her with decisions. In addition, the team welcomed the practice-development coaching in part because of Hanson's sense of organization.
Dr. Carr also has extensive support from WDJ and Jeff. He joins Dr. Carr, Hanson, and me when we need his input and support.
The earliest weeks and months of the consultation focused first on emotional healing, then on bringing the building back into working order, and third on regaining practice functionality.
Regaining stability
Since we wanted to reestablish stability for Dr. Carr's practice, our first objective was to prioritize the things she needed to do. It seemed overwhelming.
Our coaches taught Dr. Carr the proven five-step, goal-setting process:
Write the goal.
Design a plan of action.
Assign responsibility.
Time activate each task.
Evaluate.
So together, Dr. and Jeff Carr listed their goals. They discovered that organizing and prioritizing their many tasks brought relief.
For the first time, they had a plan of action so there was less mental stress. They didn't feel as overburdened and lost. They could spend their emotional energy addressing their plan of action for priority one. Even though they were at the beginning, they had order and felt secure knowing that they were making progress.
We encouraged Dr. Carr to schedule nonnegotiable management time into her week (at the office and away from the baby). Time-management principles dictate that one can get more done in less time with uninterrupted focus.
After two months of consultation, Dr. Carr's practice was doing better than ever, even before Katrina.
We are proud that Dr. Carr continues recovering emotionally and is making amazing headway. She has already increased her production by 38 percent per month and her collections by 44 percent per month. Both of these were important because she had major financial challenges following the hurricane.
We will continue reporting Dr. Carr's progress in upcoming months. In the meantime, keep her in your thoughts. Every one of us has trauma in our lives. Life happens and we face the challenges, deal with the issues, and turn the challenges into learning experiences. A hurricane might never wipe you out, but other life issues will happen. We hope you will gain insights that help you now or in the future through this series. Be strong. Perseverance is a virtue.
Cathy Jameson
Jameson is founder, president, and CEO of Jameson Management Inc., an international dental lecture and consulting firm. The Jameson Method of Management helps dentists increase productivity and profitability, and control stress. Reach her at info@ jamesonmanagement.com.