Thursday Troubleshooter: All-female dental staff tired of boss being politically incorrect
This all-female dental staff is tired of male dentist making them feel inferior. How can they remedy the situation? Two experts share their advice.

Nov 20th, 2014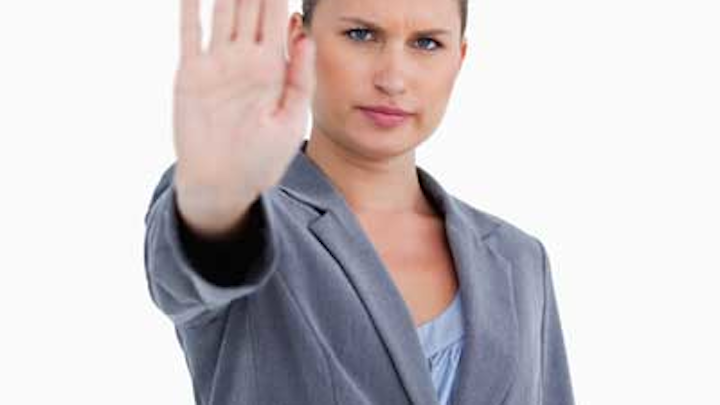 QUESTION: I recently read an article regarding political correctness in the workplace. The dentist I work with is oblivious to political correctness. Very few of us who work with him feel comfortable truly sharing our ideas with him. The dentist is the one male in the practice and he is the practice owner. We are a staff of six women, and unfortunately he often makes us feel inferior because we're women. How do we steer him toward being politically correct, or is it too late?
ANSWER FROM LISA MARIE SPRADLEY,
The "Front Desk Lady" of TCB Dental Consulting:
First, let me say that I believe there is always hope. Having said that, I think that if your team can express your concerns to the doctor in a way that is non-confrontational and in the best interest of the practice, this will bring the best opportunity for a positive change.
One way to do this is to keep an open mind when you speak to the doctor. It's quite possible that he's not aware he's acting this way. For him, it may just be a learned behavior that has never been called into question. I suggest that the office manager or administrator have a private meeting with him to discuss the concerns of the team. If everyone talks to him he may feel like he's being "ganged up" on, and this may put him on the defensive and cause more problems.
Here is a list to help make the discussion easier:
1. The manager should speak to a specific instance when the doctor's behavior and/or words were unpleasant or demeaning.
2. Explain why there was a disconnect with the team.
3. Reassure the doctor that everyone on the team wants to give the patient an exceptional experience in a positive work environment.
4. Listen to the doctor's response and develop a plan to improve communication. This plan should allow the team and doctor to openly speak when something is done that may be interpreted as offensive.
5. Agree to move forward from this point on and focus on a positive change.
Keeping the discussion open and moving forward with an optimistic attitude of great results will help the team and doctor put their focus back on the patient. If the doctor is resistant to change or does not care how his attitude affects the team, then a change of environment may be the best option. However, do not jump to conclusions that the situation is hopeless until you've given the doctor and team an opportunity to change.
It's obvious that you care about your team and your career, and I hope this ends well for all of you.
ANSWER FROM JUDY KAY MASOULF:Founder of Practice Solutions Inc:
It is never too late to communicate with the dentist! I have often found that people who are politically incorrect often don't realize they're being inappropriate. I never like to assume. The three-letter word A-S-K can solve many communication concerns.
I would have someone in the practice address the issue individually with the doctor. Whenever he says something that makes someone feel inferior, someone should respond with, "I'm not quite sure what you meant when you said this. Can we talk about it?"
This gives him the opportunity to clarify his intent. In many cases you may find that it was not his intent at all. If it was indeed his intent to make you feel inferior, then you're holding him accountable for his verbiage. It's important to address any communication, actions, or behaviors where the intent is to make the staff feel inferior because you're a woman.
Example verbiage: "It's very demeaning when you imply we're inferior because we're woman. In the future if you have a concern with our performances, please address your specific concerns with us." Politically incorrect behavior usually stops once it is challenged in a professional manner.
PAST THURSDAY TROUBLESHOOTERS:
How can new dental practice owner deal with pushy former owner?
How can this dentist avoid becoming a victim of embezzlement?
Medicare – to opt in or opt out?

Send your questions for the experts to answer. Responses will come from various consultants associated with Speaking Consulting Network, Academy of Dental Management Consultants, or Dental Consultant Connection. Their members will take turns fielding your questions on DentistryIQ, because they are very familiar with addressing the tough issues. Hey, it's their job.

Send your questions to megk@pennwell.com. All inquiries will be answered anonymously every Thursday here on DIQ.