Straumann introduces a tapered implant for immediate placement and loading
Straumann launches new Bone Level Tapered (BLT) Implant in conjunction with Straumann Pro Arch, a new treatment solution for screw-retained full arch restorations.
Mar 9th, 2015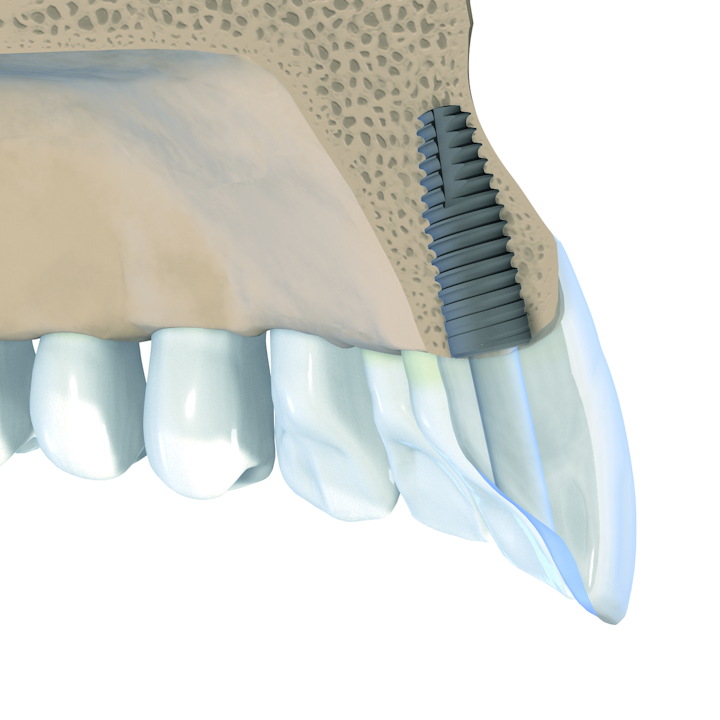 Straumann launches new Bone Level Tapered (BLT) Implant in conjunction with Straumann Pro Arch, a new treatment solution for screw-retained full arch restorations
As the global market for dental implants is shifting towards shorter treatment times, clinicians require solutions that reduce chair time, improve efficiency and profitability, and meet the needs of specific anatomic situations. At the same time, patients are demanding solutions that deliver the esthetic benefits of the implant in a shorter amount of time.
Building on the features of the Straumann Bone Level Implant, the Straumann BLT Implant introduces the powerful combination of Roxolid, SLActive, Bone Control Design, CrossFit Connection, Consistent Emergence Profiles, plus a tapered implant body.
Features:
Designed to deliver primary stability in all bone classes, making them ideal for immediate placement and loading even in challenging protocols (1)
Shape mimics the root of a natural tooth, thereby facilitating immediate placement between two opposing teeth with limited space
Roxolid material delivers excellent biological properties and high tensile strength (2)
Roxolid may allow the use of smaller-diameter implants with the same clinical performance as regular-diameter titanium implants(3)
SLActive surface technology allows faster osseointegration and reduced healing time from six to eight weeks to three to four weeks(4)
Bone Control Design maximizes crestal bone preservation
CrossFit Connection is designed to ensure precision against rotation and long-term mechanical stability
Additionally, the tapered design of the Straumann BLT helps overcome anatomical restrictions, such as converging tooth roots and concave jaw structures. It's well suited for one- and two-stage procedures with reduced intra-procedural times.
Dental implants have become the standard of care when it comes to replacing one or all of a patient's teeth. The Straumann BLT features a full thread at the tip of the implant that allows for early engagement of the threads, and the three cutting notches enable placement in an underprepared osteotomy. The design of the Straumann BLT delivers flexibility in challenging clinical and anatomical situations.
RELATED | Straumann USA and Patterson Dental team up to bring a new standard of care to implant placement in general practice
RELATED |Q&A with Straumann about tissue regeneration

"I have found the BLT design extremely beneficial for my single and multiple tooth immediate provisional cases. The new tapered apical design allows for very predictable insertion torques of 35Ncm and excellent primary stability," said Brad McAllister, DDS, PhD, an early adopter of the Straumann BLT Implant from Tualatin, Oregon.
Available March 12: the new Straumann Bone Level Bone Profilers
The new Bone Level Bone Profilers should be used when the bone walls interfere with the abutment's emergence profile. Remove bone coronally to the implant shoulder in the following situations: deeply placed implants, tilted implants, and/or scalloped or sloped alveolar ridge.
For further information, please contact your Straumann representative or visit us at the IDS Congress in Cologne, Germany, or at the Academy of Osseointegration Annual Meeting, Booth No. 621, in San Francisco, California.
References
(1) When good primary stability is achieved
(2) Norm ASTM F67 (states min. tensile strength of annealed titanium); data on file for Straumann cold-worked titanium and Roxolid implants
(3) Benic GI, Gallucci GO, Mokti M, Hämmerle CH, Weber HP, Jung RE. Titanium-zirconium narrow-diameter versus titanium regular diameter implants for anterior and premolar single crowns: 1-year results of a randomized controlled clinical study. Journal of Clinical Periodontology 2013 Nov;40(11):1052–61.Epub 2013 Sep 8.
(4) Compared to SLA