Voco's new Admira Fusion is first all-ceramic-based direct universal restorative
With Admira Fusion, Voco has introduced the world's first all-ceramic-based universal direct restorative material.
Dec 17th, 2015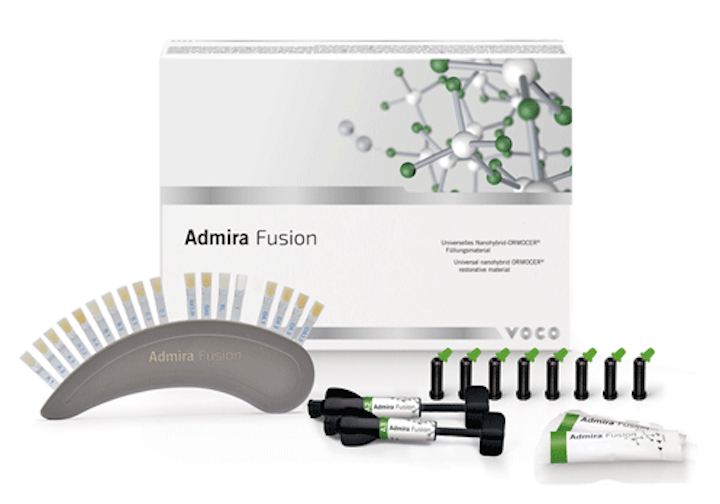 With Admira Fusion, Voco has introduced the world's first all-ceramic-based universal direct restorative material. After almost two decades of intensive research and development, Voco has created the first ever "nano-ORMOCER"by fusing its Nano-Hybrid and ORMOCER (ORganic MOdified CERamic) technologies.
Nano-Hybrid technology was first introduced to the dental industry in 2003 when Voco launched Grandio, the world's first Nano-Hybrid composite. ORMOCERtechnology, developed by the German-based Fraunhofer Institute for Silicate Research ISC, has been embraced and implemented by many other industries for its beneficial optical properties, scratch resistance, anti-static, and anti-microbial behaviors. These benefits have created new levels of quality for industries utilizing medical technologies, electronics, optics, sensors, and surface refinements. Today, Voco has brought these two technologies together as a nano-ORMOCER in Admira Fusion.
As a nano-ORMOCER, Admira Fusion's chemical base is formed by silicon oxide, which makes up both the glass fillers and the ceramic resin matrix—a first of its kind. This "Pure Silicate Technology" offers several remarkable advantages that include up to 50% lower polymerization shrinkage (1.25% by volume), compared to today's conventional composites, as well as up to 50% lower shrinkage stress. Additional physical properties include extremely high color stability, elevated esthetics in translucency and opacity that allow it to adapt to and blend with surrounding tooth structure, and high surface hardness and edge strength.
The ORMOCER technology used in the manufacturing of Admira Fusion makes it highly biocompatible, as it contains none of today's classic monomers—such as bisphenol A (BPA), bisphenol A glycidyl methacrylate (bis-GMA), triethyleneglycol-dimethacrylate (TEGDMA), urethane dimethacrylate (UDMA), etc. The light-curing, radiopaque Admira Fusion contains 84% inorganic filler content (by weight), giving it excellent wear resistance, which, combined with Admira Fusion's particularly high color stability, allows for its universal use in both the anterior and posterior regions. This homogeneous material offers nonsticky handling and is compatible with all conventional bonding materials.
Admira Fusion is available in 18 Vita shades in unit-dose capsules and syringes, and Voco's ISO-pak packaging of Admira Fusion capsules offers airtight, individually sealed foils to maximize infection and humidity control.
For more information, visit voco.com.
MORE NEWS FROM VOCO:
Voco America launches dual-curing, composite-based Bifix Temp cement
Voco annoucnes Futurabond M+ universal single-bottle adhesive
Voco introduces Rebila Post System kit