The process (and products) you need for esthetic veneer provisionals
Michael DiTolla, DDS, FAGD, breaks down his technique and shares everything—right down to the products he uses—to help you achieve esthetic veneer provisionals.
May 26th, 2015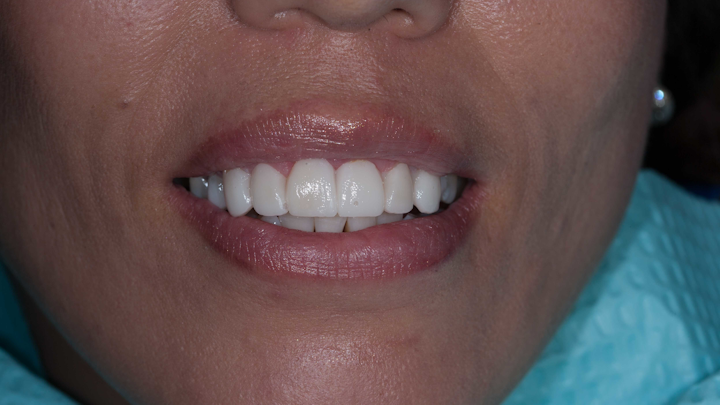 Doing veneer provisionals can be challenging, and having the right technique can make all the difference. Recently, Joshua Austin, DDS, FAGD, got Michael DiTolla, DDS, FAGD, to share his veneer provisional process via email. Here, Dr. DiTolla breaks down his technique and shares everything—right down to the products he uses—to help you achieve esthetic veneer provisionals.
Dr. Joshua Austin: During a recent phone call to Glidewell, while on hold, I got to hear your recordings that give clinical tips. One of your tips talked about doing veneer provisionals with Luxatemp by DMG America. I find veneer provisionals to be one of the hardest things that I have to do on a regular basis. So, let's chat about your veneer provisional process. Tell me how you do it.
Dr. Michael DiTolla: It's nothing special … It starts with a diagnostic wax-up with the gingival margins very well-defined. I then take a putty impression of that and reline it with light-bodied material. Next, I place two one-minute coats of Gluma on the preps.
I fill the putty/wash matrix with the "bleach" shade of Luxatemp, seat it on the preps, and let it set for three minutes to lock into place on the preps. If the wax was cleaned up well with the half Hollenbeck at the gingival margin, there shouldn't be much cleanup required. I use a pointed, fine-grit carbide bur to remove any excess wax at the gingival and open-gingival embrasures. I then paint the facial surface with LuxaGlaze and light cure it.
After that, I pray until the veneers get back. Then, I try to seat them within three to five days since those veneer temps leak like a sieve. When the patient returns for the seat appointment, I break off the temps with forceps, sectioning where needed. If the try-on is unsuccessful, I use the putty/wash matrix to make a new set of temps.
JA: So in this scenario, you are relying on the Luxatemp to be retained to the veneer preparations via some mechanical resistance, which is achieved by splinting all of the units together—correct?
MD: Exactly! If you are able to get it off in one piece to trim and polish it, I would etch the dentin in the middle of the prep (about the size of a pea), and then I would place the temps with TempBond Clear. Don't use a dentin-bonding agent after etching, or you won't get them off. Instead, you can use just the adhesive from a fourth-generation, two-bottle system if you want. To make it a really static, single-unit anterior temporary, pour a model from a pre-impression and make a thermoformed splint over that. Pack the facial of the thermoform splint with composite, place the thermoform splint on to the prep, and light cure, making sure that the composite doesn't get stuck in an undercut. Remove the splint, fill it with Luxatemp, and re-seat it on the prep. After the Luxatemp cures, remove the splint, and you will have a bis-acryl temporary with a nice composite facing that can be polished to a high shine easily. It's probably the most esthetic temp you can make.
JA: That all sounds really great. Something tells me you have another technique up your sleeve. Talk to me about what you really do on your veneer cases.
MD: That was it. I shrink-wrap them on! It's nearly impossible to do with BioTemps because the patient would look like Jim Carrey in The Mask. And with how thin we can prep the veneers today, the temps will pretty much fracture any time you try to remove them to trim and cement them. I prefer no temps at all, and that's how I typically do it if I haven't penetrated into the dentin. When you go with no temps, the gingiva is always healthy at the seat appointment which means you can get a little etch on it while etching the gingival third of the tooth without any problems. When you get etch on gingiva that has been irritated by the temps, it instantly starts bleeding and contaminates the bonding surface.
JA: Good point. Every time I prep veneers, I worry about the provisionals the entire time I'm prepping. Thanks for your help!
ARTICLES BY DR. DITOLLA:
Join the digital workflow: The case for chairside CAD/CAM
Common preparation mistakes that cost you money
______________________________________________________________________________________________________________
Editor's Note: This article first appeared in Pearls for Your Practice: The Product Navigator. Click hereto subscribe. Click here to submit a products article for consideration.
______________________________________________________________________________________________________________
Michael DiTolla, DDS, FAGD, is the director of clinical research and education at Glidewell Laboratories in Newport Beach, California. He lectures nationwide on both restorative and cosmetic dentistry. Dr. DiTolla has several free clinical programs available on DVD through Glidewell Laboratories or online at glidewelldental.com.