Nupro White Varnish releases fluoride rapidly
Nupro White Varnish allows for the rapid release of fluoride.
Feb 20th, 2015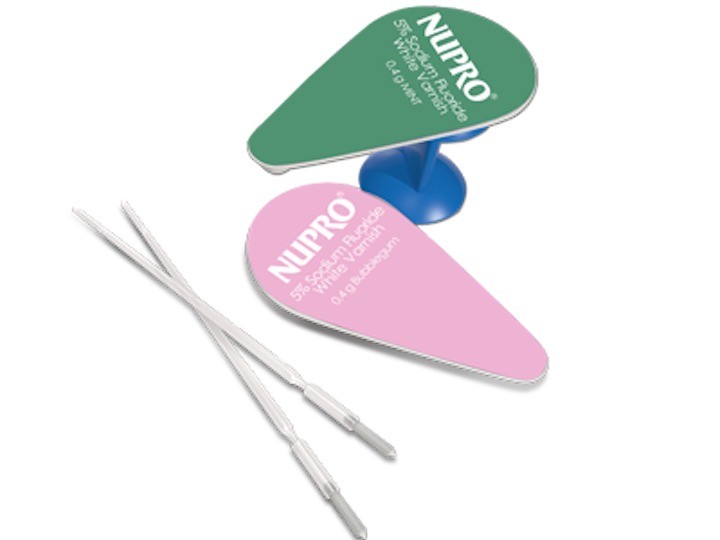 Dentsply Professional introduces Nupro White Varnish, a varnish with rapid fluoride release for hypersensitivity relief.Its patent-pending formulation is designed to minimize clumping and can be applied with no dripping or stringing, eliminating some of the biggest frustrations clinicians experience when using fluoride varnish. Plus, Nupro White Varnish can be applied to a wet tooth, eliminating the need to dry the tooth to save time. It spreads easily, leaving a uniform film that is easy to see during application but that sets to a clear finish.The unit dose offers flexible handling options for the clinician; the dose cup can be snapped onto the Nupro prophy grip, held between fingers or set on a flat surface. (1)
Nupro White Varnish allows for the rapid release of fluoride. Compared to the leading varnish brand, Nupro releases seven times more fluoride in two hours.(2) It also has a shorter wear time – only two hours – compared to other varnish brands. (1)With its shorter wear time, and its four flavor choices of grape, raspberry, mint, and bubblegum, Nupro offers a positive patient experience.
Clinicians can request free samples and find additional information on the Nupro White Varnish website: www.nuprovarnish.com.
(1) Compared to competitive varnishes. Data on file: Dentsply Professional.
(2)Data on file: Final report, Fluoride release from a fluoride varnish over a two-hour period. Study No. 12-230. Dentsply Professional.