Director's Note: A review of the Oral-B Genius Bluetooth-connected toothbrush with coaching technology
Pamela Maragliano-Muniz, DMD, reviews the Oral-B Genius Bluetooth-connected toothbrush with coaching technology.
Sep 23rd, 2016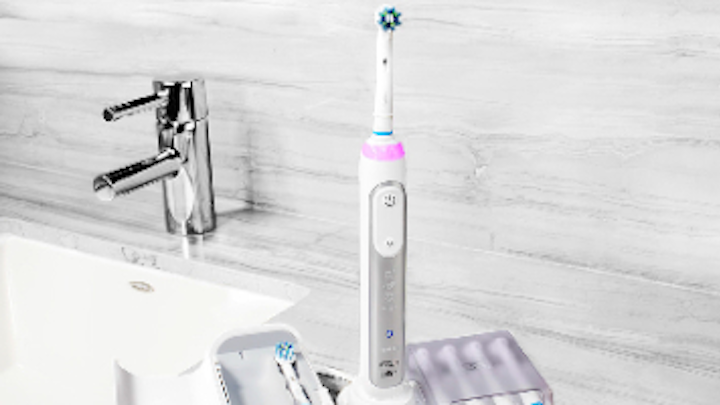 Pamela Maragliano-Muniz, DMD, reviews the Oral-B Genius Bluetooth-connected toothbrush with coaching technology.
A patient visited my office last week for routine perio maintenance. I'm happy to report that his oral hygiene and his periodontal condition have been improving. But during his visit, he mentioned that it is frustrating to only receive feedback about his oral hygiene practices are every three months; he is an engineer and likes the idea of feedback on a daily basis.
What would you suggest for this patient? I gave him two options: disclosing agents or Bluetooth-connected toothbrushes. He was not interested in chewing a pink tablet like he did as a kid, but his engineer ears perked up when I mentioned that he can record all of his data on a free app that he can download from the App Store. He then asked me if any toothbrushes will collect data and provide feedback about the effectiveness of his brushing habits. I told him that he is the ideal candidate for the Oral-B Genius toothbrush that is hitting the market this fall.
Features
The Oral-B Genius Bluetooth-connected toothbrush offers the same features as its Bluetooth-connected predecessors, the 7000/8000 SmartSeries toothbrushes—including recorded brushing activity (figure 1), Achievements (figure 2), Journeys (figure 3), My Dental Office (figure 4), Professional Guidance (figure 5), a news feed during brushing to encourage longer brushing times (figure 6), and the light-up pressure sensor. You can make your toothbrush your own by customizing the Smart Ring. I picked fuschia, but there are 12 color choices available (figure 7). It also has the added benefit of coaching technology.

Figure 1: The Oral-B Genius will keep track of all of your brushing sessions. It records brushing time and the length of time that too much pressure was applied, as well as frequency of flossing, tongue cleaning, and rinsing. It keeps track of daily, weekly, monthly, and overall data.

Figure 2: The Achievements feature is ideal for those who like to receive rewards for their hard work. It keeps track of brushing, flossing, tongue cleaning, and rinsing streaks and offers a variety of trophies for successful habits.

Figure 3: Brushers can follow preprogrammed Journey routines, which include product recommendations and oral hygiene practices, for specific oral health purposes (fresher breath, reduction of plaque, whitening, better gum health, or orthodontic care).

Figure 4: You can program your dentist's information into the app, and it will remind you of upcoming appointments.

Figure 5: As dental professionals, we can program the app for our patients to help improve their oral health. We can add reminders for patients about brushing, flossing, tongue cleaning, or rinsing. We can also recommend products or add appointment reminders.

Figure 6: Sometimes patients need a little distraction while brushing to make it through the recommended two-minute session. There is a news feed that patients can look at while brushing to help "pass the time" during individual brushing sessions.

Figure 7: There many settings that can be customized for the user. The Smart Ring can be customized to one of 12 colors, and if you choose, it will flash when it's time for you to move on to another area.
Position detection technology
When you open the box containing the Oral-B Genius, you will notice a few new things: There is, of course, the toothbrush with a variety of power settings, along with brush heads that remove plaque via rotating-oscillating movements. The travel case has a new sleek and modern design, and there is a mirror cling that holds your phone with a suction cup on the back. When I first heard about this, I thought, "Wow, this is great! Now I have a holder for my phone when I use my GPS in the car." This is not how you should use it! In fact, using it for this purpose is specifically discouraged in the directions, so don't do it!
Instead, affix it to a mirror (figure 8) so the app can be used without movement of the phone during brushing. This device facilitates the toothbrush's position detection capabilities: The app scans your face (figure 9), and then the toothbrush, via its position detector, will detect how much time is spent brushing each sextant of your mouth (figure 10). If you don't spend the required amount of time on a particular sextant, the app will encourage you to continue brushing. When you finish your brushing session, you will receive a score (figure 11). I hope you wouldn't expect anything less than a 100% from me! The data is stored in the app so the user can monitor progress, or it can be e-mailed to dental professionals for additional feedback.

Figure 8: The Oral-B Genius Bluetooth-connected toothbrush, mirror cling, travel case (the toothbrush and your smartphone can be charged from it), brush heads, charging station, and directions for use

Figure 9: The Oral-B Genius will scan your face as a baseline for the position detector.

Figure 10: The position detection technology will keep track of how much time you spend brushing each sextant (or quadrant) of your mouth. It will let you know when it's time to move on to another part of your mouth.


Figure 11: Once a brushing session is completed, a score between 0 and 100 will be given to the brusher.
I believe that the Oral-B Genius Toothbrush with coaching technology can provide the daily feedback that my patient is seeking. He cannot wait to have a toothbrush that will help him achieve the best oral hygiene practices on a daily basis. I had to chuckle when he referred to this brush as a "virtual pink chewing tablet!" From a professional standpoint, I am enjoying the aspects of this toothbrush that are consistent with previous models and the added benefits of the new coaching technology. Keep an eye out for this new toothbrush with these innovative features!
MORE READING:
Are you smarter than your smart toothbrush?
Review: Oral-B Pro 5000 SmartSeries electric toothbrush with Bluetooth
New products from RDH UOR 2016: The Oral-B Genius toothbrush (VIDEO)

---
Author's Note: For special offers and promotions, visit the Crest + Oral-B booth at the American Dental Association (ADA) Annual Session, or visit dentalcare.com/genius.
Editor's Note: This article first appeared in Pearls for Your Practice: The Product Navigator. Click here to subscribe. Click here to submit a products article for consideration.
---
Pamela Maragliano-Muniz, DMD, is an editorial director for Pearls for Your Practice: The Product Navigator, an e-newsletter from DentistryIQ.com and Dental Economics. She was a dental hygienist before earning her DMD from Tufts University School of Dental Medicine and her certificate in advanced prosthodontics from the UCLA School of Dentistry. She teaches and also maintains a private practice in Salem, Massachusetts. Her passion for prevention has stayed with her throughout her career, and in 2010 her practice was named the Adult Preventive Care Practice of the Year by the American Dental Association.
---
For the most current dental headlines, click here.

---