Philips launches Philips Sonicare FlexCare Platinum Connected, its first Bluetooth-connected power toothbrush for adults
Philips has announced its first Bluetooth-connected Sonicare for adults, the Philips Sonicare FlexCare Platinum Connected, with a corresponding Philips Sonicare app.

Jun 7th, 2016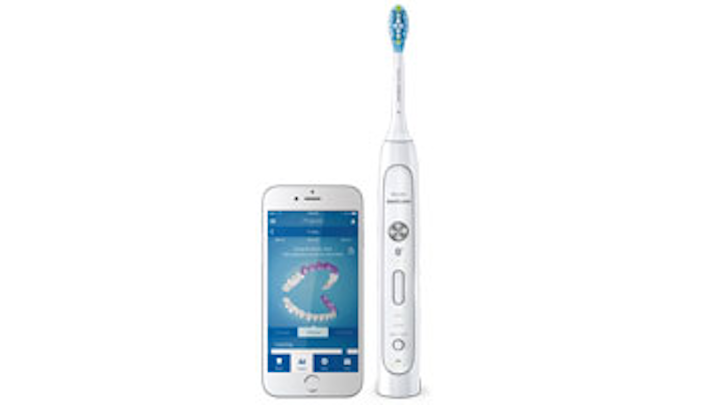 Philips has announced its first Bluetooth-connected Sonicare for adults, the Philips Sonicare FlexCare Platinum Connected, with a corresponding Philips Sonicare app.
In a world where 90% of the global population will suffer from an oral disease, Philips designed Philips Sonicare FlexCare Platinum Connected to make it easy for patients to follow advice from their dental practitioners in between checkups. (1)
The easy-to-use Philips Sonicare FlexCare Platinum Connected reveals patients' habits and helps coach them to focus on trouble spots and to avoid missing spots, applying too much pressure, and scrubbing. With a clear view of their habits, patients can adopt a better oral care routine.
RELATED | Reduction in gingivitis with the Philips Sonicare AirFloss Pro: A case study
Featuring Smart Sensor technology, Philips Sonicare FlexCare Platinum Connected tracks patients' brushing in real time and syncs via Bluetooth technology with the free Philips Sonicare app to create a personalized 3-D Mouth Map, helping users identify missed trouble spots and guiding them to proper brushing technique. The Smart Sensor technology provides feedback to help patients effectively reach more surfaces each time they brush. Philips Sonicare FlexCare Platinum Connected monitors the areas of the mouth without the use of a camera, giving users the freedom to move when brushing. The Touch Up feature even prompts patients to go back to any missed spots, either facially or lingually, immediately after a brushing session.
• Location sensors sense both facial and lingual brushing to show users where they are brushing too little for better coverage.
• Scrubbing sensors alert users to reduce scrubbing for optimized technique.
• Pressure sensors alert users when and where too much pressure is applied to protect gums.
• SmartTimer helps users ensure that they are brushing for the recommended two minutes.
• BrushPacer prompts users to move to another segment of their mouth.
"At Philips, we are constantly looking to innovate and provide solutions using smart technology that seamlessly fits into people's everyday lives," said Alexander Harris, marketing director, Philips Oral Healthcare. "Working closely with dental practitioners, we have developed [the] Philips Sonicare FlexCare Platinum Connected and [the] Philips Sonicare app to provide patients with personalized guidance on their oral health [routines] to help them maintain a great clean in between checkups. This will provide better oral health outcomes in the long term and put dentist recommendations into practice for noticeable results."

Screenshots from the Philips Sonicare app (click to enlarge)

Patients can share their progress reports with their dental professionals, who can provide personalized advice via the Focus Areas feature. This allows patients to set daily goals and track their progress while ensuring compliance with the dental professionals' advice. With personalized coaching, tips, and alerts from the app, patients' brushing techniques will improve over time. The brush also aggregates patients' brushing data over time, so the current moment can be viewed or 30, 60, or 90 days' worth of activity.
"I see this as a home run for the patient and for the dental professional alike," said Dr. Richard Nagelberg, a Philips key opinion leader and general dentist who has been practicing for more than 33 years. "The technology is as intuitive as the introduction of the e-book. The features are well thought out, and with the patient-facing components, Philips Sonicare FlexCare Platinum Connected will help us all meet our end goals: better patient compliance and therefore better oral health."
Philips Sonicare FlexCare Platinum Connected has the same technology from Philips Sonicare. The handle features three brushing modes at three levels of intensity, including a targeted three-minute DeepClean mode that is clinically proven to improve gingival health in just two weeks. The handle works with the AdaptiveClean brush head, the only power toothbrush head with soft, flexible sides designed to conform to the shape of teeth and gums for up to four times more surface contact to remove up to ten times more plaque in hard-to-reach areas. (1)
RELATED | Are you smarter than your smart toothbrush?
To ensure patients are getting optimal results from their brush heads, the Philips Sonicare app includes a smart brush-head performance monitor to track and provide feedback on when to change the brush head, based on brushing habits. Dental professionals can finally feel confident about their patients' oral health care once they leave the dental office.
The Philips Sonicare app is available in the Apple App store and Google Play store.
Visit usa.philips.com/c-m-pe/dental-professionals for more information.
Source: Philips press release, 2 June 2016
---
For the most current dental headlines, click here.

---