The dos and don'ts of silver diamine fluoride
Silver diamine fluoride has caught everyone's attention. Commercially available as Advantage Arrest by Elevate Oral Care, it recently became a sensation in the national news. In fact, we're willing to bet your patients have already begun asking you about it. Here's what you need to know about incorporating it into your dental practice.
Jul 26th, 2016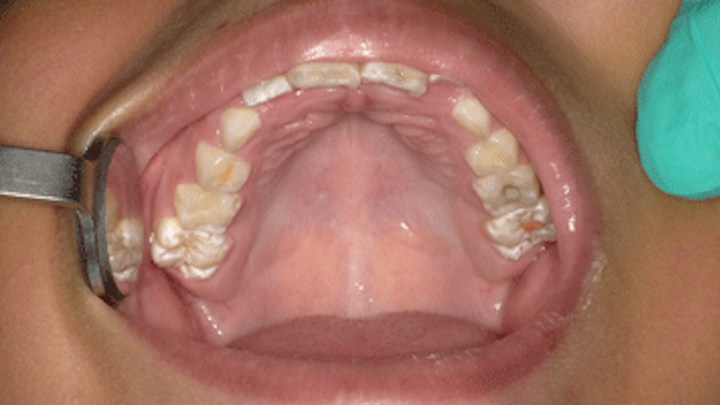 Silver diamine fluoride has caught everyone's attention. In fact, we're willing to bet your patients have begun asking you about it. Here's what you need to know about incorporating it into your dental practice.
The New York Times recently published an article that discussed the use of silver diamine fluoride as a minimally invasive treatment option for dental caries in children. (1) The article discussed many benefits of silver diamine fluoride, including treating carious teeth without a drill at a lower cost to patients, fewer pediatric hospital visits due to dental emergencies, and improved oral health for nursing home residents. (1) They only cited one negative: silver diamine fluoride will cause carious tooth structure to turn black. (1)
Commercially available as Advantage Arrest by Elevate Oral Care (i), 38% silver diamine fluoride is approved by the Food and Drug Administration (FDA) for the reduction of dentinal hypersensitivity, but it has also been shown to reduce bacteria and matrix metalloproteinases (MMPs), which are responsible for the degradation of dentin, and it is believed to arrest carious lesions. (2–6) In addition to using it to treat dentinal hypersensitivity, dentists are using it off-label to arrest carious lesions and as a diagnostic indicator. (7) Silver diamine fluoride will only stain defects in the tooth structure, such as carious lesions and restorative margins; sound tooth structure will not be stained by silver diamine fluoride. In addition, silver diamine fluoride is very cost effective as one drop can be used for multiple teeth.
Although this sounds like the magical product we all have been waiting for, we still need to be practical and careful when using silver diamine fluoride (or any product surrounded by sensationalism). No clinician should use any dental material without understanding what to do and what not to do with it—and this clear liquid is no different.
The dos of silver diamine fluoride
Read the instructions.


Educate your patients. Silver diamine fluoride will stain carious tooth structure a dark brown or black color. Caution should be used on other tooth surfaces and near the margins of composite restorations or crowns. Explain the risks of discoloration to tooth structure before application. If a restoration is stained, the stain should polish off, but staining around margins may remain.


Protect your patients. Have your patients wear protective eyewear and cover exposed clothing in the head and neck area.


Be careful. This product is colorless and odorless (figure 1). Although it looks like water, it can stain skin, clothing (figure 2), countertops, flooring, and instruments. If silver diamine fluoride contacts skin, absorb as much as possible with gauze. Do not wipe it; wiping can spread it and result in a larger stain. Instead, blot the area of any excess material, and wash the area thoroughly with soap and water, 3% peroxide, or an iodine tincture. Staining on skin will fade, like a henna tattoo. Wash operatory surfaces, instruments, and dappen dishes thoroughly.


Figure 1: Advantage Arrest dispensed into a dappen dish. Notice that it is colorless like water. It is also odorless.


Figure 2: A drop of Advantage Arrest was placed onto a lab coat. The image on the left was taken five minutes after contact with the lab coat. The image on the right was taken one hour after contact.

Use repeatedly. For greater benefit, silver diamine fluoride can be reapplied. Research supports multiple treatments, and caries arrest shouldn't be expected with a single treatment. The standard regimen is two applications, applied at weekly intervals.


Isolate the tooth. Isolate the tooth that is intended to receive a silver diamine fluoride treatment. This will minimize the likelihood of staining adjacent teeth.


Isolate surrounding oral structures. Silver diamine fluoride has a pH of 10 and can cause staining or irritation of soft tissues. Isolate the tongue using 2x2 gauze or cotton rolls. Protect gingival margins with petroleum jelly, a rubber dam, an injectable dam (as used for in-office bleaching procedures), or an injectable vinyl polysiloxane putty that is used for hemostasis or gingival retraction. If contact occurs, rinse the area thoroughly.


Check with third-party payers. There are coding options for insurance reimbursement, and you should check to see if you are able to receive reimbursement with one of the following codes:

Code D1354: Interim caries arresting medicament application;
Code D1208: Topical application of fluoride;
Code D9910: Application of a desensitizing medicament, per visit; or
Code D1999: Unspecified preventive procedure by report. (ii)
You may have to identify your patient's caries risk to justify reimbursement with a recognized caries risk tool. Codes D0601 (low risk), D0602 (moderate risk), D0603 (high risk) are especially helpful in all claims in order to measure the change in caries risk of the patients in your practice.
Do research on the chemistry and mechanism of action to better understand how silver diamine fluoride compares with other forms of fluoride. Any one of the references cited below is a good starting point to learn more.
The don'ts of silver diamine fluoride
Do not use this material if the patient has an allergy to silver or other heavy-metal ions.


Do not let pediatric patients taste silver diamine fluoride. Try tasting it yourself before you accidentally splash a drop on your patient's tongue.


Do not use this material if the patient has oral ulcerations, stomatitis, or ulcerative gingivitis.


Do not use in the same manner as fluoride varnish. Although it has a proven track record for safety, silver diamine fluoride is not meant to be used as a full-mouth fluoride varnish therapy. It will stain many defects in tooth structure, and your patient will not be happy if you turn the anterior teeth black, unless you are planning to restore the area later.


Do not use this material as part of a restorative procedure. Silver diamine fluoride is safe and effective for this application, but the jury is still out regarding the impact on adhesive restorative materials. (7) Furthermore, both of the authors have watched some direct restorations change color right before our eyes (figure 3). Your curing light will cause silver diamine fluoride to change from clear to black rapidly—and you will rapidly fall behind schedule! It's probably best to wait until some case reports are published and the evidence shows how to use this material during restorative procedures. If you really want to pretreat a surface before restoring a tooth, place silver diamine fluoride and restore the tooth during a later visit.

Figure 3: Note tooth J. This is a one-year follow-up after the tooth was treated with silver diamine fluoride prior to restoration with a glass ionomer. The restoration might not be esthetic, but it is sound.
Silver diamine fluoride 38% has been shown to be effective for on-label uses, such as treatment of dentinal hypersensitivity, as well as some off-label uses, such as caries diagnosis and arresting caries in children and adults. The practical use of it is extremely encouraging, as long as the material is used correctly and with respect for its chemistry. This material can be applied to tooth surfaces routinely in clinical practice, but in our opinion, more research is needed before deciding whether this material should be used during restorative procedures, especially on anterior teeth.
---
Editor's Note: This article first appeared in Pearls for Your Practice: The Product Navigator.Click here to subscribe. Click here to submit a products article for consideration.
---
Notes
i. Learn more about Advantage Arrest silver diamine fluoride 38% at elevateoralcare.com.
ii. Courtesy of Elevate Oral Care
References
1. Saint Louis C. A Cavity-Fighting Liquid Lets Kids Avoid Dentists' Drills. New York Times website. http://www.nytimes.com/2016/07/12/health/silver-diamine-fluoride-dentist-cavities.html?_r=0. Published July 11, 2016.
2. Introducing Advantage Arrest, the first and only silver diamine fluoride available in the United States. Elevate Oral Care website. http://www.elevateoralcare.com/dentist/AdvantageArrest.
3. Castillo JL, Rivera S, Aparicio T, et al. The short-term effects of diammine silver fluoride on tooth sensitivity: a randomized controlled trial. J Dent Res. 2011;90(2):203–208.
4. Featherstone JDB, Horst JA. Fresh approach to caries arrest in adults. Decisions in Dentistry website. http://decisionsindentistry.com/article/fresh-approach-to-caries-arrest-in-adults/. Published October 5, 2015.
5. Mei ML, Li QL, Chu CH, Yiu CK, Lo EC. The inhibitory effects of silver diamine fluoride at different concentrations on matrix metalloproteinases. Dent Mater. 2012;28(8):903–908.
6. Mei ML, Chu CH, Lo EC, Samaranayake LP. Fluoride and silver concentrations of silver diammine fluoride solutions for dental use. Int J Paediatr Dent. 2013;23(4):279–285.
7. Horst JA, Ellenikiotis H, Milgrom PL. UCSF Protocol for Caries Arrest Using Silver Diamine Fluoride: Rationale, Indications, and Consent. J Calif Dent Assoc. 2016;44(1):16–28.
Pamela Maragliano-Muniz, DMD, is an editorial director for Pearls for Your Practice: The Product Navigator, an e-newsletter from DentistryIQ and Dental Economics. She was a dental hygienist before earning her DMD from Tufts University School of Dental Medicine and her certificate in advanced prosthodontics from the UCLA School of Dentistry. She teaches, and she maintains a private practice in Salem, Massachusetts. In 2010 her practice was named the Adult Preventive Care Practice of the Year by the American Dental Association.
Brian Nový, DDS, is the director of practice improvement at the DentaQuest Institute and an adjunct associate professor in the division of general dentistry at Loma Linda University. He served on the ADA Council of Scientific Affairs from 2010–2014 and as chair of the CAMBRA Coalition from 2010–2015. In 2009 Dr. Nový's office was named the Adult Preventive Care Practice of the Year by the American Dental Association. He practices in Westborough, Massachusetts, at the DentaQuest Oral Health Center.
---
For the most current dental headlines, click here.

---