Taub Products announces launch of Zero-G Bio Implant Cement
Taub Products launches Zero-G Bio Implant Cement, a dual-cure implant cement.

Nov 4th, 2014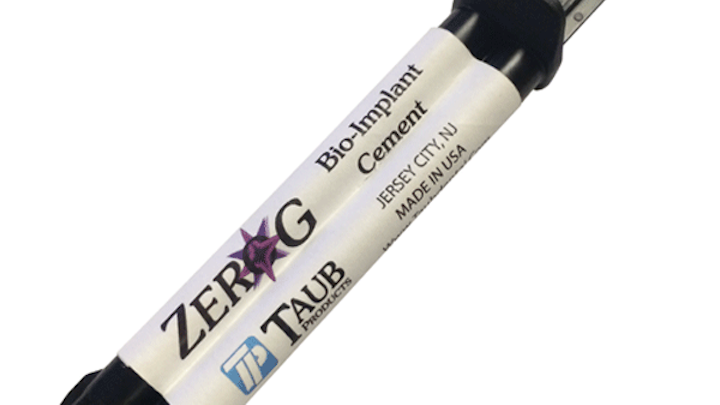 Taub Products, a manufacturer of dental consumable products, announces the launch of Zero-G Bio Implant Cement. Zero-G is a dual-cure implant cement, recommended for intermediate to long-term cementation of implant-retained restorations. This cement can also be used for traditional crown and bridge restorations. It can be cured with light in as little as 20 seconds, which allows for complete margin curing. The working time for self-curing is one minute and 45 seconds, and the complete set time is two minutes and 30 seconds.
Zero-G provides excellent radio-opacity for good visualization after cementation. This helps to facilitate a simple and easy clean-up and allows diagnostic examination upon follow-up. The new implant cement is retentive, which allows for easy removal of excess cement. Its unique color provides great contrast to gingival tissue, enhancing easy visualization. Zero-G is available as a kit that contains two 7-gram-filled syringes and 20 auto-mixing tips.
Related Articles
Interdisciplinary management of a complex maxillary implant restoration
Cement-associated peri-implantitis