Cordless curing light launches
Translux Wave LED Curing Light from Heraeus Kulzer weighs five ounces and delivers easy access and safe polymerization.

Jul 2nd, 2014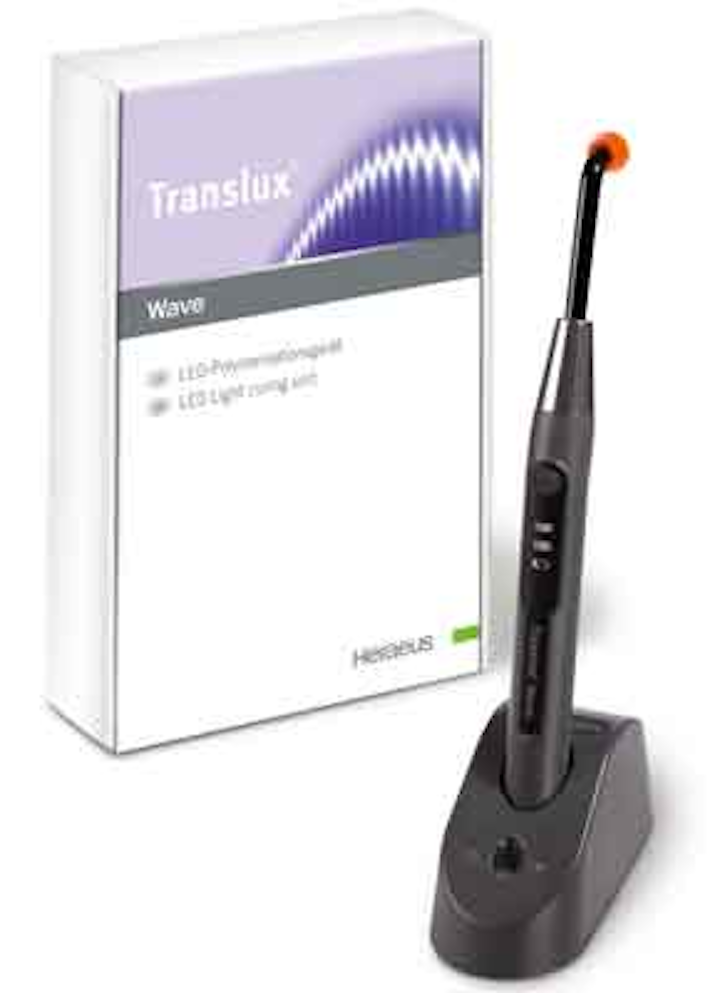 SOUTH BEND, Indiana—Heraeus Kulzer, a leader in dental esthetics, has launched the Translux Wave. The Translux Wave is an LED curing light for the polymerization of light curing dental materials that are activated in the 440 to 480 nm wavelength. The curing light is cordless, weighs only five ounces, and allows smooth handling with its new modern and ergonomic design. The Translux Wave's high power density and homogeneous light beam cover a restoration with consistent intensity while protecting the dental pulp by emitting little heat, even at peak intensity. The specially engineered light guide offers a shorter length and 70° angle that-- combined with Translux Wave's lightweight, cordless design--provides easy access to the molar region. The Translux Wave is a curing light that delivers polymerization for common camphorquinone-based dental materials. It offers two programs that are chosen via the power-button, making the alternation between the two programs convenient and easy without interrupting the curing process. The Translux Wave comes with a long-life Li-ion battery that requires little time for recharging in a separate unit, and can be quickly exchanged without using any tools. It is also one of the few curing lights that features a built-in radiometer that helps ensure the required performance for a restoration. "The Translux Wave truly represents the state-of-the-art curing light for today's dental practice," said Aundrea Hoffman, Heraeus Kulzer product manager. "Its lightweight, cordless design and the optimized length and angle of its light guide maximize both comfort and convenience." To keep customers up-to-date regarding product developments, special promotions, educational offerings, and other value-added services, Heraeus Kulzer has created the MyDental360 online community. With free membership and exclusive offers, dental professionals now have a one-stop shop for a variety of industry needs. To sign up and receive a free product sample, go to http://mydental360.com. For more information, call (800) 431-1785 or visit www.heraeusdentalusa.com. To comment on this product, go to http://www.dentistryiq.com/products.html.