SmartMouth Mouthwash has new formula
SmartMouth offers an advanced clinical formula
Apr 9th, 2012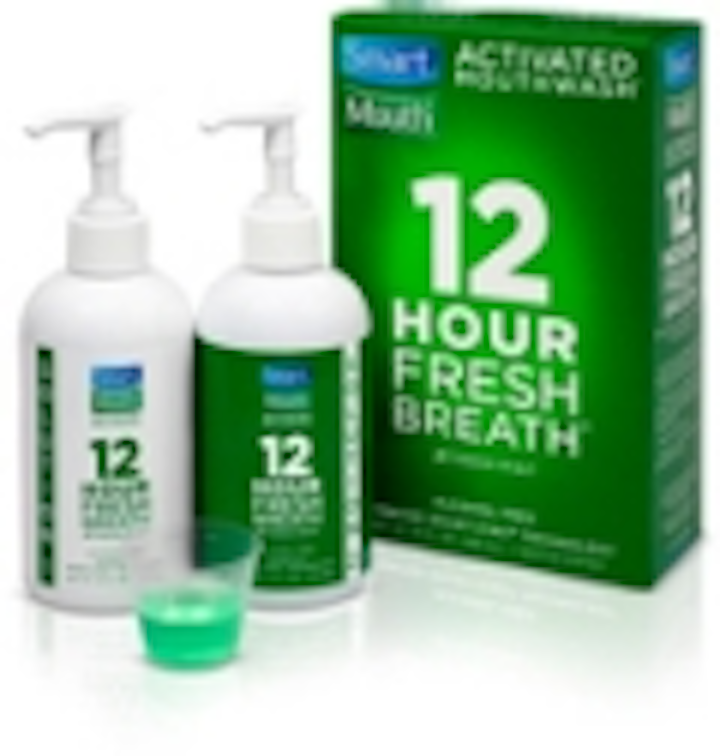 With SmartMouth Mouthwash, one rinse in the morning and patients will have all-day fresh breath. The new, over-the-counter, anti-plaque, anti-gingivitis, anti-bacterial SmartMouth formula provides at least 12 hours of fresh breath.
Your patients can now be healthy, have fresh breath all day, AND wake up without bad breath; no morning breath! This is comparable to chlorhexidine, is alcohol-free, and has a fresh mint flavor.
How does SmartMouth work? It is the only mouthwash that uses a patented zinc-ion technology to not only freshen breath at the time of use, but to keep bad breath from coming back for 12 hours. The unique two-bottle, two-pump formula means that you activate SmartMouth each time you use it, giving you maximum strength and freshness every time you swish.
SmartMouth was invented by Dr. Israel Kleinburg, Chairman of Oral Biology and Pathology, State University of New York, and developed by Dr. Marvin Cohen, Chairman and author of the bad breath section of the Encyclopedia Britannica. It will not stain teeth, dentists recommend it, it's 100% alcohol free, it is safe for ages over 6, and it is safe for diabetics.
For more information, visit www.smartmouth.com.
For other news about mouthwash, visit Medicinal mouthwash helps with dental hygiene.
To comment on this article, go to community.pennwelldentalgroup.com/.