The next generation of piezo tip technology
Unique to the industry — Ultrasonic Gracey Mini-Curette Tips
Apr 9th, 2012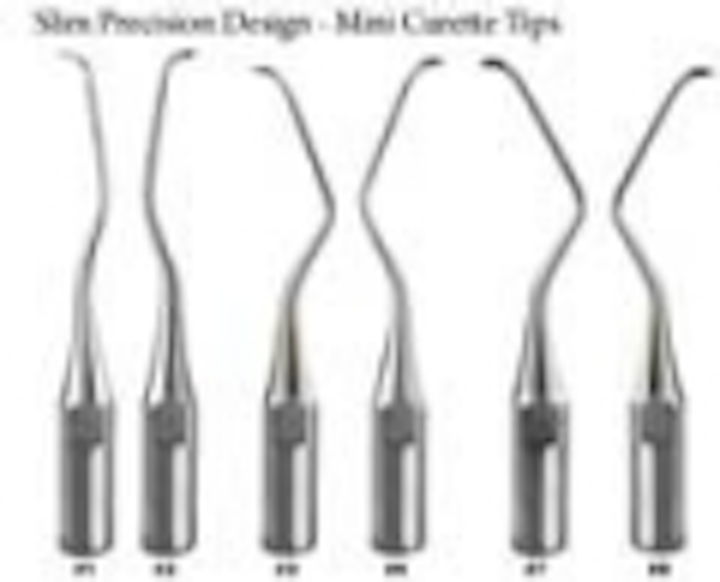 Racine, WI —Vista Dental Products now offers a complete kit of their new Gracey Mini-Curette tips for piezo ultrasonics. Available only from Vista Dental, these Mini Curette tips are the first of their kind in the industry and represent the next generation of piezo tip technology.Available in six styles for use on anterior, pre-molars, and molars, the long shank and slender design allow use in places out of reach of regular sized tips, for instance, when furcations are present or when teeth overlap (crowding) because the bite was never corrected with braces.Vista's line of Gracey Mini Curette tips includes the HC-Mini-1/HC-Mini-2 for anterior teeth, the HC-Mini-3/HC-Mini-4 for pre-molars, and the HC-Mini-7/HC-Mini-8 for molars. Each of these tips is angled for exact adaptation to the distal/buccal and mesial/lingual root surfaces they were designed to be used upon.These tips will fit almost all piezo units and can be purchased individually or as a complete kit, which includes all six tips and six torque wrenches.For more information visit www.vista-dental.com or call 877-418-4782.
To read more about piezo tips, read Lynne Slim's article here.
To comment on this article, go to community.pennwelldentalgroup.com/.