Protect your eyes and your loupes: A shield to change your practice
Pamela Maragliano-Muniz, DMD, has gone without loupes twice in her career, and both occasions involved airborne debris. Recently, she reviewed a new product that might have prevented these incidents: Loupesaver, a face shield that protects both your eyes and your loupes.
Mar 20th, 2017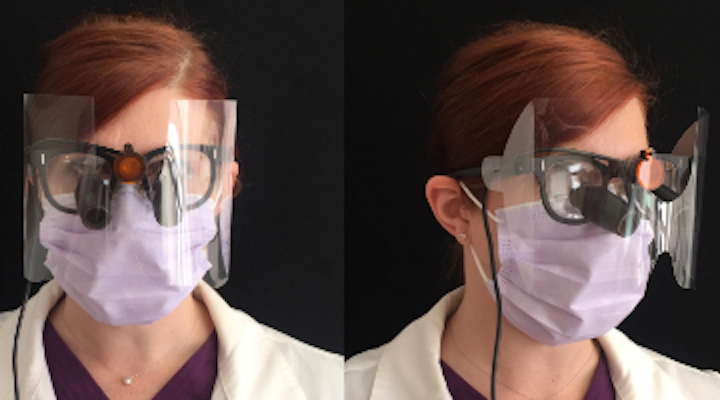 I had to go without my loupes twice in my dental career, and neither time was pleasant. The first time, my telescope dislodged from my lens, and I had to send my loupes back to the manufacturer for repair. I clean my loupes after each patient, and I think I might have been too aggressive while cleaning debris from the scope-lens junction. The manufacturer of my loupes handled the problem very well, and I never encountered that problem again, but I was still without my loupes for a few days.
The second time was an even bigger and more dangerous ordeal. I was trimming a provisional bridge, and even though I was wearing my loupes with side shields to protect my eyes, a piece of acrylic flew off my bur and somehow made its way into my eye. I wanted to finish the procedure that I was performing, so I blinked until the acrylic didn't irritate my eye anymore and moved on with my day. This had happened to me before, so I didn't give it much thought. The problem this time, however, was that my eye never felt 100% better.
I finally broke down and went to my eye doctor, who was horrified that I let it go for as long as I did and that I continued wearing my contact lenses. I was diagnosed with an ulcerated cornea. My eye doctor instructed me to discontinue wearing my contact lenses for at least one month and to visit her office every day to monitor the healing of my poor little cornea. I resisted her instructions because I cannot wear my loupes without my contact lenses. (My uncorrected eyesight is terrible!) She then informed me that if I did not follow her directive, I could lose my eyesight, so I would not have to worry about my loupes or my contact lenses. Long story short, she won. And I went without contact lenses—and therefore my loupes—for approximately six weeks.
These two experiences were both practice changers for me, and I will never again underestimate the importance of protecting my eyes and my loupes. If you have had any similar experiences, I am sure you can relate. If you haven't, just keep this in mind: The adage, "An ounce of prevention is worth a pound of cure," could not be more true. Do yourself and your practice a favor, and protect your eyes and your loupes!
I recently had the opportunity to try a product that offers protection for both eyes and loupes. The product is called Loupesaver. Loupesaver is a clear, flexible, disposable shield that can be worn over loupes. Two designs are available; one is flat at the top, and one is intended to accommodate a headlight (figure 1). The flexibility of Loupesaver shields allows them to be rounded around your face or bent at the temples (figures 2 and 3). Each shield has adhesive tabs on either side that will adhere to the arms of your frames.

Figure 1:
There are two Loupesaver shield designs. The top Loupesaver shield has an indentation to accommodate for a headlight affixed to the loupes. The bottom shield does not have the accommodation for a headlight and has a straight border along the forehead. Both shields adapt to fit over a mask onto the nose, and both contour around the face.

Figure 2:
A Loupesaver shield, rounded around my face, from a frontal perspective. I placed the Loupesaver by adhering the tabs to the arms of my loupes so it wrapped around the contours of my face.

Figure 3:
A Loupesaver shield, bent at the temples. There is an area on each side of the Loupesaver that can be bent so the shield fits straight across the face.
I found Loupesaver shields to be easy to place and wear. They fit comfortably over my 3.5x extended-field scopes. They would be appropriate for loupes with shorter scopes and would accommodate larger scopes as well. Each shield extends past the junction of my mask and the inferior border of my loupes, offering further protection from water spray or objects that could hit my eyes from below. The adhesive tabs are very durable and have not separated from my loupes while in use. They adhere well to the arms of my loupes and to side shields.
It is quite surprising how much spray actually contacted my mask, loupes, and unprotected areas of my face before I wore the Loupesaver shields. I particularly appreciate that the shields are disposable and can be easily changed after each patient.
Loupesavers are an excellent solution for protecting your loupes and offering additional protection to your eyes during dental treatment.
Pamela Maragliano-Muniz, DMD, is an editorial director for Pearls for Your Practice: The Product Navigator, an e-newsletter from DentistryIQ and Dental Economics. She was a dental hygienist before earning her DMD from Tufts University School of Dental Medicine and her certificate in advanced prosthodontics from the UCLA School of Dentistry. She teaches, and she maintains a private practice in Salem, Massachusetts. In 2010 her practice was named the Adult Preventive Care Practice of the Year by the American Dental Association.