Tips for temps (part 2)
Marshall Fagin, DDS, a prosthodontist offers some insights regarding techniques using polymethyl methacrylate (PMMA) and the advantages of PMMA compared to bis-GMA for achieving easier, faster, and better temporary restorations.
Jun 26th, 2017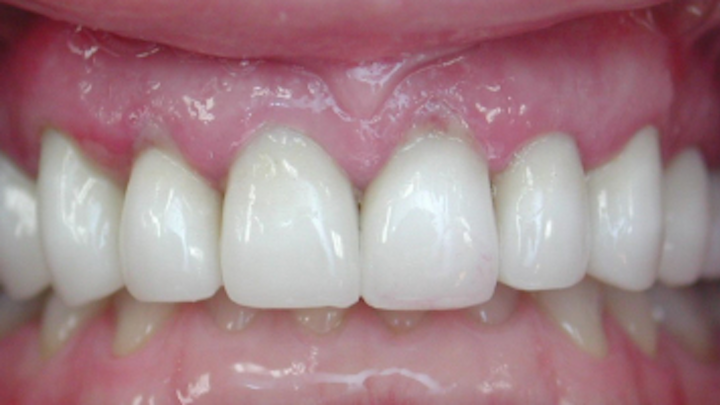 Marshall Fagin, DDS, a prosthodontist offers some insights regarding techniques using polymethyl methacrylate (PMMA) and the advantages of PMMA compared to bis-GMA for achieving easier, faster, and better temporary restorations.
In the first part of this series, published last month, I reviewed the role of great temporaries from preplanning to material choices and the advantages of bisphenol A glycidyl methacrylate (bis-GMA). This article will cover the advantages of and techniques for using PMMA, and it will compare PMMA to bis-GMA. Bis-GMA is excellent for temporary veneers, but due to their fragility, brushing on and curing BisCover LV (Bisco Dental) or Heliobond (Ivoclar Vivadent) during polishing helps to create a glazed seal and appearance. Empress Direct custom color tints from Ivoclar Vivadent are also great for custom color–matching any temporary—either bis-GMA or PMMA—before sealing with a bonding agent such as one of the above (figure 1–3).

Figure 1: Empress Direct color tints

Figure 2: BisCover LV is brushed and cured to seal and glaze

Figure 3: Heliobond is used to seal the custom-stained temps
Techniques with PMMA
My PMMA preference is Yates Motloid's Coldpac due to its fine-grain size, long working time, and good color stability. With some periodontal and implant cases, a patient can be in temporaries from three months up to a year or more, so having a material with more flexural strength and ease of repair is an advantage.
Because of heat and shrinkage, PMMA materials should only be placed in the mouth in the doughy state. In the two-stage procedure, an initial form is made in the mouth. Mixing the PMMA in a rubber dappen dish makes it easier to mix and easier to know when it is ready to place (and the dish cleans up easily). Apply a petroleum jelly, such as Vaseline, to the interior of the matrix. Then place the doughy material into the matrix. Only loading the teeth being restored, seat the matrix firmly for a few seconds. Then remove the matrix with a slight on-off, on-off motion. Gently tease out the doughy temporary with an explorer and place it back on the teeth. Ask the patient to close to minimize occlusal adjustments.
After trimming and shaping, adequately hollow out the initial form. This is important so the patient can close completely and reestablish the occlusion when you are relining the temporary. You will spend less time adjusting the bite. First, the teeth and tissue should be dried, and Vaseline should be applied with the excess blown off. Wetting the initial temporary with monomer, flow the material in and tease it up over the margins. Then wait for the doughy stage to reseat it in the mouth.
With Vaseline on your glove, use your finger to push the excess up toward the gum line on both the buccal and lingual sides, and have the patient close to be sure all teeth are in contact. Carefully tease the temporary off of the teeth about 1 mm and reseat it, having the patient close. Again, push the acrylic toward the tissue. Again, gently tease it off in a parallel path using a curved hemostat or Baade pliers, and place it into hot water (about 190 degrees) to accelerate setting. Any distortion of fit will not be from the hot water but from improper manipulation.
Mark the margins and contacts again with a sharp pencil and trim the acrylic with a Patterson Lab Carbide (#84T-GTN), cutting it back to the pencil-lined margins (figure 4). Use the Horico #230–7/8" extra-thin disc (Pfingst & Co.) for shaping embrasures. AMCO's Super-T acrylic works very well for corrections as long as the surface is roughened, as shown in Part 1.

Figure 4: A Lab Carbide is used to trim the temporary to its penciled margins and contacts
Discussion
The advantages of bis-GMA temporary materials include:
• Strong margins;
• Esthetics;
• Minimal heat (less than 5 degrees);
• Minimal shrinkage (no relining needed);
• Fast self-cure time;
• Easy procedure; and
• Easy repair.
For longer timespans, however, it is too brittle—especially if the temporary is to be worn for several weeks or months, possibly with the expectation of recementation several times during healing from periodontal surgery, extractions, or implant procedures. PMMA is preferable for these situations, especially with full-arch rehab when prepping the entire arch at once.
Many of these procedures, especially in the esthetic zone or when restoring the worn dentition, can be handled more efficiently with prefabricated processed temporaries such as BioTemps from Glidewell. When there are pontic areas, it is wise to incorporate wire reinforcement. Dispensing the mixed flowable PMMA rapidly into multiple units can be best managed by injection through a disposable syringe.
Flow the freshly mixed PMMA into the disposable syringe and quickly inject into the temporary that has been roughened, hollowed, and prewetted with monomer (figure 5). Always carefully pencil-line all margins and contacts with a sharp pencil, using magnifiers under bright light for the best results (figure 6). This helps to improve speed and accuracy for finalizing margins, embrasures, and contacts.

Figure 5: Syringe for rapidly loading PMMA into multiple-unit processed temporary

Figure 6: Penciled margins of relined temporary with PMMA
After the final occlusal adjustment, polish with low speed on the lathe, apply Vaseline to the outer surfaces, and fill all of the embrasures to make cleanup of the temporary cement faster and easier (figure 7). Much of this can be handled by well-trained team members.

Figure 7: Fill embrasures with Vaseline using a syringe
Conclusion
Remember that the temporary should provide your patient with a precise guide to expectations for the final prosthesis. When there are major changes from how the patient originally presented, have the patient come back for minor occlusal adjustments and shape corrections, based on your diagnosis and observations and the patient's wants and needs. With changes in vertical dimension, you might need to test and modify over a period of two to three months before taking final study models and jaw records.
These tips for temps offer many advantages, including time savings, excellent tissue health, stabilization in periodontally compromised cases, and a great guide to the laboratory for the final prosthesis (figures 8 and 9). Although choice of material is important, proper handling will contribute to great final outcomes. This involves proper planning from the diagnostic wax-up, trying in properly designed and great fitting temporaries, and using an incisal index for replicating the final prosthesis (figure 10). We are now entering the age of digital design and milling of temporaries for both teeth and implants.

Figure 8: Trimmed putty incisal index of temporaries serves as a precise guide for the lab to shape final restorations, controlling replication of width, length, overbite, and overjet

Figure 9: Example of great soft-tissue response in final prosthesis, aided by well-fitted and properly contoured temporaries

Figure 10: An example of the original collapsed dentition (A), temporization (B), and completed prosthesis (C). The patient requested a more square and flattened appearance in the final restorations, noticeable on the original centrals as shown in A.
---
Editor's notes: This article is the second in a two-part series. Part 1, which discussed preplanning, material choices, and techniques using bis-GMA, appeared in the May 24 issue of the Product Navigator. Both parts of the article first appeared in the United Kingdom–based journal, Private Dentistry. The article has been edited and republished with permission.
---
Marshall Fagin, DDS, is a prosthodontist who practices in Buffalo, New York. He is a national and international lecturer and educator, frequently updating his colleagues on the most recent advances in cosmetic, implant, and reconstructive dentistry. He has held teaching positions at the School of Dental Medicine at Buffalo, the University of Florida (Gainesville), Pac Live at the University of the Pacific (San Francisco), and the Misch International Implant Institute (Detroit).
---
For the most current dental product articles, click here.

---
For the most current dental headlines, click here.

---