A dental coding grassroots movement
Dental coding expert Patti DiGangi, RDH, BS, says we need a grassroots movement—and she's trying to start one with her Dental Codeologist Community and the DentalCodeology series of books.
Oct 24th, 2017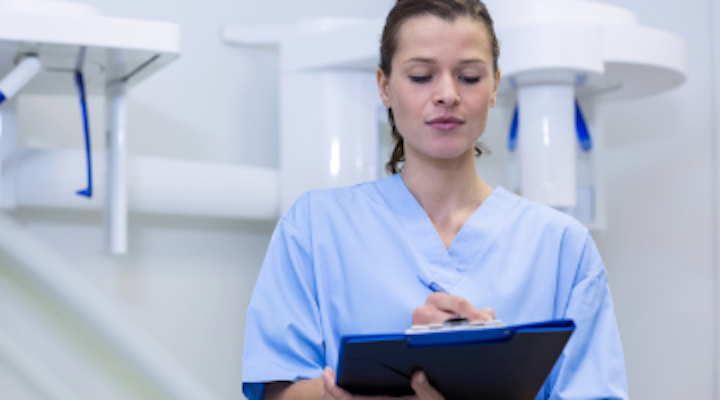 I DID NOT PLAN TO BECOME the Chief Dental Codeologist. Yet over the past 20-plus years, I have come to realize that I am a futurist, and I have some strong beliefs about oral health.
Dentistry is no longer about fixing teeth; it is oral medicine. I believe we can have a world without cancer and meet the 2020 World Dental Federation (FDI) goal for a caries-free world. (1) I also believe we can cure, not just manage, periodontal disease. Big goals like these need measurement each step of the way. Big goals need a grassroots movement!
What is DentalCodeology?
Dental procedure coding plays a part in every single patient encounter. I coined theterm DentalCodeology. Merriam-Webster defines ology as a branch of knowledge, and as a suffix, it refers to the study of a branch of knowledge. DentalCodeology means the study of dental codes. Studying codes allows us to pursue the goal of improving the quality, efficiency, and overall value of health care.
Reimbursements will be tied to patient outcomes in the future. Having a code provides the measurement tool (or metric) and the opportunity to measure outcome data.
Power of metrics
The term metric is somewhat new in health care since it can be interpreted in slightly different ways, depending on the circumstances. As dentistry changes from a treatment-based to a diagnosis-based profession and also evolves from a fee-for-service to a values-based profession, metrics will become more important.
Metrics can give us the power to arrive quickly at data-driven decisions that can improve outcomes and performance, drive cost savings, and enhance quality of care and patient satisfaction.
Codes provide the metrics for dentistry. Currently we have only Current Dental Terminology (CDT) procedure codes. Dentistry also needs diagnosis codes.
There is no agreement or final decision made about which standardized dental diagnostic terminology will be used. Since 2007, the American Dental Association (ADA) has been developing and updating the Systematized Nomenclature of Dentistry (SNODENT), a vocabulary designed for use with electronic health and dental records. Diagnosis codes will provide additional metrics. (2)
Moving dental payment from volume to value
Value-based payment models have the potential to upend traditional patient care and business models. Rising costs, aging populations, and the emergence of disruptive technologies are just a few of the challenges facing our health-care systems, including dentistry.
To address these challenges, the dental profession has endorsed an evidence-based approach to clinical practice and oral health care. This system is commonly known as evidence-based dentistry. (3)
The goal of evidence-based dentistry is to help practitioners provide the best care for their patients. Evidence-based dentistry assists practitioners with integrating the best available evidence with their clinical expertise and the needs and preferences of the individual dental patient.
Value-based dentistry helps dentists deliver individualized treatment options that align with patients' values and desires. Table 1 shows the evolving nature of this transition. (4) The metrics of coding give us the opportunity to measure outcome data in a value-based health-care system.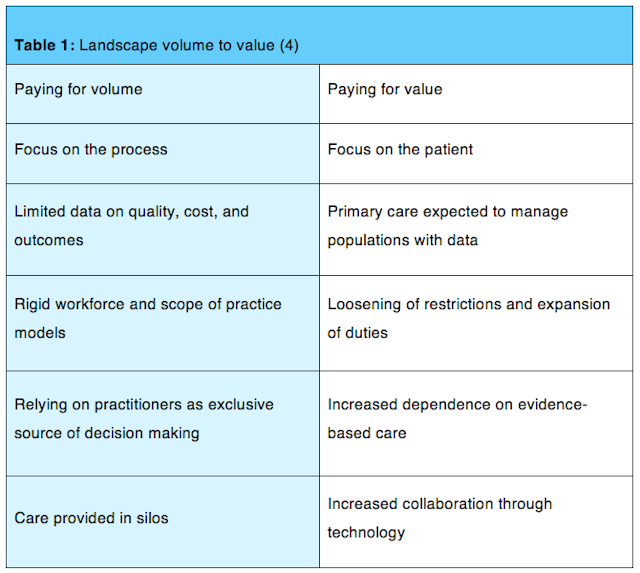 New gingival inflammation code D4346
The Code Maintenance Committee appointed by the ADA annually creates, revises, and updates CDT procedure codes. (5) The goal of these updates is to embrace new technologies, materials, and procedures that can lead to earlier intervention and prevention of oral disease and positively influence systemic health. Each year, the committee has many submissions to consider.
The new CDT 2017 code that has caused great confusion for many professionals is D4346, intended for "scaling in the presence of generalized moderate or severe gingival inflammation–full mouth, after oral evaluation." (6)
After decades of merely dumping gingival inflammation into the same category as health, we can finally treat gingivitis. This new code can potentially close the loop and elevate our standard of care. With more research pointing to the connection between oral disease and medical conditions, the timing is perfect. Early recognition ensures earlier intervention and disease prevention. (7) The ADA created a guide to educate dentists and others in the dental community on the newly approved scaling code, but even with this document, confusion continues. (6)
Game changer
A Gingivitis Code Finally! is the fifth in the DentalCodeology series of books, which are dedicated to helping dental professionals provide more efficient, cost-effective evidence-based care. They are designed to help professionals code more accurately to increase practice profitability and improve the oral-systemic health of patients.
DentalCodeology booksare easy-to-read bite-sized books for busy people. The books contain easily digestible stories and case histories about patients like those we see every day (table 2).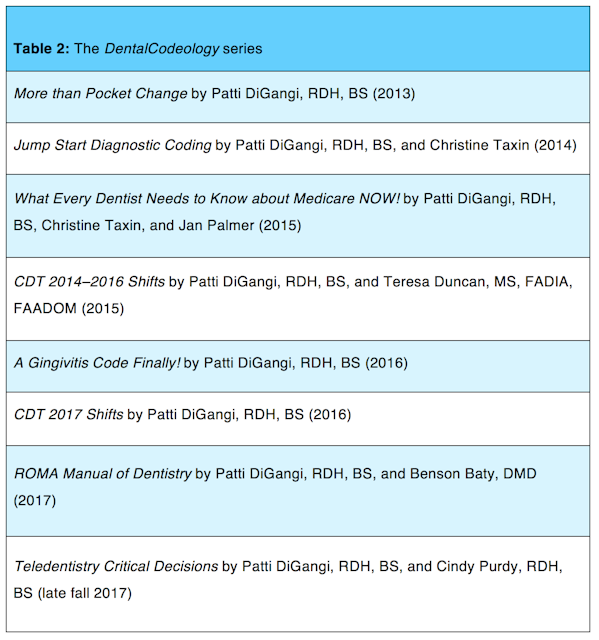 It was not the original plan for the series to have an entire book about one procedure code, but D4346 needs its own book because it is a game changer. As research continues to show, a consistent relationship exists between oral inflammation and systemic diseases.
D4346 can be a game changer for dentistry because it gives us the opportunity to recognize and treat inflammation. As dental professionals, we need to modify our assessment, prevention, and treatment protocols to improve the oral health and overall health of our patients.
The Dental Codeologist community
We live our lives on the backs of those who have gone before us, and we cannot achieve anything without building upon someone else's work or without the assistance of others. The latest DentalCodeology brand extension is the Dental Codeologist Community, which was officially rolled out at the RDH Under One Roof meeting this summer.
The member's-only approach provides content, forums, and other opportunities for dental professionals to share questions and knowledge and to stay up-to-date. Members can learn about accurate dental coding, earn CE credits, and get virtual consultation.
This grassroots movement is open to anyone interested in having a say and being proactive in the dental procedure coding world. You can call me the Chief Dental Codeologist.
---
Editor's note: This article first appeared in Pearls for Your Practice: The Product Navigator.Click here to subscribe. Click here to submit a products article for consideration.
---
References
1. Hobdell M, Petersen PE, Clarkson J, Johnson N. Global goals for oral health 2020. Int Dent J. 2003;53(5):285-288.
2. What is SNODENT? American Dental Association website. http://www.ada.org/en/member-center/member-benefits/practice-resources/dental-informatics/snodent?source=VanityURL. Accessed September 26, 2017.
3. About EBD. ADA Center for Evidence Based Dentistry website. http://ebd.ada.org/en/about. Accessed September 27, 2017
4. Glassman P. Oral health quality improvement in the era of accountability. DentaQuest Institute website. https://www.dentaquestinstitute.org/sites/default/files/reports/Glassman.pdf. Accessed September 26, 2017.
5. Code Maintenance Committee (CMC). American Dental Association website. http://www.ada.org/en/publications/cdt/code-maintenance-committee. AccessedSeptember 26, 2017.
6. A guide to reporting D4346. American Dental Association website. http://www.ada.org/~/media/ADA/Publications/Files/D4346EducationGuidelines_Final2016May17.pdf?la=en. Published May 17, 2016. Accessed September 26, 2017.
7. DiGangi P. DentalCodeology: A Gingivitis Code Finally! 2016.
---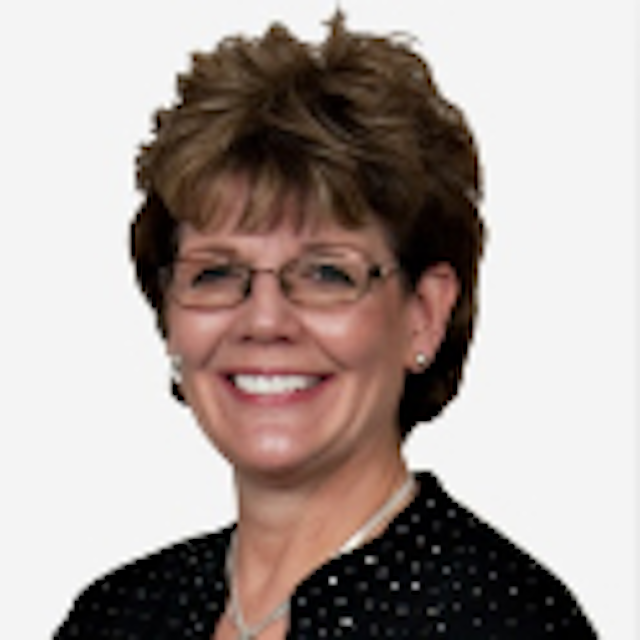 Patti DiGangi, RDH, BS, is an international speaker and author helping dental professionals to embrace the opportunities and understand the metrics that accurate insurance coding provides. This increases practice profitability while improving the oral-systemic health of the patients we serve. Patti holds publishing and speaking licenses with the American Dental Association (ADA) for Current Dental Terminologyand SNODENT diagnostic coding. She is an ADA Evidence-Based Champion and a member of the National Speaker's Association. She is the author of the DentalCodeology series of bite-sized books to help dental professionals prepare for the transition toward oral medicine efficiently and profitably. Patti can be reached at Patti@DentalCodeology.com.
---
For the most current dental product articles, click here.

---
For the most current dental headlines, click here.

---