Pearls Enhanced: How to take open-tray implant impressions with reusable metal trays
Taking open-tray implant impressions doesn't have to be a time-consuming, complicated, or costly process. Watch Joshua Austin, DDS, FAGD, demo the WindowTray implant impression tray from Paradise Dental Technologies (PDT) Inc.
May 5th, 2017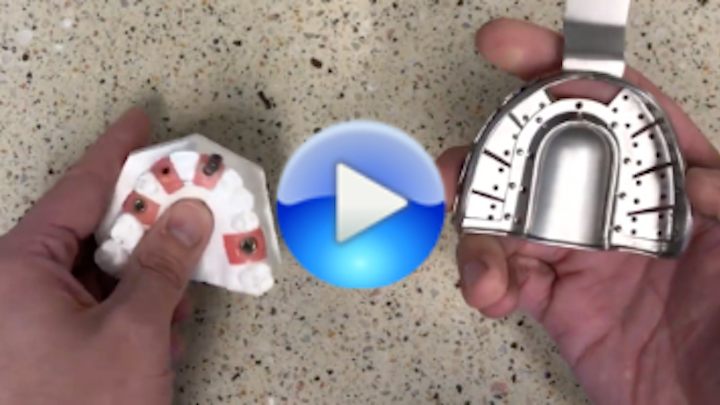 While most prosthodontists would agree that open-tray implant impressions are more stable and accurate than closed-tray impressions, open-tray impressions can be complex. Traditionally, taking an open-tray impression required either fabricating a custom tray or grinding a hole in a plastic tray for the coping to stick through. Both methods are costly and time-consuming. With the WindowTray from Paradise Dental Technologies (PDT) Inc., a quick flick of a screwdriver gives you a nice metal impression tray with a window in the perfect spot for your implant impression.
Watch the video above to see a demonstration!
---
More enhanced Pearls
A curing light shield that orbits to protect your eyes (VIDEO)
How to take professional dental photos using your smartphone (VIDEO)
The highest caries risk I've ever seen: A case for 3M Ketac Universal glass ionomer restorative
---
Joshua Austin, DDS, FAGD, is an editorial director for Pearls for Your Practice: The Product Navigator, an e-newsletter from DentistryIQ and Dental Economics. He also writes the Pearls for Your Practice column in Dental Economics. After graduating from the University of Texas Health Science Center Dental School, Dr. Austin associated for several years. In October 2009, he opened a solo general practice in a suburban area of San Antonio, Texas. Dr. Austin is involved in all levels of organized dentistry and can be reached at jaustindds@icloud.com.
---
For the most current dental product articles, click here.

---
For the most current dental headlines, click here.

---