Oral Cancer Awareness Month, part 2: Focus on prevention
For a second consecutive issue, RDH eVillage FOCUS takes a look at the causes and prevention efforts associated with oral cancer.  Despite an increase in oral cancer rates in the U.S. and abroad in the last 10 years, Editorial Director Maria Perno Goldie, RDH, MS, explains there are still several obstacles that must be overcome in order to implement broad cancer prevention strategies.
Apr 4th, 2012

By Maria Perno Goldie, RDH, MS

Thanks to all the authors who contributed to this issue. The Brian Hill (Founder of the Oral Cancer Foundation) interview will be featured in a future issue.

More than half of all cancer is preventable, according a new study.(1) The authors of this study outline barriers that prevent lessening the cancer burden in the United States and around the world. Because we have a vast amount of data about the causes and preventability of cancer, we need to implement the information we already know. See the feature on colon cancer prevention in this issue.

According to the authors, lifestyle choices people make can be can go a long way to preventing cancer, such as tobacco use, diet, and exercise. The study cites data demonstrating that smoking alone is responsible for a third of all cancer cases in the United States. Excess body weight and obesity account for another 20 percent.(1) Beyond individual habits, society itself, from medical research funding to building design and food subsidies, influences the scope of cancer burden and can be changed to reduce it.





Some obstacles they see to implementing broad cancer prevention strategies are:

• "Skepticism that cancer can be prevented. Smoking rates in different states demonstrate that 75 percent of lung cancer in the United States could be prevented with elimination of cigarette smoking.
• The short-term focus of cancer research. Benefits of prevention may be underestimated because they take decades to show up, and research funding often spans five years or less.
• Intervening too late in life to prevent cancer. Strategies like vaccination against cancer-causing viruses, such as the human papilloma virus that causes cervical cancer, work best when begun early, in this case before young people begin sexual activity.
• Research focuses on treatment, not prevention. Treatments focus only on a single organ after diagnosis but behavioral changes reduce cancer and death rates from many chronic diseases.
• Debate among scientists. They say health experts have a moral responsibility to highlight cancer risk factors even without knowing the biological mechanism by which they cause cancer.
• Societal factors that affect health. Tobacco policy and government subsidies don't do enough to discourage unhealthy behavior, and in some cases they make the unhealthy options more accessible, especially in low-income communities.
• Lack of collaboration across disciplines. Scientists and health experts must work together to learn what causes cancer, communicate that to the public and work with community leaders to implement policies that help people lead healthier lives, they say.
• The complexity of implementing broad changes. With so many players involved, from health-care providers to government regulators to individuals, it will be difficult to implement broad change over the long term."(1)

Oral cancers rates in the USA and abroad, such as the U.K., have risen in the last 10 years, and experts believe that infections with high-risk strains of the human papillomavirus (HPV) may be a key reason for the jump in cases of oral cancer. Eight out of 10 people in the U.K. will be infected with HPV at some point in their lives.(2)

The USA and the U.K. have seen an increase in the number of HPV-16-positive cases of oral cancer. Patients with HPV-related oral cancers tend to be younger, are less likely to be smokers, and have better outcomes from treatment than those whose tumors show no evidence of HPV.

Usually we view the main risk factors for oral cancer to be tobacco and alcohol. While these are still risk factors, and may take up to a decade to develop, we are also looking at lifestyle habits in younger people for clues about the HPV-related oral cancer cases. HPV is a sexually transmitted virus.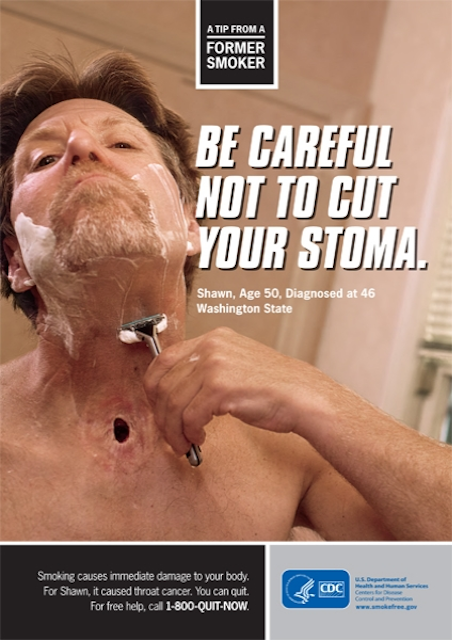 The U.S. Centers for Disease Control and Prevention (CDC) has launched a national ad campaign depicting illness and damage caused by smoking and exposure to secondhand smoke. The campaign started March 19, and the graphic ads will run for at least 12 weeks on television, radio, billboards, and online, as well as in movie theaters, magazines, and newspapers nationwide.

The ads focus on smoking-related lung and throat cancer, heart attack, stroke, Buerger's disease, and asthma. The campaign also features stories of former smokers living with smoking-related diseases and disabilities and the toll smoking-related illnesses take on smokers and their loved ones.(3,4) The links provide free quitting information.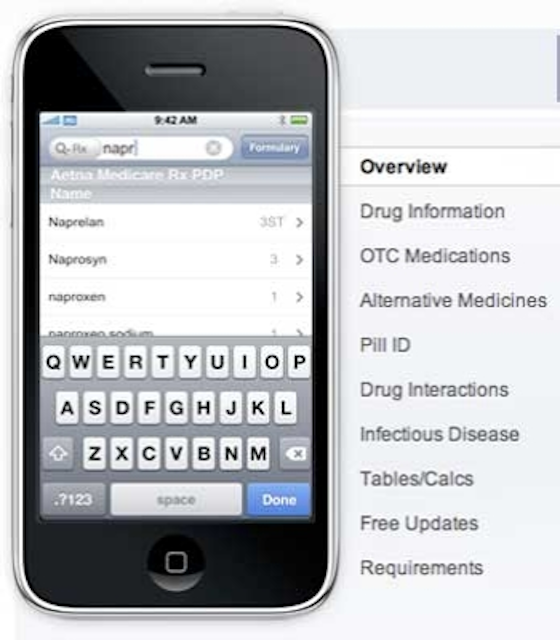 On March 30 the U.S. Food and Drug Administration (FDA) released two separate draft guidance documents to help fight the tobacco epidemic and stop children from using tobacco. The draft guidance documents implement provisions of the Family Smoking Prevention and Tobacco Control Act that will ultimately provide the public with previously unknown information about the chemicals in tobacco products and help prevent misleading marketing about the risks associated with tobacco products. For more information, visit the websites listed (5,6,7,8,9).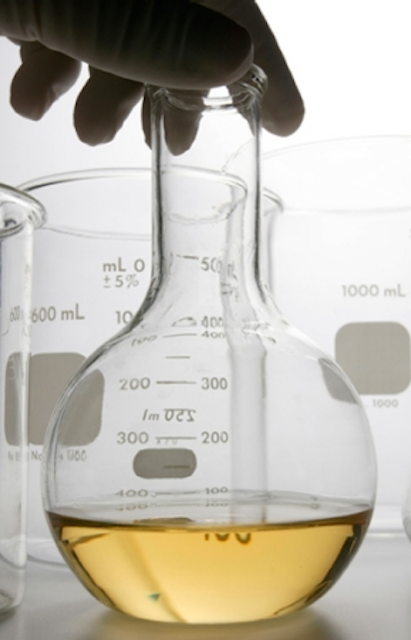 In the last issue, we featured Eva Grayzel, a stage IV oral cancer survivor. Thirteen years ago, Eva was that mom being asked the question "Mommy, what's cancer?" by her children ages 5 and 7, after her late-stage cancer diagnosis. Eva founded the Talk4Hope book series to help children understand a cancer diagnosis and acquire skills for coping and communicating.(10)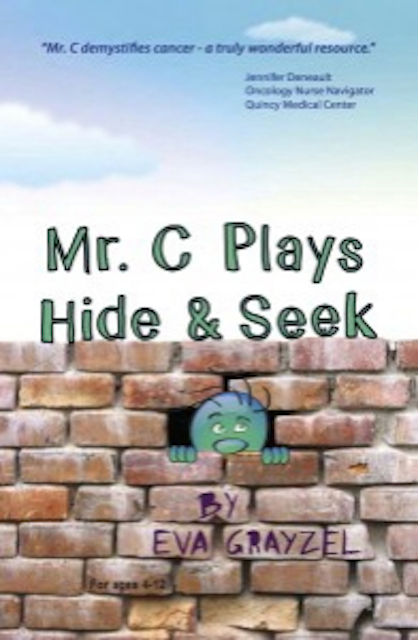 Eva now has a new book. "Mr. C Plays Hide & Seek," which helps children understand the life of cancer from the perspective of the "charming and personable" Mr. C himself.

Would you like to sneak a peek? Since April is Oral Cancer Awareness Month, Eva wants to gift her readers with a downloadable version. This gift expires on April 30th.(11) See page 19 about the dentist and the dental hygienist!

Eva is seeking companies that want to give the book as a gift with a personalized printed page. Hospitals, cancer centers, pharmaceuticals, large companies--for $3.95 per copy and a minimum order of 1,000, receive a personalized printed page at the front of each book, with company name, logo, and other information you wish to include.

Consider distributing this book to employees, patients, clients or customers. They will be touched by this unique, thoughtful gift. For inclusion in the first printing, orders need to be received by May 11th.

And last, but certainly not least, I would like to introduce Michele Howe Clarke, a young woman who fought a life and death battle with head and neck cancer that left her disfigured. Her book Face Forward: Meeting Challenges Head on in Times of Trouble is the truly inspiring story of someone who had happiness, a husband, a new baby, and a profession.

Nothing could have prepared her for this life changing event, yet she emerged alive, vibrant and victorious. Michele gracefully shares crucial insights on how we can all triumph over any challenge.(12) Read Michele's moving and poignant article in this issue.

Thanks to all the contributors to this inspirational newsletter!

References
1. G. A. Colditz, K. Y. Wolin, S. Gehlert, Applying What We Know to Accelerate Cancer Prevention. Sci. Transl. Med. 4, 127rv4 (2012).
2. info.cancerresearchuk.org/cancerstats/types/oral/incidence/. Accessed April 2, 2012.
3. www.smokefree.gov. Accessed April 2, 2012.
4. Hamburg, M. Getting More Accurate Tobacco Information to Consumers. FDA Voice. blogs.fda.gov/fdavoice/index.php/2012/03/getting-more-accurate-tobacco-information-to-consumers/. Accessed April 2, 2012.
5. What Are You Smoking (or Chewing or Inhaling)? For Consumers. www.fda.gov/ForConsumers/ConsumerUpdates/ucm297878.htm. Accessed April 2, 2012.
6. Less Risky Tobacco Product? Only if the Science Says So. For Consumers. www.fda.gov/ForConsumers/ConsumerUpdates/ucm297895.htm. Accessed April 2, 2012.
7. Harmful and Potentially Harmful Constituents in Tobacco Products and Tobacco Smoke: Established List. www.fda.gov/TobaccoProducts/GuidanceComplianceRegulatoryInformation/ucm297786.htm. Accessed April 2, 2012.
8. Reporting Harmful and Potentially Harmful Constituents in Tobacco Products and Tobacco Smoke Under Section 904(a) (3) of the Federal Food, Drug, and Cosmetic Act: Guidance for Industry. www.fda.gov/TobaccoProducts/GuidanceComplianceRegulatoryInformation/ucm297752.htm. Accessed April 2, 2012.
9. Scientific Standards for Studies on Modified Risk Tobacco Products. www.iom.edu/Reports/2011/Scientific-Standards-for-Studies-on-Modified-Risk-Tobacco-Products.aspx. Accessed April 2, 2012.
10. www.talk4hope.com/Talk4Hope.com/Home.html.
11. www.evagrayzel.com/pdf/Mr_C_Plays_Hide_and_Seek_by_Eva_Grayzel.pdf.
12. faceforwardbook.com/.

Sincerely,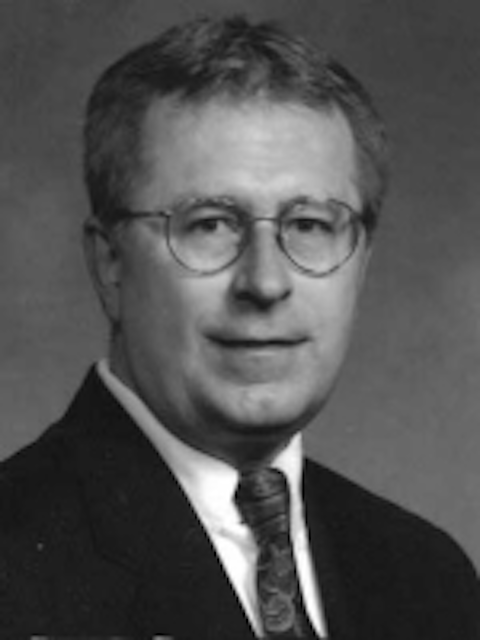 Maria Perno Goldie, RDH, MS

To read previous RDH eVillage FOCUS introductions by Editorial Director Maria Perno Goldie, go to introductions.