The cord is cut—freedom is here
Our operatory layouts and the tools we use can make a difference when it comes to work-related pain and ergonomics. In this article, Patricia Pine, RDH, COM, explains how the StarDental iStar, a cordless hygiene handpiece, could be the solution to the hand and wrist pain so many of us face.
May 19th, 2016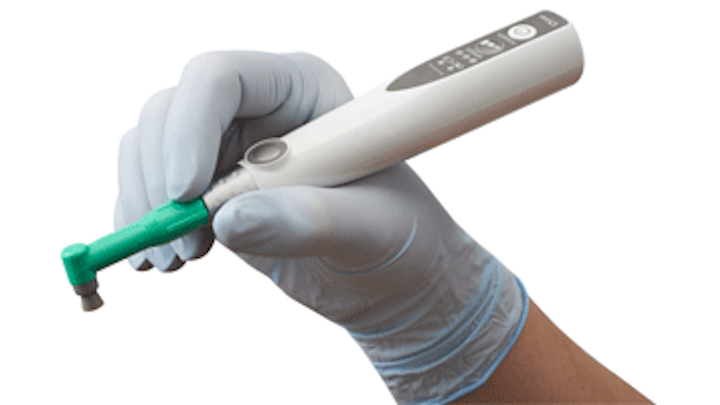 Our operatory layouts and the tools we use can make a difference when it comes to work-related pain and ergonomics. In this article, Patricia Pine, RDH, COM, explains how the StarDental iStar, a cordless hygiene handpiece, could be the solution to the hand and wrist pain so many of us face.

Ergonomic dynamics begin with how clinicians position themselves during patient care. Patient positioning, how equipment is used, and the design of the workplace all impact the physical health of dental professionals. And studies show that work-related pain for dental professionals is not decreasing.
Many hygiene rooms are small with little room for moving, and clinicians are typically required to reach for the equipment they need. As dental health-care professionals, we need to work smarter and more efficiently—not harder or in discomfort.
There is a human factor in proper ergonomics: For equipment to be ergonomic for a dental professional, body size, hand size, and body position all need to be considered. The one-size-fits-all model does not work for every professional. Rather than requiring the professional to fit the equipment, dental equipment should fit the professional.
Ergonomics and your tools
Have you ever felt that the corded end of your handpiece is heavy and pulling on your hand while you're trying to maneuver it to polish a patient's teeth? Many times, I have thought, "If I just didn't have this cord, my hands wouldn't feel so sore and tired at the end of the day." Whether straight or curled, the cords on hygiene handpieces tend to be heavy, putting tension on dental hygienists' wrists and hands. While corded handpieces are not the only reason for tired, sore, throbbing hands, they are one of the many reasons dental professionals are prone to carpal tunnel syndrome.
The lighter the instruments, the scaler, and the slow-speed handpiece are, the better. If muscles are under constant tension, they fatigue. Wrists cannot tolerate excessive extension. Difficulty opening jars, stiff hands, cramping, pain, and low muscle function are all the result of dental hygiene wear-and-tear from years of poor ergonomics. Decreased grip strength, pain at night, and a limited range of motion of the wrist are several of the many signs of carpal tunnel syndrome. More than half (65%) of licensed dental hygienists reported having taken time off from work due to carpal tunnel syndrome in 2001. (1) In the same year, 79% of dental hygienists reported having taken time off from work due to issues caused by repetitive motions. (1) Fortunately, there is more information about ergonomics in today's world.
Now that we know, it is time to act on that knowledge. Creative new dental products could make our physical lives easier. Using hand-specific gloves allows your hands to move and flex, while ambidextrous gloves limit your range of motion, which can cause tightness and soreness and create future problems. The cost difference is minor, considering everyone wants to have healthy bodies. Hand instruments have also been redesigned to be more ergonomic. Hollow or resin handles with carbon-steel construction and round, textured grooves can assist in reducing cumulative trauma from daily repetition. (2)
The ideal operatory layout
Optimizing work space in the operatory is important:
• A right-handed hygienist should work from the 7 o'clock position to the 1 o'clock position, whereas a left-handed hygienist should work from the 5 o'clock position to the 11 o'clock position.
• Unit flexibility is a must for any facility.
• Hoses should be positioned away from the body.
• The most ergonomic equipment is over the patient trays.
• If your air/water syringe has a cord that is tightly coiled, replacing it with a lightweight hose should be considered.
• Swiveling devices are now available for handpieces to reduce torque on hands and wrists.
• Using a cordless handpiece is ideal.
Handpiece to the rescue
DentalEZ has taken action in advancing the way dental hygienists practice with the introduction of the StarDental iStar cordless hygiene handpiece. This new handpiece is completely cordless and portable, offering the flexible benefits of charging and polishing. Wow—a cordless prophy handpiece with no torque on the wrist! The handpiece is a dream come true for any clinical professional with ergonomic fears.
The StarDental iStar is easy to use while polishing any size of mouth. The iStar has a clean look with sleek lines, and it provides comfort for all clinicians with its light weight. The lightweight design keeps the dental hygienist free from cords and wires and free from being tethered to one unit or work area. Body position is important for any dental professional, and being free from tethered cords reduces fatigue to the hands and wrists.
Buttons on the iStar's front panel provide easy touch and viewing for optimal performance while polishing. Customizing the handpiece with any disposable prophy angle to fit your patients' needs makes using this cordless handpiece a piece of cake, and barriers make it infection control friendly.
There are more benefits. We all know that polishing teeth, to some patients, is "cleaning their teeth." But as professionals, we know this is not the case. For years, postscaling coronal polishing was "a must" for all patients. However, a 1998 American Dental Hygienists' Association position paper on reported that, over time, "polishing procedures can have harmful effects and may produce morphological changes in the teeth, removal of the outer layer of enamel containing protective fluoride, and damage to restorative materials." (3) Today's educational facilities are teaching "polishing as needed only," or "selective polishing."
With that said, when a patient has light stain, the iStar cordless handpiece offers a solution. Five speed settings are available to adapt polishing for stained teeth to unstained teeth. Pressing the first speed key initiates a very light speed of 500 rpm, which could be the right speed for a patient with no plaque and light stain. Less power and less pressure equals less enamel damage. Seamless automatic speed adjustments allow clinicians to choose the speed to remove light, moderate, or heavy stain with their prophy angles of choice.
Here are a few more details regarding care and maintenance:
• Infection prevention barriers are included with this freedom machine.
• Boxes of 500 barriers are also available for purchase.
• Disinfect noncritical areas with an isopropyl alcohol wipe after each use.
• After three hours of continuous use, the handpiece requires 90 minutes to recharge on its charging base.
• The StarDental iStar is compatible with all prophy angles.
• A foot control is not necessary with a cordless handpiece.
I found this cordless handpiece to be easy to use and handle, with a little time needed to get used to the buttons (my corded handpiece doesn't have buttons). All in all, it was a light weight on my seasoned hands. All of the other handpieces I have had experience with have been corded.
The customized sleeve barriers are one thing I think could be improved, as I feel that they are a little snug. I would like to see a slightly larger width at the bottom to get them on and off of the handpiece more easily.
Could a cordless, lightweight dental hygiene handpiece be the answer to reducing the chances of hand and wrist pain and possible carpal tunnel syndrome? The answer is a resounding "yes!" Dental hygienists have had high rates of carpal tunnel syndrome, tendonitis, and arthritis in their hands for years. This ought to be a sign that equipment needs to be lighter and easier for dental professionals. Join the 21st century with modern technology. This will set dental professionals free.
---
Editor's Note: This article first appeared in Pearls for Your Practice: The Product Navigator. Click here to subscribe. Click here to submit a products article for consideration.
---
References
1. Simmer-Beck M, Branson B. Noting harmful chair side postures through assessment and observation and making necessary adjustments can make the difference in maintaining a healthy career in dental hygiene. Dimensions of Dental Hygiene. 2005;3(5):14, 16–19.
2. Park J. Ergonomics: Health Implications for Dental Hygienists. Slideshare website. http://www.slideshare.net/jhpdc/ergonomics-for-dental-hygienists-1178564. Published March 21, 2009.
3. American Dental Hygienists' Association. American Dental Hygienists' Association Position Paper on the Oral Prophylaxis. https://www.adha.org/resources-docs/7115_Prophylaxis_Postion_Paper.pdf. Published 1998.
Patricia Pine, RDH, COM, is a national and international speaker on topics including Occupational Safety and Health Administration (OSHA) safety, infection prevention, and orofacial myology. She brings 30 years of experience in dentistry to provide exciting and evidence-based programs. Ms. Pine conducts in-office OSHA boot camps and seminars for the dental community, and she is a member of the Organization for Safety, Asepsis and Prevention (OSAP) speaker's consultant bureau. She keeps abreast of dental hygiene literature for ongoing education, along with her practice in orofacial myology. She can be reached at 1smile4ever@cox.net or OSHAtrainingbootcamp.com.
---
For the most current dental headlines, click here.

---