Henry Schein announces ProRepair web portal for handpiece repair
The new ProRepair web portal from Henry Schein simplifies handpiece repair in three easy steps.
Dec 12th, 2017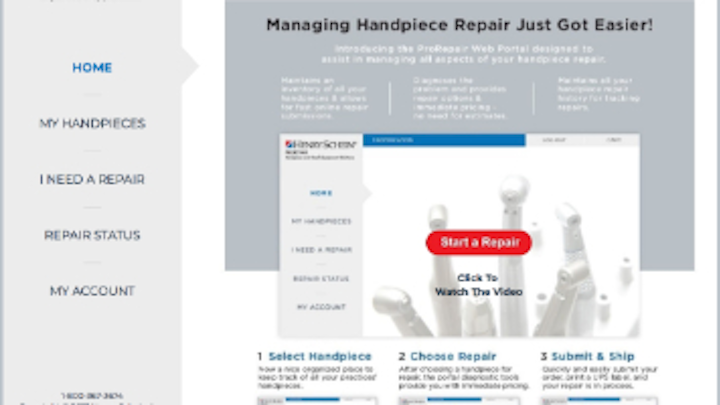 HENRY SCHEIN DENTAL HAS LAUNCHED AN AUTOMATED SYSTEM to manage handpiece repair with the new ProRepair web portal.
The ProRepair web portal is designed to manage all aspects of handpiece repair including: maintaining each practice's handpiece inventory, diagnosing problems and displaying repair options, providing preapproved pricing for each repair, and retaining customer history and warranty status. These new features will expedite the handpiece repair process, allowing practitioners to focus on providing quality patient care.
Compatible with all mobile devices, the ProRepair web portal allows oral health professionals to submit a handpiece repair request in three easy steps. First, after logging in, the dental professional will find an organized list of his or her practice's handpieces, which can be given unique names to eliminate confusion. After the handpiece in need of repair has been selected, the portal will diagnose the problem and provide pricing immediately with no need for estimates. Finally, the dental professional is able to submit the order and print a UPS label.
"We at ProRepair believe that this web portal will allow for a quick and simple solution for dental practitioners," said Ron Appel, vice president and general manager of Henry Schein's ProRepair division. "By creating a portal to expedite the repair process, we believe we are helping our customers operate efficient practices so they can continue delivering quality patient care."
The web portal consistently updates each customer's inventory of handpieces, as well as the warranty on each item. The ProRepair web portal also tracks repair history, creating an archive for dental practitioners.
Visit the ProRepair web portal at prorepaironline.com. For more information about Henry Schein, visit henryschein.com.
---
For the most current dental product articles, click here.

---
For the most current dental headlines, click here.

---