Product review: OptraSculpt Next Generation composite contouring instrument from Ivoclar Vivadent
Pamela Maragliano-Muniz, DMD, reviews the OptraSculpt Next Generation composite contouring instrument and its ball, pointed tip, and chisel attachments.
Sep 25th, 2017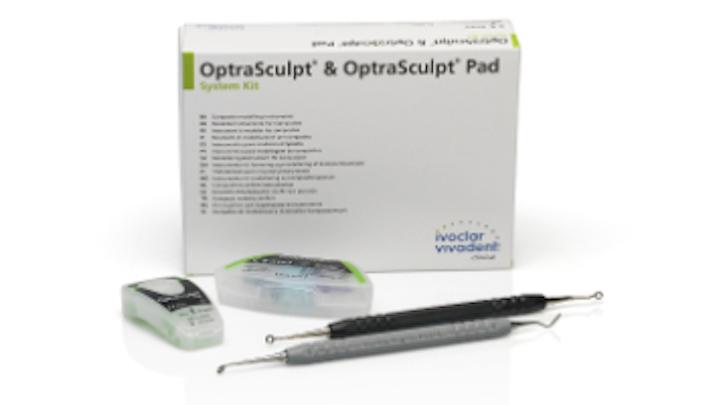 WE ARE DENTISTS. WE RESTORE TEETH, RIGHT? So why are some restorations so darn difficult, even for the best of us? I personally believe that composite restorations are among the most difficult things we do in dentistry.
We have so many things to consider: complete versus incomplete caries removal, isolation, etching, dentin bonding agents, glass ionomers versus resin versus amalgam (are people still placing amalgam?!), contouring the restoration, sealing the cavosurface margins, and (of course) aesthetics, function, and minimizing the risk of caries recurrence.
I've placed many composite restorations that I felt proud of upon completion, only to be less than impressed when the patient returned for bitewings. I have also placed composites in situations where I was happy just to have completed them, and then later I discovered that they look amazing on radiographs and have maintained their function and longevity, despite my own personal negative critique of the outcome. I have accepted that I am on a lifelong journey to create beautiful and functional composite restorations. I hope that one day I will be more content with them than critical of them.
When placing a composite restoration, I strive to create a condensed restoration that is sealed and polished to impede bacterial adhesion and accumulation. I also strive to create a restoration with contours that mimic nature and function optimally. To accomplish this, instrument choice is key.
I have been using OptraSculptPads (Ivoclar Vivadent Inc.) since they first became available, and I have found that they have become my go-to tools for condensing composites. If you are unfamiliar with the OptraSculpt Pad, it is an instrument handle that holds single-use foam pad inserts. The round foam pad inserts are available in two diameters, 4 mm and 6 mm, and they are slightly spongy and nonstick. You can press the composite into place, and the composite will stay where you want it to stay! Also, the kits are designed so you can easily pick up the inserts without contaminating other inserts.
When I heard about OptraSculpt Next Generation,I couldn't wait to try it. In addition to the OptraSculpt Pad, OptraSculptNext Generation offers attachments that are shaped like a ball, a chisel, and a pointed tip that attach to a handle designed for ideal access to posterior teeth. Each attachment has a nonstick surface and is extremely helpful for manipulating composite.
OptraSculpt Pad
This foam pad insert is ideal for condensing anterior and posterior composites. Although I find this insert to be relatively universal, I think it's especially useful for condensing composite on incisal edges, smooth surfaces, or single-surface restorations, and for sealing screw access holes on implant-supported restorations. This insert is exceptional for incremental placement of composite in large restorations and for the optimal condensation of composite and the minimization of voids.
OptraSculpt Next Generation ball attachment
This insert is especially useful for burnishing composite margins, condensing composite into small preparations, and distributing sealant material over pits and fissures. In addition, this attachment is useful for rounding marginal ridges.
OptraSculpt Next Generation chisel attachment
This attachment is particularly useful for the following applications:
• Creating anatomic marginal ridges in class II restorations
• Creating grooves and primary anatomy
• Condensing composite into class V restorations
OptraSculpt Next Generationpointed tip attachment
This attachment is useful for creating anatomic pits, grooves, and secondary anatomy, and for delivering occlusal stain if you like to go the extra mile to create lifelike occlusal anatomy.
The American Dental Association Annual Session is coming up in a few weeks. When you get there, visit the Ivoclar Vivadent booth and check out the new OptraSculpt Next Generation. It has significantly improved my posterior composite restorations and my attitude when I see posterior composites on my schedule!
---
Editor's note: This article first appeared in Pearls for Your Practice: The Product Navigator.Click here to subscribe. Click here to submit a products article for consideration.
---
Pamela Maragliano-Muniz, DMD, is an editorial director for Pearls for Your Practice: The Product Navigator, an e-newsletter from DentistryIQ and Dental Economics. She was a dental hygienist before earning her DMD from Tufts University School of Dental Medicine and her certificate in advanced prosthodontics from the UCLA School of Dentistry. She teaches, and she maintains a private practice in Salem, Massachusetts. In 2010 her practice was named the Adult Preventive Care Practice of the Year by the American Dental Association.
---
For the most current dental product articles, click here.

---
For the most current dental headlines, click here.

---