[Highlight] KaVo RONDOflex plus
KaVo now offers a new portable air abrasion handpiece that produces less particle overspray than a traditional air abrasion unit.
Mar 1st, 2005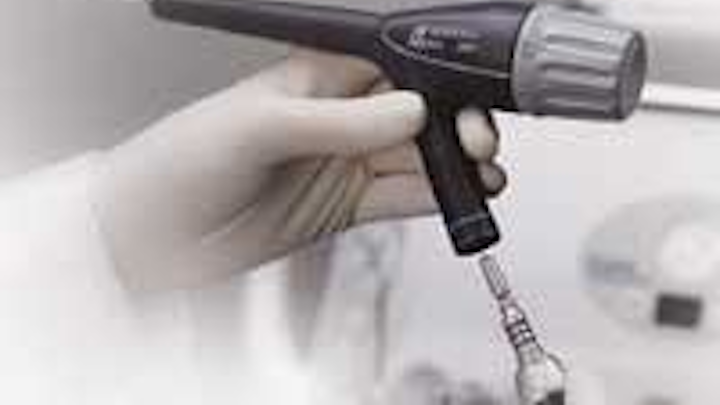 Air abrasion with water spray!
KaVo now offers a new portable air abrasion handpiece that produces less particle overspray than a traditional air abrasion unit. The KaVo RONDOflex plus replaces KaVo's standard RONDOflex unit as the effective, portable way to add air abrasion to your practice. It easily snaps onto any MULTIflex coupler - KaVo's versatile handpiece connection. The powder stream of the RONDOflex plus is completely surrounded by water. The water spray confines powder particles, reducing the amount of airborne overspray. This feature increases patient and operator comfort while maintaining optimal cutting efficiency. For more information, call (888) ASK-KAVO (275-5286) or visit www.kavousa.com.
Two new GC Gradia Direct composites
GC AMERICA introduces new Gradia Direct LoFlo and Gradia Direct Flo, light-cured flowable composites. These multi-purpose light-cured composites are radiopaque, fluoride-releasing, highly filled micro-hybrid resins. Two self-adapting formulas have been designed to best accommodate every application (technique) requirement.
Gradia Direct LoFlo takes advantage of GC's new HDR (High Density Radiopaque Pre-polymerized Filler) technology. This allows for excellent radiopacity while providing physical properties (strength and wear) similar to traditional composites, with exceptionally low shrinkage and optimal flow characteristics minimizing risk of contraction stress and microleakage.
Gradia Flo, a less viscous version, is typically used to restore undercuts, as a liner/base under direct restoratives, and as a 60-second sealant when used in conjunction with GC G-Bond one-component self-etching light-cured adhesive.
Both products are packaged in 1.5 gm syringes, either two or four per box, with four tips. Both come in seven shades: A1, A2, A3, A3.5, AO3, CV (Cervical Color), and BW (Bleaching White).
For more information, www.gcamerica.com or call (800) 323-7063.
HOYA ConBio VersaWave™
Dentistry's best-engineered, most reliable laser now has higher repetition rates, higher power output, and better delivery than any other dental laser system. HOYA ConBio introduces the multi-purpose VersaWave hard- and soft-tissue laser - with an optimum range of three to 50 pulses per second, and laser output boosted to 9 watts. VersaWave also features dentistry's longest, lightest, and most flexible fiber delivery system, 400 millijoules of energy per pulse, and TruTest™ - the industry's only calibration port for output assurance. Compare VersaWave with other laser systems, and you'll see why dentists who do their homework choose HOYA ConBio. Learn more at www.conbio.com.
CompoRoller™ composite modeling instrument
Kerr Corporation announces CompoRoller, an innovative modeling instrument that maximizes control for layering and contouring direct restorations. CompoRoller's non-stick, thermoplastic rolling tips contour composite quickly in thin, even layers for a fast finish, while minimizing air bubbles. Tips come in two shapes - cylindrical for flat-surface contouring, and conical for shaping margins, occlusions, and modeling.
For more information, call your Kerr dealer, visit KerrDental.com, or call (800) KERR-123 (537-7123).
G-Light cordless LED universal curing light
GC AMERICA introduces the GC G-Light, the first portable LED light that cures all light-cured dental composites. It employs two different LED series in the same device, allowing it to operate in both a 470 nm and 403 nm wavelength peak. It is cordless yet high-intensity, requiring only half of the curing time needed by a typical halogen light while ensuring an optimal depth of cure.
The lightweight, ergonomically designed unit features an 8 mm Turbo light guide that is autoclavable. The operation panel allows for five-, 10-, 20-second and continuous cure settings. A wavelength switch enables the operator to change from the 470 nm to the 403 nm setting. The fully rechargeable battery has an indicator that moves from green (full charge), to yellow (medium charge), to red (empty) as the battery ages with use.
For more details, visit www.gcamerica.com.
AXIS Soft-Core endodontic obturators
AXIS Dental introduces the Soft-Core endodontic obturator system, which uses a biocompatible plastic core to both laterally and vertically condense the thermoplastic gutta percha. The smaller-diameter core makes carrying gutta percha to the apex, post space preparation, and re-treatments easier. Soft-Corehas a simple twist-off handle, adjustable working lengths, and one-size-fits-all tapers. The obturators come packaged in sterile blister packs, and the standard packs include size verifiers. Soft-Core RT obturators areavailable for rotary file techniques. AXIS Dental recently acquired Soft-Core Texas Inc. and the distribution rights to the Soft-Core line of endodontic obturators for North America.
For more information, call (888) 654-2947 or visit www.axisdental.com.
CozyHold offers versatile pain relief
CozyHold is a new postoperative product. It's a cold/hot gel pack holder that provides a custom fit around the face, providing pain relief after oral surgery, perio surgery, or for TMD discomfort.
Clinicians can sell, give, or recommend CozyHold to patients. Hands-free CozyHold is made from neoprene, has two holders for the gel packs, and is secured under the chin and on top of the head for maximum comfort and adjustability. It's reusable and washable and is made to fit any part of the body - works great on knee, back, shoulder, neck, wrist, etc.
Special introductory price is $17.50. Call RAMAR Industries LLC, at (800) 559-2699, e-mail customerservice@ramarindustries.com, or visit www.cozyhold.com.
New "Un-Advertising" practice-building system
Doctor Relations, Inc., a practice-building firm based in Chatsworth, Calif., releases a new system for developing and harvesting new-patient leads and referrals. Un-Advertising™ gives dentists a proven method to actively pursue referrals from professionals, patients, and the community using a low-profile but effective public relations-based program. The Un-Advertising system bypasses traditional advertising approaches for new patients, and eliminates the uncomfortable stigma of traditional hard-sell referral-building methods. The system integrates a more dentist-comfortable method for acquiring professional and patient referrals.
For more information, call Helmut Flasch, CEO, Doctor Relations, Inc. at (800) 625-2002, e-mail hflasch@flasch.com, or visit www.flasch.com.
Accounts Receivable Management System™ ARMS
Sikka Software Corporation, one of the fastest-growing software companies in the dental industry, develops specialized business software products that are easy to use. The Accounts Receivable Management System, or ARMS, takes the headache out of runaway receivables. ARMS costs about a tenth of what a dental office normally spends to manually monitor overdue collections in-house. Seamlessly interfacing with your current practice-management software, ARMS generates customized payment reminder letters automatically every night - so all the office staff needs to do is review, fold, and mail the letters.
For a limited time, the program costs dentists only $250 to set up and $90 per month with unlimited support. For more information, call (800) 94 SIKKA (947-4552) or visit www.sikkasoft.com.
New telephone technology lowers costs
On Hold Advertising, Inc. announces new technology that makes modern telecom-munications advertising methods available regardless of the type of telephone equipment in place. Until now, many businesses required expensive telephone systems, upgrades, or adapters to take advantage of advertising messages delivered while callers are on hold. Now, it has never been easier to deliver your message through On Hold Advertising - unique in the industry because there are no monthly fees or contracts to sign, and companies of all sizes can take advantage of this extremely effective, low-cost medium.
On Hold Advertising, Inc. develops customized advertising for businesses, utilizing state-of-the-art technology and custom scripts recorded by Chicago radio and TV talent.
For more information, call (800) 493-9003 or visit www.ddsonhold.com.
Who says dentists can't have it all?
Not Gary Kadi, creator of the acclaimed NextLevel Practice™ and author of the newly released book, MILLION DOLLAR DENTISTRY (184 pages/NextLevel Publishing/$24.95 US). Kadi, who has consulted to successful dental practices for a decade, reveals the method he uses to diagnose dental practices that aren't maximizing income or career satisfaction and help dentists earn radically more money with less effort.
Kadi shows dentists how to reorganize their staffs to turn the office into a smooth-running selling machine that gets patients all of the care they need, the "right" way to close cases, and the best way to keep their practices from the domination of insurance companies, slow-paying or nonpaying patients, and office politics. The book is an eye-opening, motivating guide to rapid, sustainable growth for dentists in all types of practices. To order, visit www.nextlevelpractice.com.
Midwest Stylus™ compatible with MULTIflex
DENTSPLY Professional and Midwest introduce the Midwest Stylus that is compatible with the MULTIflex LUX* coupler (*MULTIflex LUX is a registered trademark of KaVo Corporation). Midwest Stylus offers best-in-class performance, power, durability, light, noise, maintenance options, and ergonomics. Now it is even more versatile. The new version offers a special back end allowing it to easily integrate into offices currently using MULTIflex LUX couplers. Modern, eye-catching, and loaded with features, Midwest handpieces prove again why they are the signature choice of today's clinician.
For more information, call your local DENTSPLY professional, call DENTSPLY at (800) 989-8826, or visit www.professional.dentsply.com.
Dental microscope with motorized fine focus
This is Seiler's brand-new 402 dental surgical Model 402-002 with foot-operated, motorized fine focus. Great for infection control and maintaining your sterile field, it comes with counter-balanced floor stand. It has many of the same features you would only expect from a much more expensive surgical microscope - features such as 5X, 8X, and 13X magnifications, quick-change dual-lamp system, and a 100W fiberoptic illuminator. It also will accept documentation accessories such as a beam splitter and video camera for patient and staff education, and permanent files.
For more information, call TSC, Inc., at (800) 283-9997 or visit www.tscmicroscopes.com.
Six-inch electronic digital dental calipers
Masel's 6-inch electronic digital pointed-jaw calipers make data collection fast and accurate in millimeters and inches. It features outside measurement jaws that are a combination of knife-edge and flat-style measuring surfaces that come to a fine point for better precision. Its thumb roller allows jaws to be moved slowly for fine adjustment.
Other features include inside measurement jaws, caliper-locking thumbscrew to prevent jaws from opening or closing, measurement hold button, serial port cover, depth measurement bar, off/on and zero buttons, and includes one fitted case and battery. The unit carries a one-year warranty.
For more information call (800) 423-8227, e-mail sales@masel.net, or visit www.maselortho.com.
SAV-A-LIFE SYSTEMS M100 emergency kit
SAV-A-LIFE SYSTEMS, INC., manufacturers of lifesaving emergency drug kits for office medical emergencies, now offers the M100 emergency drug kit. The easy-to-use kit features a selection of pre-filled medications and devices. The M100 is compact and easy to store. Each kit contains an Epi Pen and Benadryl syringe, CPR mask, and Albuterol inhaler, among other medications and devices recommended by leading dental emergency specialists.
Dental practices can now receive a free M100 emergency kit with the commitment of a monthly maintenance program. The program covers all replacement drugs and shipping. For more information, call (800) 933-5885.
Lotte Xylitol sugar-free chewing gum
Lotte USA, Inc. has announced the release of Lotte Xylitol sugar-free chewing gum made with Xylitol, the sugar substitute clinically shown to reduce tooth decay and plaque and to re-mineralize tooth enamel. International research has proven that Xylitol is the best sugar substitute for oral health. Xylitol also enhances flavors while providing a cooling sensation.
Lotte Xylitol sugar-free chewing gum stimulates salivary flow, increasing plaque pH, neutralizing acid, and aiding re-mineralization. It also makes plaque less adhesive and easier to remove from teeth. No other sugar substitute functions in this beneficial way.
For more information, call (269) 963-6664 or visit www.lotteusainc.com.
Maximize isolation, access, and comfort
OptiDam from Kerr Corporation provides unmatched isolation and protection, ensuring a dry, contaminant-free operating field. Its 3-D, anatomical frame eases placement and widens access while increasing patient comfort. OptiDam's unique raised tab design speeds assembly and ends tedious tooth marking, hole punching, and trimming. Anterior and posterior configurations are available.
For more details, call your Kerr dealer, visit KerrDental.com, or call (800) KERR-123 (537-7123).