Emerging trends, technology, and research highlighted at third annual Academy of Osseointegration UK Charter Chapter meeting
AO Charter Chapters create global network to share evidence-based information in implant dentistry and tissue engineering.
Jul 23rd, 2014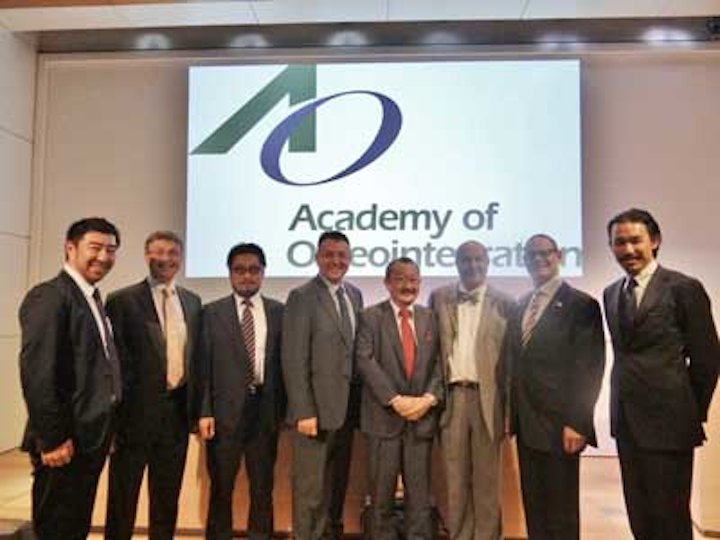 Clinicians from Japan and the United Kingdom shared the stage at the Royal Society of Medicine on July 4, 2014, for the Academy of Osseointegration (AO) UK Charter Chapter's third annual meeting. The one-day scientific program facilitated the exchange of education and information on the latest evidence-based advances in implant dentistry and tissue engineering and exemplified the successful network AO is creating internationally through its Charter Chapter initiative. For more information about AO's Global Outreach and Chapter Charters, visit http://www.osseo.org/charterChapters.html.ADDITIONAL READING |Standards of care for implant dentistry: an interview with Dr. Joseph Gian-Grasso, president of the Academy of Osseointegration
"What a delight it was to take part in this meeting with a combination of six speakers, three from the United Kingdom and three from Japan, with a quality of material that would grace the finest of scientific meetings," said Dr. Michael Norton (London), AO board member and Global Program Development (GPD) committee chair. "There was an emphasis on core-based evidence backed up by strong clinical examples."

ADDITIONAL READING |Implant dentistry's origins, challenges, and discoveries described in Academy of Osseointegration historical video
Dr. Norton moderated the program, which was organized by the GPD committee vice-chair and AO UK Ambassador Dr. Stephen Jacobs (Glasgow, Scotland). The program offered six hours of verifiable continuing professional development to the approximately 50 attendees. Dr. Takashi Sumi (Ichinomiya-City, Aichi, Japan) was responsible for encouraging and organizing the Japanese group to travel to London for this unique event.
Ashok Sethi (London) opened the meeting with a lecture on predictable esthetic implant restoration and rehabilitation of the jaws using digital technology. The importance of CAD-CAM and guided surgery, coupled with clinical and diagnostic tools together with good communication with the dental technician was stressed. This way margins for error can be minimized and the delivery of predictable full-arch fixed cementable restorations can be ensured. The use of lab-made transfer restorations in the development of soft tissue was a key message.
Dr. Yoshiro Lida (Nagoya, Aichi, Japan) was next; he demonstrated excellent evidenced-based principles, guidelines, and diagnostic keys set out by Dr. J Kois in 2001 and addressed soft tissue principles. He showed a comprehensive multidisciplinary approach, some of which utilized orthodontic techniques, a novel tooth autotransplantation technique, and the root preservation technique, and backed it all up with outstanding clinical images.
Dr. Jacobs, the program's organizer, concluded the morning session with a lecture on immediate implant placement and provisionalization, demonstrating a re-emergence of this treatment modality with the paradigm-shift in favor of immediate placement that are being seen both in the scientific literature and in clinical practices. He spoke about how clinicians can achieve predictable outcomes and identify suitable parameters in clinical situations for immediate placement. Looking for best evidence, Dr. Jacobs explored the literature, presenting the arguments both for and against this protocol, addressing some of the controversies that are being argued out in the literature at the moment. He concluded that in the challenging esthetic arena, experienced clinicians should carry out immediate placement and restoration.
After lunch, Professor Yasuhiro Nosaka (Ashiya, Hyogo, Japan) delivered a comprehensive and exceptional surgical revue, and masterful appreciation of the sinus bone graft. He gave a clear demonstration on the diagnosis and treatment of the sinus floor with relevant maxillary sinus pathology, using superb sequential CBCT images, with the immediate changes that occur in the sinus space in the days and weeks following the surgical procedures.
Dr. Stephen Barter (Eastbourne, East Sussex, England) was the next speaker and gave a succinct lecture on current trends in the rehabilitation of maxillary arches, and from his comprehensive literature review stressed what would be the most relevant treatment in individual cases. Quite soberingly, Dr. Barter revealed some clear points: there is not enough "good" evidence available, from the sparing amounts that currently exist, and clinicians must all be very aware that "evidence" may not necessarily be "good evidence."
To conclude the meeting, Dr. Kunihiko Teranishi (Minato-ku, Tokyo, Japan) opened eyes to the application of photofunctionalization. The use of video projections and a skilled compilation of anecdotal clinical evidence made for an interesting presentation using this little known and understood concept.
The next UK Charter Chapter will be held in Spring/Summer 2015.
The Japanese group will host its inaugural Charter Chapter in Tokyo in 2015.
About the Academy of Osseointegration (AO)
With 6,000 members in 70 countries around the world, the AO is recognized as the premier international association for professionals interested in implant dentistry. AO serves as a nexus where specialists and generalists can come together to evaluate emerging research, technology, and techniques, share best practices, and coordinate optimal patient care using timely, evidence-based information. Follow AO on Facebook and Twitter.