New Product Highlight
Crosstex/Bard-Parker™ scalpel
Sep 1st, 2005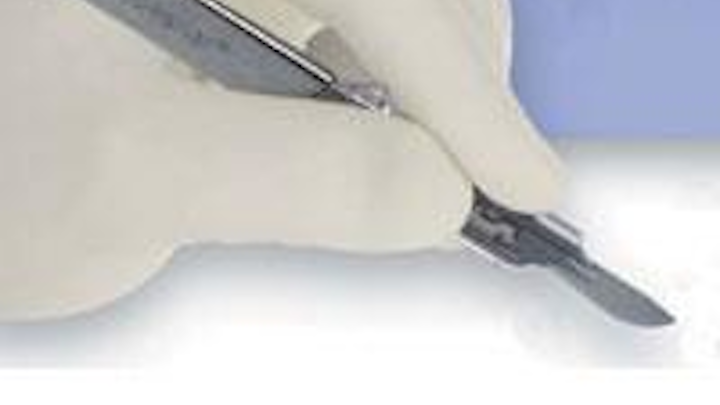 Crosstex/Bard-Parker scalpel
BD Bard-Parker Protected Blade System
The BD Bard-Parker Protected Blade System has been designed with the weight and feel clinicians prefer, with convenient and easy one-handed activation of the clear protective shield. The blade remains covered and locked in place during both assembly and disposal to help prevent accidental contact with the blade. Its top activation button enables both right- and left-handed use, and an audible click and tactile sensation confirm the lock is engaged.
The system requires no compromise to technique, and helps comply with OSHA standards and federal regulations. It comes with the durable stainless steel handle with centimeter scale, and 50 protected surgical blades in sizes 10, 11, and 15. Additional sizes will be available soon.
For more information, call Crosstex at (888) CROSSTEX (276-7783) or visit www.crosstex.com.
AXIS Soft-Core® endodontic obturators
AXIS Dental introduces the Soft-Core endodontic obturator system, which uses a biocompatible plastic core to both laterally and vertically condense the thermoplastic gutta percha. The smaller-diameter core makes carrying gutta percha to the apex, post space preparation, and re-treatments easier.
Additionally, Soft-Core has a simple twist-off handle, adjustable working lengths, and one-size-fits-all tapers. The obturators come packaged in sterile blister packs, and the standard packs include size verifiers. Soft-Core RT obturators are available for rotary file techniques. AXIS Dental recently acquired Soft-Core Texas Inc. and the distribution rights to the Soft-Core line of endodontic obturators for North America.
For more information, call (888) 654-2947 or visit www.axisdental.com.
DENTSPLY Pharmaceutical's new patient portal
DENTSPLY Pharmaceutical launches the www.oraqix.com Patient Portal, a new, informative addition to the existing site. The new section introduces dental patients to Oraqix® (lidocaine and prilocaine periodontal gel 2.5%/2.5%), provides a wealth of information on common dental procedures such as scaling and root-planing, and explains the effects that gum disease and periodontitis can have on healthy teeth if left untreated.
Oraqix is the first FDA-approved, needle-free dental local anesthetic indicated for use in adults who require localized anesthesia in periodontal pockets during scaling, root-planing, or both procedures. Oraqix is not for injection; it is administered with the Oraqix dispenser. In clinical trials, the most common side effects of Oraqix were application site reaction, headache, and taste perversion. Oraqix is contraindicated in patients with a known history of hypersensitivity to local anesthetics of the amide type or to any other component of the product. Oraqix is distributed by OraPharma, Inc. Call (866) 273-7846 for more details or to place an order.
Liberator .06 taper now available
Miltex has released Liberator NiTi rotary endodontic files in .06 taper. Due to demand from dentists who wish to finish a root canal with a greater taper, Miltex designed, developed, and manufactured this new product with feedback from key clinicians around the world. It is available in ISO tip sizes from 15 to 70 and lengths of 21 and 25 mm. This size compliments the .02 and .04 taper Liberator instruments that were introduced in December, 2004. Liberator files have been proven to eliminate self-threading issues - which can lead to file separation - because there are no helical flutes to screw into the canal. They employ a safe-ended "Roane" tip to minimize ledging.
For more information, e-mail sales@miltex.com, call (800) 645-8000 or visit www.miltex.com.
DENTSPLY Maillefer's ProPex™ apex locator
Endodontists can now map a clear route to working length with DENTSPLY Maillefer's new ProPex Apex Locator. The key to its accuracy lies in its multi-frequency technology. The detailed graphics, combined with a progressive audio signal and pre-apical warning, provides a clear picture of their location in the canal. Even in the presence of blood, tissue, NaOCl, or other fluids, the ProPex Apex Locator enables endodontists to consistently and conveniently determine the correct working length measurement.
The unit starts with a push of a button - no additional settings, adjustments or calibrations needed. Its compact, ergonomic design makes it easy to use and its LCD screen is large, bright, and angled upward for comfortable viewing. Its rechargeable NiMH battery eliminates the need for frequent battery replacement and its battery indicator provides continuous monitoring of battery status.
Available accessories include a replacement battery and charger, and additional lip clips, file hooks, and measuring wire.
For more information, call (800) 924-7393, or visit www.maillefer.dentsply.com.
PerioPal version 3.5 released
PerioPal, LLC releases the next version of its powerful periodontal software designed to make recording a periodontal exam easier and faster with its verbal software tool, allowing hands-free periodontal charting. PerioPal's efficiency lies in its ability to verbally record, chart, store, and report a periodontal exam as it occurs, dramatically increasing productivity. Exam findings are recorded into a headset attached to the user's choice of hardware - laptop, desktop, or integrated system. Version 3.5 has been updated with a networked database for multi-user access and a software bridge compatible with other dental packages. PerioPal's Voice Command vocabulary consists of abbreviations and shortcuts that enable accurate recording of data in a shorter time by reducing the number of spoken words. PerioPal's verbal commands make it possible to perform the exam in a single pass through the mouth.
Another new feature to Version 3.5 is ReProbe, PerioPal's efficient method of re-examining areas of concern. Upon re-examination, PerioPal guides the clinician to those areas of concern. ReProbe automatically follows the selected charting sequence, calling out only the teeth with absubhead probing depths based on the previous completed exam.
For more information, visit www.periopal.com. Take a tour at www.periopal.net/demo.htm.
New book offers insights on pulp treatment
A new book, published by Pulpdent Corporation, describes evidence-based, research-supported techniques for treating the vital pulp and the pulpless tooth, and offers insights gained through the author's six decades of experience in dentistry. The book, "Save That Tooth," is authored by Harold Berk, DDS, DSc, FACD, FICD, FAAPD, Clinical Professor Emeritus at Tufts University School of Dental Medicine, and founder of Pulpdent Corporation. It includes a broad range of clinical information, philosophical approaches, case studies, technical tips, and resources relating to saving teeth.
"Save That Tooth" is a hardcover book of more than 250 pages and is richly illustrated with full-color clinical photographs, medical illustrations, radiographs, and original artwork. There are also extensive references and suggestions for additional reading, as well as sections with helpful hints and frequently asked questions. The book is a valuable resource but also an enjoyable read for dental students and practicing clinicians alike. Save That Tooth is available for $80, including shipping. Order by calling (800) 343-4342.
New 3i implant preserves more crestal bone
Implant Innovations, Inc. (3i) introduces its Certain® PREVAIL™ implant, designed to increase the potential for more predictable crestal bone preservation. The new implant represents an innovative design featuring Integrated Platform Switching, providing a simple and predictable option for potentially achieving better crestal bone preservation, which would result in optimal soft-tissue esthetics.
The intentional placement of a smaller-diameter abutment on a larger-diameter platform may be the key to preserving crestal bone. The implant's Integrated Platform Switching, which incorporates a coronal bevel design that medializes the Implant-to-Abutment Junction (IAJ), potentially enhances crestal bone preservation. The prosthetic table also is appropriately color-coded to ensure a proper match with existing Certain abutments. Other significant features optimizing its clinical performance include an industry-proven OSSEOTITE® coating, and the Certain QuickSeat™ connection which provides an audible and tactile "click" confirming proper seating. The double hex allows as many as 12 rotational positions - ideal for angled abutments.
For more information, call (800) 443-8166 or visit www.3i-online.com.
Bisco's D.T. LIGHT-POST in new smaller size
BISCO announces its translucent esthetic D.T. LIGHT-POST with color-coded rings on each post, simplifying post size identification and used for repositioning during post try-in to establish working length. Each post is now fitted with a color-coded ring which corresponds to the color-coded drills. In addition, it is available in four sizes, each with dual tapers, accommodating a variety of clinical situations. The new smaller #0.5 post is primarily used for lower anteriors and smaller canals.
The D.T. LIGHT-POST has flexural strength exceeding that of metal posts but with a modulus of elasticity similar to dentin. The low modulus significantly reduces stress transferred to the root and eliminates root fractures. It will intimately bond to the tooth structure and core build-up composite, while the passive taper design respects morphology and conserves tooth structure.
The D.T. LIGHT-POST comes with a six-year warranty (in U.S.A.) and is available in an assortment of kits and refill packages. To order or find out more, call (800) 247-3368 or visit www.bisco.com.
Dr. Kit Weathers' Endo Root Camp
The new Practical Endodontics Root Camp home study course offers 24 hours of CE credit (post-tests are included), and features all the lectures recorded during a recent two-day Root Camp on seven interactive DVDs. This comprehensive course covers diagnosis, case selection, anesthesia, antibiotics and analgesics, preparation, obturation, emergency treatment, problem solving, restoring the endodontically treated tooth, and much more. Included are all the reference manuals and literature you receive when you attend a live seminar, a coupon good for a tuition discount at a follow-up, live Root Camp, and unlimited follow-up telephone and e-mail support from the Root Camp faculty.
For more information and to order, call Practical Endodontics at (877) 478-9748 or visit www.ce-magic.com.
J. Morita USA introduces Root ZX II
J. Morita USA introduces Root ZX II, offering new features and upgrades. Root ZX II produces unmatched clinical accuracy rates, not affected by the presence or absence of blood, other fluids, or electrolytes. It features an expanded, easy-to-read display screen with high contrast. The action of the meter in the display corresponds exactly to the tactile sensation of using the file. The new unit is lightweight and offers exceptional durability. The base of the unit also has been modified for greater stability during procedures. The low-speed handpiece module is interchangeable and snaps easily onto the back of the unit. This allows a choice between an apex locator, a low-speed handpiece, or a combination. Other features include no zero-adjustment, automatic calibration, battery power indication, and automatic power-off function.
For more details, call 888-JMORITA (566-7482), your local dealer, or visit www.jmoritausa.com.
Hu-Friedy® perio and ultrasonic insert promo
Hu-Friedy announces its annual fall periodontal promotion, which runs from September 1 through December 31. The promotion features scalers, curettes, and ultrasonic inserts, including the new EverEdge™ Technology scalers and curettes with a new steel alloy that stays sharper longer - 50 percent longer. Also included are the exclusive SWIVEL™ and Swivel Direct Flow™ ultrasonic inserts. The promotional offers are available on these new products as well as any other products in Hu-Friedy's hand and power scaling lines. Buy any 12 scalers/curettes, get two free; buy any five ultrasonic inserts, get two SWIVEL inserts free; buy any three ultrasonic inserts, get one SWIVEL insert free.
Plus, purchase one scaler offer and one ultrasonic insert offer, and receive a Hu-Friedy EverEdge thermal mug free. Earn an extra free scaler through Hu-Friedy's Environdent™ recycling program when you recycle 12 scalers with the purchase of 12 scalers.
The promotion is available through all authorized Hu-Friedy dealers. For complete details, call (800) HU-FRIEDY or call your dealer.
Amazing Animation presents "Sharing"
Amazing Animation presents the brand-new, dental-themed, limited-edition, "Sharing," featuring Pebbles and Bam-Bam. This limited-edition giclee (zhee-CLAY) is hand-signed by long-time Hanna-Barbera animator, Bob Singer, and is limited to only 100 pieces. Measuring 17 x 19 inches framed, "Sharing" is a wonderful piece of collectible artwork to hang in your office.
For more information or to receive a color catalog of entire dental-themed animation art inventory, call Amazing Animation at (800) 536-7796 or visit www.dentalcollectibles.com.
Ultra-thin precontoured matrix bands for kids
Cosmedent, Inc. announces PT primary tooth matrix bands developed for the pediatric dental market. These ultra-thin bands allow for more consistent contact areas in the posterior primary dentition, and also are very effective on adults with smaller permanent dentition. While Cosmedent's PT matrix bands are designed specifically for composites, they also can be used for amalgam restorations. The bands are pre-contoured to effectively enhance the proximal contour and result in a tight contact to a child's teeth during Class II restorations. Easy to manipulate using a Tofflemire retainer, these bands are extra thin to ensure maximum contact.
For more information, call (800) 621-6729 or visit www.cosmedent.com.

For more information, call (888) 276-7783 or visit www.crosstex.com.