Straumann delivers angled abutments
Straumann Dental Implant System expands to include the new Straumann Screw-Retained Abutment portfolio for single unit, partially dentate, and fixed edentulous restorations.
May 6th, 2014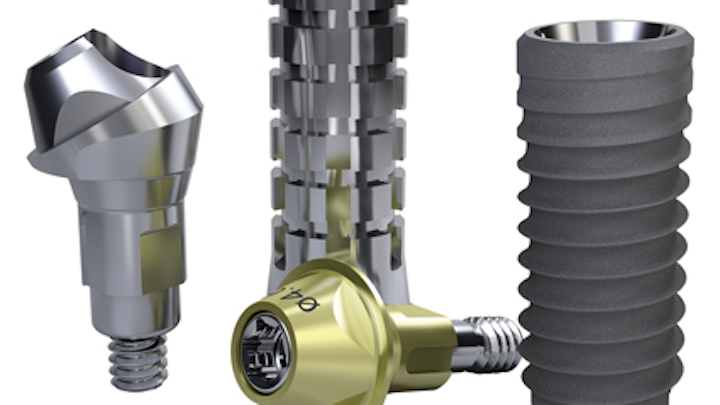 ANDOVER, Massachusetts--The Straumann Dental Implant System has expanded to include the new Straumann Screw-Retained Abutment portfolio for single unit, partially dentate, and fixed edentulous restorations.

The portfolio offers dental professionals an opportunity to provide patients with an edentulous treatment option which is customized to their individual needs and expectations.

Implant planning is possible by way of 2-D conventional implant and prosthetic planning based on (CB) CT scanning or X-rays. Additionally, 3-D digital implant planning is made available through coDiagnostiX software for predictable results and treatment efficiency.

Straumann Bone Level Roxolid SLActive Implants are designed to provide a solid foundation for implant treatment, featuring the combination of Straumann's technologies--the Roxolid material for high tensile strength and the SLActive surface for faster osseointegration. With mechanical and biological properties, Roxolid Implants may allow the use of smaller-diameter implants with the same clinical performance as regular-diameter titanium implants.

The Straumann Screw-Retained Abutments provide a range of prosthetic options for fixed edentulous and screw-retained restorations. A sleek profile designed for optimal tissue management, various angulations and gingival heights offer the flexibility to provide an individual solution for edentulous patients.

The Screw-Retained Abutments are designed to achieve esthetic and functional results. The abutment dimensions allow for fixed screw-retained full arch restorations according to the patients' individual clinical situation, even in cases where tilted implants are inevitable. The new Straumann Screw-Retained Abutments are designed to provide flexibility when treating edentulous patients with Straumann Bone Level implants. Furthermore, the portfolio allows for the possibility of conventional immediate temporization.

"By listening to our customers and developing a solution with reduced complexity, it is ultimately the patients who win, and that is exciting for all involved," said Gino DeSimone, vice president, Dental Division, U.S.

To patients with hopeless dentition, the combination of the Straumann Dental Implant System and the new Screw-Retained Abutment is a choice for simplified, full arch rehabilitation.

For more information, visit www.straumann.us/sra.

To comment on this product, go to http://community.pennwelldentalgroup.com.

References available upon request from company.