KODAK P712 dental digital camera
Kodak's new 7.1 megapixel digital photography system comes preprogrammed with two dental settings for portrait and mirror shots.
Oct 1st, 2006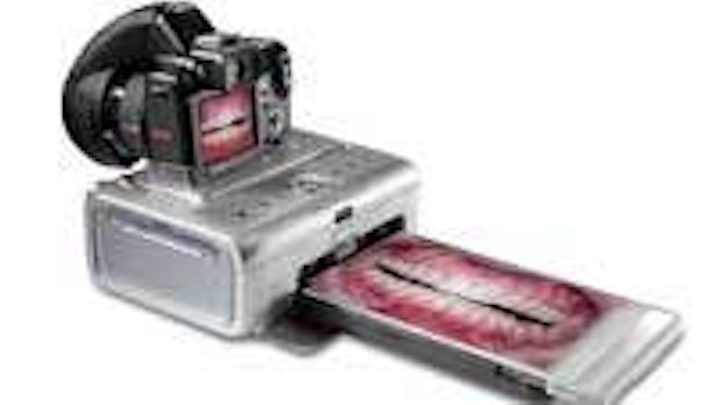 Kodak's new 7.1 megapixel digital photography system comes preprogrammed with two dental settings for portrait and mirror shots. High-res magnification yields outstanding image quality. For more details, call your KODAK rep, visit www.kodak.com/dental, or call (800) 944-6365.
New P712 dental digital photography system
A new, higher resolution, 7.1 megapixel digital photography system, the KODAK P712 Dental Digital Photography System, features the user-friendly design of previous models, plus higher lens magnification and additional dental default settings. The higher lens magnification - 12X optical zoom and 3.3X digital zoom - yields improved image quality and detail. The system now comes pre-programmed with two dental settings - one setting for portraits and intraoral photographs; the other setting with enhanced lighting for mirror shots.
For more details, call (800) 944-6365, visit www.kodak.com/dental, or contact your KODAK rep.
Sirona's 3-D conebeam digital radiography
Sirona's 3-D conebeam digital radiography with GALILEOS provides the power of integrated diagnostics, planning, and treatment from a single imaging system. 3-D imaging extends diagnostic potential exponentially, particularly in the fields of implantology, periodontics, oral/maxillofacial surgery, and orthodontics. GALILEOS also enables clear navigation and diagnosis in the traditional PAN, CEPH, and TSA displays. For more information, call (800) 659-5977 or visit www.sirona.com.
New Torko Expansor™
LeoneAmerica's Torko Expansor Screw is designed for the expansion of the lower arch using a fixed appliance. Made of 100 percent surgical-grade, laser-welded stainless steel, it is offered in either an 8 mm or 11 mm expansion. In addition, the 8 mm Torko is offered with 11 mm longer arms for those special treatment cases. Because of its sturdy construction, Torko also can be used for palatal expansion with great success. For more information, call (800) 242-9986 or e-mail www.americantooth.com.
FUSION LED curing light offers high performance
DentLight introduces FUSION Curing Light, a miniature portable LED curing light that delivers extreme high intensity and longest curing depth with less than a five-second cure for A3 and lighter shades.The lightweight FUSION features intensity of 1,500 mW/cm2 in extended range, and a smart, rechargeable battery that ensures it always works. The cordless unit is quiet with no fan, and is constructed of smooth, anodized aluminum with optimum heat dissipation. FUSION is offered at a special introductory price.
For more information, call (800) 763-6901 or visit www.dentlight.com.
Hu-Friedy® and Y-Me partnership promo
Hu-Friedy has teamed up with the Y-Me National Breast Cancer Organization to present its Inspired by You Dental Hygiene Promotion, which runs September 1 to December 31. Hu-Friedy will donate $2 from each promotional sale to Y-Me during the months of September and October in support of National Breast Cancer Awareness month. The promotion features Hu-Friedy dental hygiene products, including EverEdge™ scalers and curettes, the Sidekick® instrument sharpener and Swivel Direct Flow™ ultrasonic inserts. A number of great "buy some, get some free" offers are provided, and you can earn a free scaler through Hu-Friedy's Environdent® recycling program.
For complete details on this promotion, call (800) HU-FRIEDY or contact your dealer.
"Happy Fishes with Braces" Giclée
Available for the first time as a Giclée canvas art print, "Happy Fishes with Braces" is an exact duplication of the original painting by the artist. Giclée prints are a highly sophisticated ink-jet printing process on canvas or fabric, which produce prints that truly capture the artists' original intent. Museums have realized the potential of Giclée prints and have made Giclée editions a permanent part of their collections. Lightweight and durable, "Happy Fishes with Braces" is available in sizes 24 x 48 inches or larger.
For more information or to order, call Steve Gill's Humorous Dental Art at (888) 878-2353 or visit www.stevegillart.com.
Biotène® Oral Balance® dry mouth gel
More than 400 medications as well as serious illness can cause minor to severe dry mouth. Left untreated, this can lead to detrimental health and dental problems, including nutritional imbalance, tooth decay, bleeding gums, excessive plaque build-up, and halitosis. Biotène's Oral Balance dry mouth moisturizing gel is a long-lasting mouth moisturizer (saliva substitute) specially formulated to coat, sooth, protect, and heal dry oral tissue while providing up to eight hours of relief.
For more information or free samples, call (800) 922-5856 or visit www.biotene.com.
New Slide™ AQUA™ low-friction ligature pads
The new Slide AQUA low-fric-tion ligature pads, manufactured by Leone, are now available through LeoneAmerica. As with all the other currently available Slide colors, the new ligatures allow the use of low-friction biomechanics and light orthodontic forces, thus reducing treatment times. Thanks to an innovative manufacturing process, the new ligatures are not subject to stains by oral liquids - changing ligatures frequently is no longer necessary. Leone has also introduced it in an extra-small size, available in blue, yellow, green, white, red, black, ice, and silver.
For more information, call (800) 242-9986 or visit www.americantooth.com.
Prevention Oncology Mouth Rinse
Prevention Oncology Mouth Rinse is the first over-the-counter treatment for sores and ulcerations developed during chemotherapy and radiation. The rinse effectively heals the ulcerations and numbs the mucosa, providing relief so the patient can eat and drink. The product also effectively treats Candida in the oral cavity. The product is available nationwide at Walgreen's in the mouth rinse aisle.
For more information, call (800) 473-1205, e-mail questions@preventionlab.com, or visit www.preventionlab.com.
New KaVo high-speed handpieces
KaVo's new, quiet SUPERtorque LUX 659B delivers increased torque for fast, efficient preparations, and features a patented handpiece angle combination that provides improved access and maneuverability. The four-port water spray ensures complete cooling of the bur and extends bur life.
The POWERtorque LUX 646B delivers high torque and quiet operation with a single-port water spray. Both handpieces fit onto any existing manufacturer's fiberoptic tubing with the versatile MULTIflex quick disconnect coupler. When maintained with KaVo QUATTROcare automatic maintenance system, all KaVo high-speed handpieces feature a 2.5 year warranty. The standard warranty is two years. KaVo offers three lines of air-driven handpieces to meet the needs of every budget.
For more information, call (888) ASK-KAVO (275-5286) or visit www.kavousa.com.
New Brushing Buddies toothbrush line
Plak Smacker announces the latest addition to its comprehensive children's toothbrush line - Brushing Buddies. They are available in an assortment of four fun styles for children - Zebra, Mermaids, Monkeys, and PlakSmacker's signature characters.
Brushing Buddies come in their own colorful dispensers and are sure to draw the attention of your pediatric patients. Designed with a comfortable grip specifically for the pediatric patient, the soft DuPont Tynex® bristles gently massage the teeth and gums.
For more details or to request a sample, call (800) 558-6684 or visit www.plaksmacker.com.
Resiment® Ready-Mix®
Resiment Ready-Mix is a filled composite resin, now available in a dual-syringe automix delivery system. It has the same chemistry as the two-syringe Resiment system, and is available with or without fluoride. It is a permanent auto-curing, filled, multi-purpose resin cement with a three-minute working time. The kit contains a 10 gm dual syringe and 15 automix tips. Resiment Ready-Mix is available from your dental dealer, or call J.L. Blosser, Inc. at (800) 200-3594 for a list of dealers.
QualiTouch® duet™ 2-Ply Nitrile exam gloves
SmartPractice introduces new non-latex duet 2-Ply Nitrile Powder Free Exam Gloves, which are manufactured by a patent-pending process that bonds two glove layers to significantly reduce pinhole exposure risk. Two color layers indicate the two layers of protection. The ambidextrous gloves offer superior tactile sensitivity because there's no added thickness. They come in sizes XS, S, M, L, and XL.
To order, or for free samples, call SmartPractice at (800) 522-0800.
Disposaliner disposable tray liner
Disposaliner tray liners offer advantages for all dental offices. They are great for saving time and money when cleaning your reusable instrument trays, and demonstrate to your patients that you care about their well being. Disposaliners come in many sizes and are available in both flat and sectioned styles. They are used in conjunction with either the Disposaliner support tray (available in stainless or plastic designs) or any "style B" instrument tray. Also available are the "Unicab" storage boxes for holding your Disposaliners.
For more information, call Accent on Dental at (845) 634-6159 or e-mail to contact@ accentondental.com.
Clear aligner case-planning service
A new Web site - www.orthocase.com - is offering help to dentists and orthodontists who are interested in learning how to treatment plan an Invisalign or OrthoClear case. Orthocase.com includes services that will help doctors decide on appropriate cases, explain the submission process, and assist in modifying the case to bring about a great outcome for both doctor and patient.
For more information, visit www.orthocase.com, call Dr. Foy at (719) 597-6800, or e-mail doctorfoy@msn.com.
Esthetic composite polishers by Brasseler USA
ET Illustra™ esthetic composite polishers contain proprietary filler shape technology that creates abrasive particles without aggressive acute angles. A superb high-gloss shine is achieved, and anatomical details are more readily retained on the surface of your restoration through a burnishing or "micro milling" effect. Conventional polisher abrasive particles polish because of their acute cutting angles, resulting in a micro "scratching" effect on the surface of your restoration, which can erase fine anatomical details. ET Illustra polishers achieve an illustrious high gloss while retaining your fine anatomical details.
For more information, call (800) 841-4522 or visit www.brasselerusa.com.
Self-contained vacuum thermoform machine
Masel introduces its Easy-Vac Vacuum Thermoform Machine, which is ruggedly built for long-lasting use and features an automatic heat shut off and a noise filter that keeps operation quieter. The Easy-Vac makes it easy to form high-quality custom appliances, sports mouthguards, and bleaching trays. Simply plug in - no vacuum pump or air compressor required. Easy-Vac delivers consistent results every time and is the economical alternative to other machines currently available.
For more information, call (800) 423-8227 or visit www.maselortho.com.
Go hands-free with versatile new terminal
Beckmer Products introduces the DentalR.A.T. (Remote Access Terminal). It is a foot-operated mouse for hygienists to run the computer hands-free and enter their own perio probe readings. It has a mouse cursor, left and right mouse clicks, and can enter numbers. It is simple and easy to use, reduces cross-contamination, and is private and quiet for HIPAA compliance. There is no training or software needed - it features plug-and-play technology with USB. The DentalR.A.T. works with all Windows® applications including Dentrix, EagleSoft, PracticeWorks (by Kodak), etc. For more information, visit www.dentalrat.com or call (208) 890-1777.
BISCO's MOCK-UP KIT
BISCO Dental Products introduces the ultimate MOCK-UP KIT, designed to conveniently, quickly, and inexpensively develop a working template for performing a direct anterior restoration. In this process, a visual demonstration of the final anterior restoration(s) are displayed and discussed with a patient prior to beginning treatment. The kit provides all materials needed for the intraoral procedure. The light-cured MOCK-UP composite allows for a quick build-up to the desired shape of the final restoration, and the fast-setting MOCK-UP VPS is used as a matrix to replicate occlusal surfaces and esthetics for the final restoration. MOCK-UP composite corresponds with VITA® shades A2, B1, and PINK to represent gingival tissue.
To order or learn more, call (800) 247-3368 or visit www.bisco.com.
New QuickPik™ personal oral irrigator
The new QuickPik, by Oral Breeze LLC, attaches to standard bathroom faucets. QuickPik prevents and treats gum disease by power-washing teeth and gums at the bathroom sink. It delivers a concentrated stream of water to clean below the gum line. Using its heavy-duty quick-connect system, QuickPik temporarily attaches to standard sink faucets, with no moving parts to break or messy tanks to clean. QuickPik is supported by a 30-day, money-back guarantee and a lifetime warranty.
For more information, call (800) 524-6548 or visit www.oral-breeze.com.
Keep your keyboard virus-free
Even if your computer doesn't have a virus, it's possible your keyboard is contaminated with bacteria. Avoid potential nosocomial infections and promote patient safety procedures with the new Washable Computer Keyboard (HCL Item No. 17289) from Health Care Logistics. Immerse the entire keyboard, run it under a faucet, or spray the keys with an antibacterial solution for instant disinfecting results. SpillSeal® technology makes this reliable method of infection control possible.
For more information, call (800) 848-1633 or visit www.HealthCareLogistics.com.