Paying it forward as an orthodontist and firefighter
When Ryan Lopez was offered a scholarship from the Smile for a Lifetime foundation, his entire life turned around.
Jul 3rd, 2013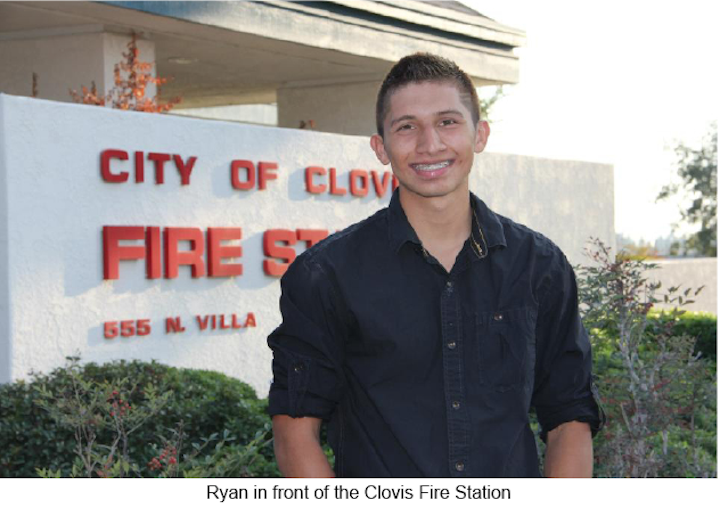 July 3, 2013
When Ryan Lopez was offered a scholarship from the Smile for a Lifetime foundation, his entire life turned around.
A 17-year-old who had recently graduated high school and was living with his brother – a kid himself, only two years older – in a gang-ridden neighborhood, Ryan could have turned to dangerous ways in an effort to "get by." But with the help of his brother, he stayed out of trouble, stayed involved in sports – soccer, football, weightlifting – and graduated high school. By 18, he had gotten his driver's license, had his own apartment, and had worked in construction, plumbing, and, finally, Taco Bell.
Merely providing for himself in an "honest" way is commendable. Most of the time, kids like Ryan – though they have aspirations and good intentions – slip through the cracks. It could have easily happened to Ryan as well, had not fate reached out its hand and offered Ryan opportunities that he'd never imagined.

National CASA Assocation partners with Smile for a Lifetime Foundation
More than a smile – a smile for life

With a mouth full of what his older sister called "shark teeth," Ryan lacked the confidence to smile and engage with people. In an effort to cover his teeth, he couldn't laugh outright or talk to anyone without being self-conscious about his teeth.
"I really wanted braces. I was desperate to have them," Ryan told me. Knowing that he couldn't afford braces on his own, Ryan and his family started looking for alternative ways to get them. Eventually, his mom found the Smile for a Lifetime program, a national orthodontic nonprofit foundation providing free braces to deserving children, and encouraged Ryan to apply for their orthodontic scholarship.

"At first I was like, 'Oh, there's no way. It's not possible,' but I sent my application and pictures in anyway," he said.
"I think we got his application in early summer – around June – and he found out around September," said Mischelle DiCiccio, the board president for the Fresno/Clovis chapter of Smile for a Lifetime foundation.
"I was so excited!" Ryan told me. "I didn't believe it at first because I got an email, but I called my mom and she was so happy for me. Everyone was happy. I was the happiest person in the world."
Dr. DiCiccio teases him about his excitement and asks if he cried that time. "I didn't cry then, but I cried at the fire station."

Apparently, the DiCiccios told him one day that he would be going to the Clovis fire station to have photos taken. He had told them he wanted to be a firefighter, so he thought they were just doing a nice thing for him. "But we get there and I see all these people and my family. It was a lot. The news was there," he explains. "That's when I got my scholarship."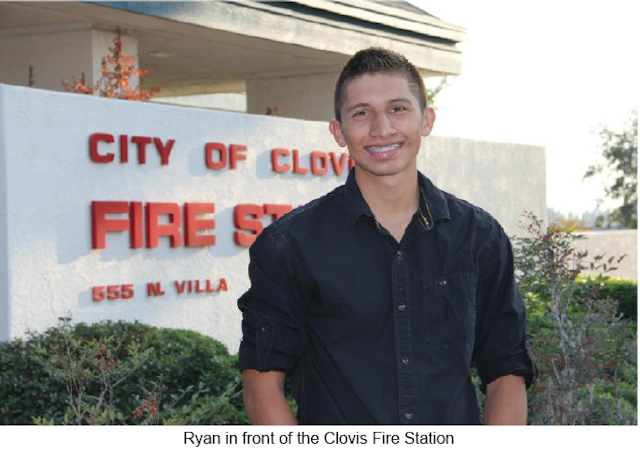 Though Ryan had already been offered the scholarship for braces, the national chapter of the Smile for a Lifetime foundation discovered his dreams of being a firefighter and offered him a college scholarship at Fresno City College, where he will begin training at the fire academy this winter.
I ask Ryan what made him want to be a firefighter. "I just wanted to help people. I just wanted to save peoples' lives and help people the way they were helping me. I wanted to give back to my community, so that's why I decided to be a firefighter."
Mischelle adds, "One day, Ryan told us that he either wanted to be a nurse, a firefighter, or a physical trainer. He likes to work out and be strong, so I think he put all those things together as a firefighter – you have to have physical abilities and caregiving abilities. He wanted to do something where he could help someone else."
"I also wanted to be a Calvin Klein model," Ryan playfully confesses.
Was the experience with the foundation what Ryan expected when he applied? "No. It's way more than what I expected," he emphasizes. "First, they helped me get a great smile, then they gave me a college scholarship. It's amazing that people like that are out there. I can't believe it. They didn't know me, they didn't know anything about me, but they stuck their hands out there and helped me out." Ryan's sincerity and gratitude is evident. He continues, "I appreciate everything that Dr. DiCiccio and Mrs. DiCiccio have done for me."
I can hear through their voices and they way they all tell Ryan's story that there is so much love and grace in the room. "With this program, some of these kids that come through become a part of your family," Mischelle adds. "I feel like Ryan's my son."
"I look up to both of them a lot," Ryan tells me. "If I could grow up to be half the person they are, I'd be a great person. They help people for no reason." Here, Ryan pauses and there is silence in the room. "Why do you guys help people?"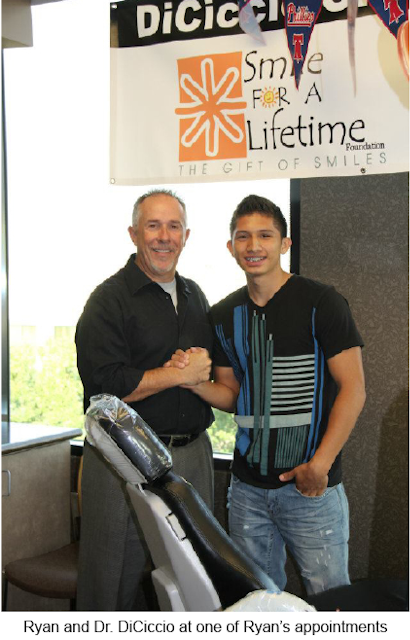 "It's all about giving back," says Dr. DiCiccio. "I was in a similar position when I was a kid, so when I heard about the S4L foundation, I knew it would be a good fit for us. I think it was providential that Ryan was the first person who applied in our chapter. It really clarified that we were making the right decision and going in the right direction. In the orthodontic world, so much of the work is done pro-bono – it's just done quietly. S4L is just a program to make that happen on a regular basis."
Even though he's still wearing braces, Ryan has seen a major difference in his confidence level. "I can actually smile in pictures. Everyone says I have perfect teeth, so I can smile without worrying about it. It just helped me out a lot, opening new doors in my life, and bringing about a lot of good things."
With his confidence, Ryan now has a formula for achieving his dreams and being successful. "My dream is going to come true as long as I stick to it. I should be a firefighter; that should be my future. I should be saving lives."
Dr. DiCiccio asks if he can see himself working at Taco Bell in the future. "I can't picture myself working at Taco Bell a year longer even. Before, I thought, 'I just need to work. I just need to work.' I thought I'd find a job that paid $20 an hour at most. I really didn't think I'd go to college at all."
The parallel is evident between Dr. DiCiccio and Ryan. "After I had braces, I had confidence to compete with the students in my class. I knew I had the ability to do it and not make a fool of myself and feel like I belonged," he told me. "That's what I saw in Ryan. You could tell when he smiled that there was something inside saying, 'I better put on a good show, make people think I'm confident.' When you look in his eyes now, it's saying, 'I can take on the world.' That's what I see, anyway. Do you feel that way, Ryan?"
"Yeah, I do feel like that. I feel a lot better than I used to. I don't know, I just – it's a great feeling."
Watch Ryan's "Smile Story" for more on his path to success.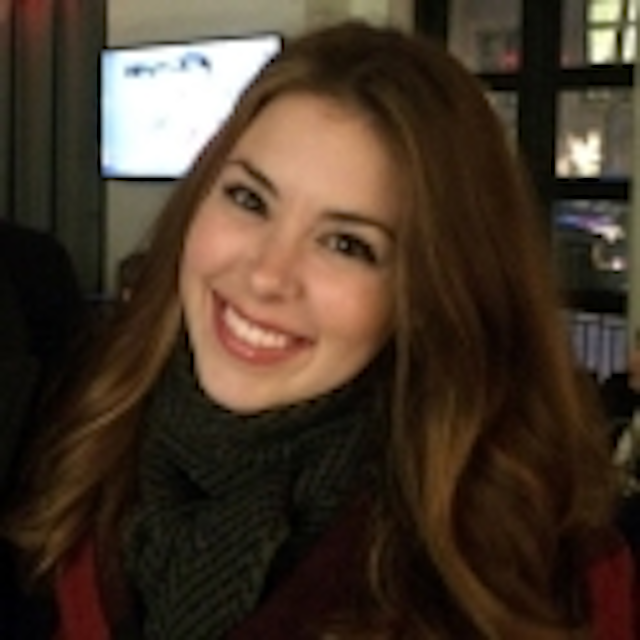 Lauren Burns is the editor of Proofs magazine and the email newsletters RDH Graduate and Proofs. She is currently based out of New York City. Follow her on Twitter: @ellekeid.