Mighty Brace: An iOS-compatible app and web portal that empowers orthodontists, engages patients, and improves oral hygiene
Mighty Brace is a new HIPPA-compliant smart phone app and suite of software products that bridges the gap between orthodontists and patients by creating a fun and effective way to educate patients on proper oral hygiene techniques between dental office visits.

May 28th, 2013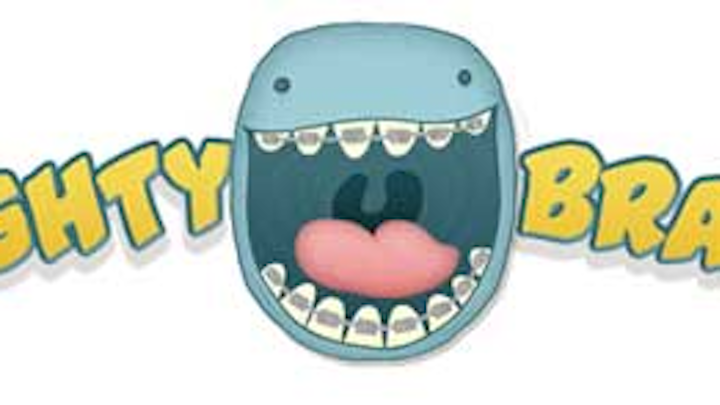 Mighty Brace, a new HIPPA-compliant smart phone app and suite of software products for the orthodontic industry, bridges the gap between traditional oral hygiene practices and the convenience and efficiency of technology today — better connecting the expertise of orthodontists with the complete oral health needs of their patients. While the job of orthodontists is to straighten teeth and align bites, proper oral hygiene cannot be overlooked in favor of fixing overbites. With 51 million school hours lost each year due to dental-related illnesses, tooth decay is the single most common chronic childhood disease (According to the Delta Dental of New Jersey Foundation). Despite the job description, orthodontists have a responsibility to educate their patients on how to avoid cavities and white spot lesions.RELATED |Spear announces enhancements to Case Assistant chairside dental treatment planning support tool Created by an orthodontist for orthodontists, Mighty Brace is an engaging and effective tool to teach patients proper oral hygiene techniques and dietary guidelines through interactive videos, gameplay and opportunities for rewards. As the first touch-screen educational software that interacts with the patient, Mighty Brace works on many levels to both educate and motivate young patients. It also allows doctors to monitor homecare remotely — saving time for professionals while incentivizing young patients.RELATED |Biolux Research announces significant research findings on light-accelerated orthodontics at IADR/AADR General Session 2013 "Smart dental hygiene needs to be a lifestyle choice, and the best way to help our children follow through with this decision successfully is to integrate oral care with a digital solution like Mighty Brace, which speaks the same language as today's generation," says Mighty Brace creator Dr. David Hime. "Instead of fighting tooth and nail for patient compliance, both professionals and parents now have an ally through Mighty Brace." With the explosion of touch-screen technology, Dr. Hime saw a great opportunity to change how orthodontists interacted with their patients. What began as an idea for a slideshow quickly evolved into an interactive app. Working with digital powerhouse Chaotic Moon, the world's most proven mobile application studio, he realized the full breadth of Mighty Brace. Mighty Brace consists of three products that work seamlessly together to reach one common goal: improving at-home oral care.Mighty Brace Pro The Mighty Brace Pro app ($499) is for in-office use only and provides orthodontists with a key tool in providing kid-friendly, self-paced, animated video instruction on proper oral hygiene and diet. This app is the first professional oral hygiene and diet education system that reaches kids at their level.Mighty Brace Home The Mighty Brace Home app is a free download for iOS devices and is meant to keep patients involved and engaged between visits. With this app, patients have access to the Mighty Brace Game, through which they can earn Advanced Certificates of Achievement and compete with other patients in the same office for top place on the leaderboard. By applying the knowledge they learn in-office, this supplemental, at-home app enables patients to practice the necessary skills for proper brace care. This free app also comes with a unique feature that allows patients to take pictures of their teeth, ask questions directly to their orthodontist and receive regularly scheduled reminders. It makes having braces fun and easy.Mighty Brace Web In order for orthodontists to communicate directly with their patients, the third component of Mighty Brace must be in place. Mighty Brace Web ($499/year) is a subscription-based communication hub that connects the orthodontist office with their patients. It provides easy-to-use messaging and customizable reminder features to improve doctor-patient communication throughout treatment. All communications are HIPPA-compliant and are stored on the Mighty Brace servers, making documentation effortless. Teaching lessons in a non-threatening manner, the entire Mighty Brace package of products works together to evaluate a patient's understanding and test comprehension; provide a consistent, all-encompassing source of oral health information; and draw patients into the process rather than create a barrier to knowledge and engagement. Mighty Brace is changing patient behavior by utilizing a suite of software products to educate, motivate and supervise compliance in orthodontic offices around the world. Improved communication between doctor and patient lies at the heart of this "new paradigm" in Oral Hygiene Motivation. Developed by an orthodontist, Dr. David Hime surpasses the traditional methods that orthodontists have used to educate their patients on proper oral hygiene by focusing on utilizing mobile touch screen computing devices and Web portals. This increase in real-time communication directly with their patients via email, text message, video chat, game centers and in-app notifications begins a new era of thinking and engaging patients to improve orthodontic outcomes. To learn more about the Mighty Brace's mission, visit their website.